You may be asking yourself: Upstate New York sounds cool and hip, so why not move there? Rochester is known for its festivals and flowers, what could be homier than that?
But, before you pack up the moving van, you might want to consider all the other things the city has to offer. As someone who has spent a good chunk of time living in Rochester, there are plenty of reasons NOT to move there, and here are the top 17.
1. Cold, Cold, Cold
A neighbor to Canada, New York is bitterly cold during the winter months.
On average it snows about 80-90 inches a year from October to April, then rains from April to mid-June. Taking up about 8+ months of the 12-month calendar. The "cold season" can be brutal, very wet, and virtually sun-less.
Something else to take into consideration: "lake-effect snow".
Without getting too scientific, what locals call lake-effect snow comes when the cold, Canadian winds blow heavy over the warmer water of the Great Lakes. These two combine to create huge, moisture clots in lieu of the picture-esque snowflakes we see in Hallmark movies.
Because Rochester is sandwiched between Lake Ontario and the Irondequoit Bay, this kind of moisture is as common as it is inconvenient.
2. Humidity Unheard Of
If you've never been hit by humidity before, you're in for a treat. Rochester has got some of the most humid days come any time of the year.
Cold Humid
Pairing up with the snow, humidity makes winters unbearable.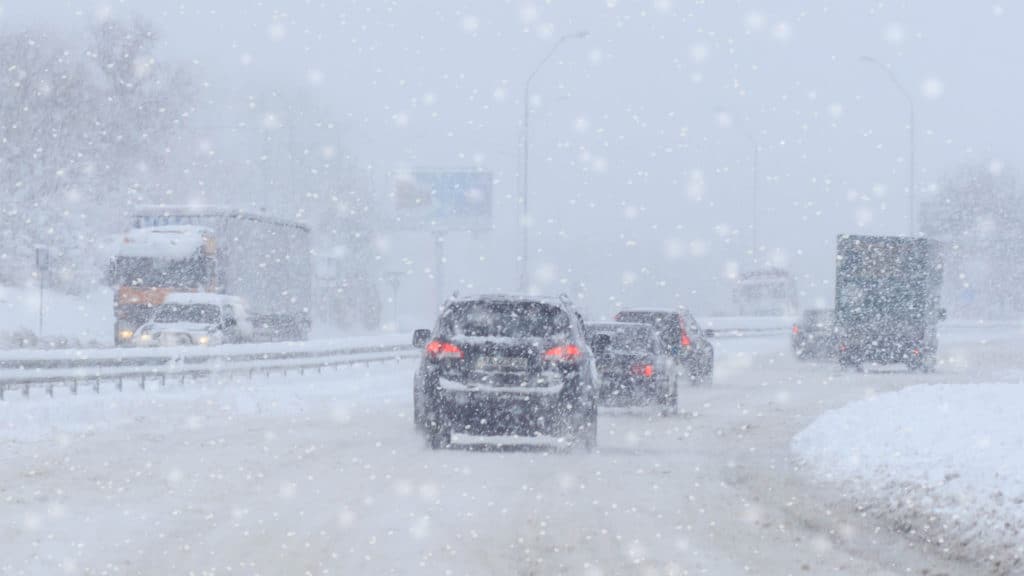 Most people think heat when they think humidity, but the water vapor is just as awful in the winter months if not worse.
Because of that lake-effect snow and all the moisture it carries, the bitter cold temperatures (below zero come nightfall) douse everything in its path. Meaning, when you're already freezing, the air and wind have a substance to them, (a wet kind of substance) that'll soak you through, chilling you to the core.
Hot Humid
Once Winter and Spring have taken their course, in comes Summer.
Giving residents a break from the cold, the summer months bring back the sun, and it comes back with a vengeance. With temperatures of 80 degrees for most days in June through August, this season is bad enough without the humidity.
On any given day (September being the worst) humidity reaches up to 70-82% and that's just the average. Residents swear the atmosphere has its own weight, and it's heavy. The clouds hover over you, full to the brim with hot rain, threatening to dump it all at any given moment.
3. Crime Rates
A scary factoid: for a city of it's size, Rochester, New York has some of the highest crime rates EVER.
Research shows that one's chance of running into crime or being its victim is a whopping one in twenty-four. Most cases are property-related burglary, but car theft and violent crimes are close seconds.
| | | | |
| --- | --- | --- | --- |
| | Burglary | Theft | Violent |
| Number of Crimes | 1,270/yr | 6,000/yr | 977+/yr |
| Average per 1,000 people | 7/yr | 34/yr | 42/yr |
With roughly around 206,000 in its population, Rochester's crime rates overtake most surrounding regions. In comparison to New York City's 8.4 million residents, Rochester's annual crime averages almost double that of "the Big Apple"; only 7% of other cities throughout America are considered more dangerous.
A lot of the crimes that make it most undesirable are violent crimes (murder, rape, robbery, battery, assault). The numbers are astronomical, reporting something of 33 murders and 970 assaults on a yearly basis.
4. Property Taxes Through the Roof
According to some recent homeowners stats, Rochester residents pay up to 3.3% in property taxes yearly. where most American homeowners are used to a gage around 1-1.3%.
Not only have the property taxes skyrocketed throughout the years, but the homes themselves are not cheap. Maybe an established family could move into town with few issues, but with houses averaging out to $75,000, any families just starting to settle down would find themselves in trouble.
5. Traffic is Atrocious
It's a good thing Rochester isn't an eyesore because you'll have plenty of time to take in the sights sitting in traffic.
On a good day the thruways will only add fifteen minutes to a commute, but on the Inner Loop, rarely are there those "good days".
After diving into some data, one will find that the most traffic Rochester gets is in the early mornings (between 7-8 am) and during rush hour (between 5-6 pm). During these busy times, one can expect to add anything up to forty minutes to their commute.
Confusing for a newbie to navigate, Rochester's loops get congested easily and from personal experience, I can verify that getting stuck on these thruways is no picnic.
6. "Alternate Parking"
Not only are the roads themselves tricky, but Rochester suffers from something known as "alternate parking".
For those unfamiliar, this means that on Tuesdays, Thursdays, and Saturdays you have to park on the even-numbered side of a street (and only until 7 pm). On Sundays, Mondays, Wednesdays, and Fridays the odd side of the street is fair game again only until 7 pm.
Easy, right?
(and that's if you find parking in the city to begin with).
7. Accents?
Yep, accents.
For every region, there's a different dialect, like something you'd see in a foreign land or maybe Texas. Everyone has their own way of saying the same word and the city has its own made-up language. Sadly there are no Regions of Rochester Dictionary (yet).
Some local words/phrases to prepare for:
Chili (pronounced CHAI- LIE) is a neighboring neck of the woods
Pop (soda)
Red Hots and White Hots (these are hot dogs, but you better not call them hot dogs)
Wegmans (this grocery store is a religion and a must-know)
Even "Rochester" is pronounced different. (RAA-chest-AH).
Other than the funny words and quirks, the biggest difference is the local wpm (words per minute) in normal conversation, which averages out at about 100wmp.
8. Food is Literally Garbage
Every city is known for it's delicacies and for Rochester, it's plates o' garbage.
Well, Garbage Plates.
Most commonly, garbage plates give the buyer his/her choice of meat (hot dog or ground-up hamburger). Then there's some mac salad mixed in, all that tossed with baked beans (obviously), all sitting on a bed of homestyle fries.
To top it off, there's a drizzle of ketchup, mustard and hot sauce.
Oh an onions because what's a Garbage Plate without an absurd amount of onions to garnish?
Delish?
9. Transit is a No
Aside from the edible garbage, public transport doesn't sit well with most people either.
There are buses and trains and all that jazz but the system is not easy to understand, plus it's always crowded with the commuters avoiding the Inner Loop.
The great thing about public transit is that it costs $1 to ride, but the stops are endless and it's really only a buck well spent if you need to be dropped off at weirdly specific locales.
Not taking the population's most populated areas into account, the transit system makes stops based on frequency and efficiency rather than popularity and use.
Residential areas have buses far and few between and the city transport can be dangerous on top of being crowded.
10. Standard of Living
Downtown Rochester has it's moments of urban beauty, but for the most part the city is like any other city- not clean.
Apart from the pristinely-kept universities, abandoned buildings litter the skyline, and trash is everywhere. Overall, the city is pretty poorly maintained.
As far as Rochester suburbs go there aren't too many to count. Not many houses scatter the city, and most suburbs are beyond Rochester's limits.
Mostly the city has cosmopolitan living which means apartment complexes and itty-bitty living space.
Unfortunately, there is not much diversity in living conditions. You either live in the wealthy parts of town where things are ritzy (and you pay for it) or you live in a complex that's rundown and still expensive. There's not much in-between.
11. Contentious Community
Politics play a huge role in the Rochester community and lemme tell you- the only thing people agree on is not agreeing with each other.
Though the city is largely Democratic, the state is split almost into an even divide (50% red, 50% blue) and it causes contention in almost everyday conversation.
The politics read as follows:
| | |
| --- | --- |
| Monroe County (Rochester's County) | moderately liberal |
| Rochester Metro Area | more liberal |
| Suburbs | more conservative |
| New York State | split (leaning liberal) |
12. In the Middle of Nowhere
Though a big city with it's very own airport, Rochester doesn't have many direct flights.
Being far from New York City (about 6 hours) and far from Canada (3.5 hours), Rochester lives in a looked-over space. Anything worth seeing waits hours away, and getting to Rochester from anywhere takes a lot of effort, time, and connections.
When I flew out of Rochester to visit family in California, I had to take a plane from Rochester to Detroit, then a plane from Detroit to Salt Lake City, followed by a trip from Salt Lake to Phoenix, with the last flight from Phoenix to California.
It's was exhausting. And it was less than ideal.
13. Poverty Everywhere
Going back to the economics of it all, Rochester is a city full of poverty.
The typical household gets around $31,900 a year, coming nowhere close to the typical nationwide income of $60,000. Stats read that one in three residents live in poverty.
Though the rate of poverty has dropped a percent in the last three years (from 32.6% to 31.3%), there are still more families than not living in debt, and not able to afford a decent standard of living.
Because property taxes are so high, and income levels so low it's hard for most families to stay out of the red.
14. Students Everywhere
Rochester is home to three universities:
The University of Rochester (UofR, the "Yellowjackets" are known for medical studies)
Eastman School of Music (the Julliard of Rochester)
Rochester Institute of Technology (RIT, known for tech, engineering, and design)
This brings in a large influx of young people- a majority from all over the globe. Becoming more of a college town, Rochester has become reliant on its universities for income and population; frequently forgetting to upkeep big-time influences like Kodak and Xerox.
15. Sights To "See"
When tourists do come, they usually come to see the Great Lakes (Superior, Michigan, Huron, Erie, and Ontario), as well as the smaller lakes and rivers like Geneseo and Canandaigua.
And although scenic and expansive, many complain that the lakes are too cold to swim in for winter and give off an unwanted odor for summer.
Most other tourist spots are better kept and smell-less, but most all have the "too cold" problem during the 8+ months of the Rochester winters.
16. Ticks + Chiggers
During the summer months, when things are deemed less cold and livable- creepy crawlers (and flying pests) make their grand entrance.
Pests to look out for:
Ticks (usually small and black, these little devils burrow into the skin and itch like crazy)
Deer Ticks
Chiggers (bigger than ticks, chiggers burrow a bit deeper and have to be carefully removed)
Mosquitoes (smaller than most mosquitoes but somehow have bigger bites)
In tall greens, meadows, trees, and backyards these pesky critters lie in wait for unsuspecting victims. (No grass is safe)! There are home remedies and sure-fire ways to get these bites taken care of but it's no easy task, and it's far from fun.
17. Need I Say Door?
Last but not least, we have doors.
Most living situations in Rochester are apartments and the like, but for the few lines of houses in city limits, absolutely no one uses their front doors.
Though the front doors are there, with front porches and porch lights to match, everybody and their brother uses the side door. It's confusing because if you're "in the know" about the side door situation, they are still hard to find and it feels like trespassing to find one out.
From personal experience, and having been a newbie myself, it might just be better to ask people over to your house rather than feeling like a burglar when looking through the bushes for a side door.
Related Topics:
If you like the article above, here are some other similar articles you should check out!
9 Famous Celebrities Who Live in Rochester, New York

9 Famous Celebrities Who Live in New York, New York

Moving to NYC with a Dog: 13 Helpful Tips