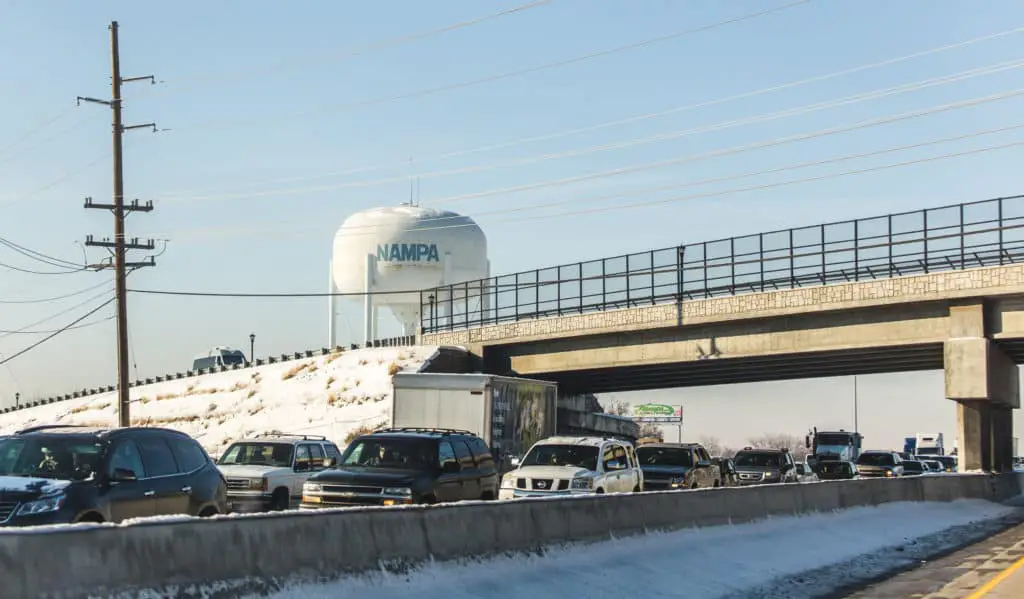 Many people have been looking to move, or have moved, to Nampa, Idaho recently. Having lived in and near Nampa for the past 13 years of my life, I'd like to share some reasons for you to NOT move to Nampa.
These reasons don't just come from my head, either. I have surveyed the people I know that live there or have lived there about the reasons they don't like living in Nampa or would not recommend moving there. The responses I got back from them have been incorporated in the reasons below.
1. Nothing Fun or Interesting Happens in Nampa
Nampa, Idaho is part of a collection of cities in a valley called the Treasure Valley. These cities include Caldwell, Nampa, Meridian, Kuna, Eagle, and Boise. Boise is the largest city and capital of Idaho.
Anything fun, interesting, or exciting entertainment-wise almost always happens in Boise. The nicest concert hall in Idaho, the Morrison Center, resides in Boise, bringing a great majority of the musical and theatrical events with it.
In terms of sporting activities, Boise has the Albertson's Stadium for football (and occasionally musical events). For you rodeo fans, Caldwell has the Caldwell Night Rodeo every summer. Nampa has nothing in this regard.
2. The Locals aren't Pleased with Newcomers
Locals here in the Treasure Valley have become jaded to newcomers recently. People have been flooding into the area from California, Washington, and Oregon for the past couple of years, with no end on the horizon.
Idahoans are not very good at dealing with change, and as such naturally resist those that are causing their local areas to change. Fields are being turned into subdivisions left and right, and traffic continues to get worse.
If you ask anyone natively from Idaho, they will just tell you to not move out here. Idaho is their secret that they desperately wanted to be kept, but has been ransacked recently by rapid expansion.
3. There are LOTS of Trucks
Even with the rapid urban expansion happening in the Treasure Valley, areas like Nampa and Caldwell are still quite rural areas. The locals here in the Treasure Valley are traditionally people with rural attributes, such as the need to drive a pick-up truck basically everywhere.
If you are repelled by the thought of diesel trucks in every other car, I would definitely recommend you stay away from Nampa and Caldwell.
4. Many of the Roads Don't Make any Sense
Road planning in Nampa must have been done after the city planners had gotten done with spinning with their heads on baseball bats. The general layout of the city does not make a whole lot of sense. Many of the roads have weird twists and turns.
The placement of traffic lights is also something to be scrutinized. Some roads require you to cross busy throughways, sometimes at a turn. These throughways don't have stoplights for a good stretch of road, leading to you sitting there at your stop sign waiting for minutes before hastily making your way across the road.
Something else to keep in mind is that many of the neighborhoods don't have stop signs. While some do have them at intersections, many do not have stop signs in the entire neighborhood.
5. The Sugar Beet Factory
In what is almost the center of Nampa, there is a factory that processes sugar beets. This factory provides sugar and quite a few jobs. One of the biggest problems, however, is that it stinks to high heaven. All it takes is one drive past the Sugar Beet Factory, and your nose will tell you the whole story.
The Sugar Beet Factory isn't even the whole story; much of Nampa does not smell good. Go to any of the areas of commerce and you will find yourself detecting a weird scent. It is that way pretty much all over Nampa.
6. There is Construction Everywhere!
If you are thinking about moving out to Nampa, or even to the Treasure Valley, let me tell you, you are definitely not the first new folks on the block.
People have been pouring in from California, and to a lesser extent Washington and Oregon in a desperate move to escape the taxes and liberal policies of their former states. Much of this exodus was immediate and not foreseen.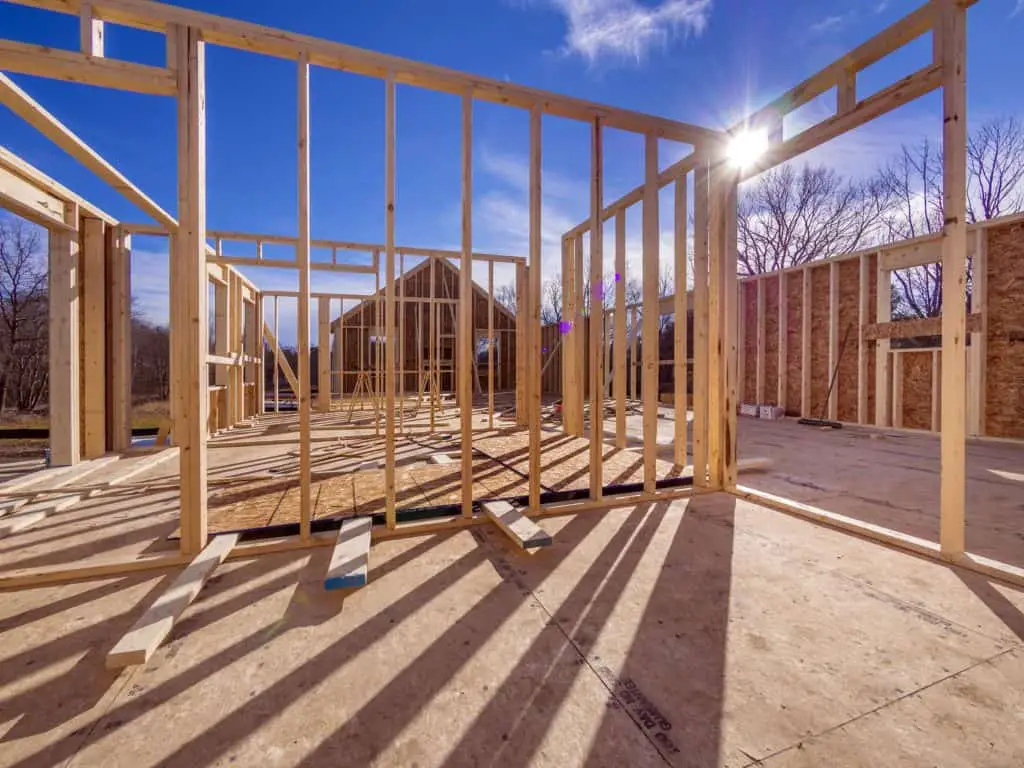 In an effort to accommodate those that are trying to escape their former states, housing companies are working non-stop converting fields into subdivisions. What was once an idyllic half-farming half-suburban community is very quickly transforming into a completely suburban community.
With these houses being built comes lots of construction all over the place. Houses, stores, apartments, you name it. The sounds of construction can be heard all over the place with the massive amount of structures being built.
7. Constant Road Construction, With More In Store
If you thought the constant construction was bad, just you wait.
It seems that every weekend a new intersection or section of the road gets closed for one reason or another. These closures can last for quite a while, sometimes months, and are often fairly major roads.
Oftentimes, the constant re-opening and closing of roads feels like an endless loop. Just as that intersection you've been waiting on finally opens again, there goes another one.
Recently, an Amazon shipping warehouse was completed in Nampa. Due to this, the city of Nampa is working on expanding roads to account for the significant increase in traffic the Amazon trucks will cause.
A Nampa local commented on this, saying:
"I hated living over by Greenhurst (A major road in Nampa) because it added another 20-40 minutes to get to the freeway. The town's roads were built for freeway access except for over where Amazon is now.

Also on that side of town, they are looking at road construction over the next 10 years to widen roads to accommodate the extra 15% increase to road usage that Amazon truck drivers add to the traffic. Great place, great people, terrible roads, and going to be tons more construction just to get out of town."
There seems to be no end in sight to the constant road construction in Nampa.
8. Public Transportation Is Very Under-Developed
When you think of the concept of Public Transit, what comes to mind?
Probably not driving 5 minutes or more to get to a bus stop.
Public Transit exists as a means of getting traffic off of the roads and to lower overall pollution rates. However, much of the public transit in the Treasure Valley, let alone Nampa, requires you to drive somewhere to even find a bus stop.
I've had to drive to the far end of Nampa (a 15-minute drive without traffic) just to catch a bus going to Boise!
There are a sum total of two bus routes that make the trip from Caldwell or Nampa to Boise. The route in Caldwell only leaves Caldwell at 6:15 in the morning or 6:45 in the morning on weekdays, and the return bus leaves Boise at 4:45 and 5:15, some of the worst traffic hours.
While the bus in Nampa has a little bit more leeway, it's still very limited and is situated on the far side of Nampa.
Probably one of the only benefits that public transportation offers you in Nampa is the ability to try and take a nap while the bus is moving. Considering that the bus is extremely bumpy, it's quite difficult to do so.
9. Traffic is Awful
Talking about road construction and public transit, traffic came up quite a bit. Well, while the traffic in the city in Nampa and on the freeway going to Boise might not be Los Angeles levels of crazy, it's still awful.
As of the writing of this post, work is still being done to widen the single freeway an extra lane. By the time they are finished, they will likely have to widen it again.
A typical trip from Nampa to downtown Boise (depending on where you are in Nampa) takes about 30 minutes. Traffic easily doubles that number.
Traffic on the freeway can last from 6:30 in the morning until even 10 A.M., with the traffic picking back up at about 4:00 P.M. and lasting until around 6:00 P.M.
But then, that's just traffic on the freeway.
Traffic on the main roads in Nampa is pretty much a constant factor of daily life. 12th Avenue, one of the main roads in Nampa, is pretty clogged from 8:00 A.M. to 8:00 P.M. Marketplace Boulevard, which houses much of Nampa's commerce, is constantly seriously clogged.
10. Not Much Technological Infrastructure
Fans of gigabit internet connections will want to look elsewhere. While there may be some areas of the Treasure Valley that offer consumer gigabit connections, those areas are very few and far between still. It was not very long ago that we didn't even have 100 mb/s connection plans.
Additionally, there are only two major Internet Service Providers in the area: CenturyLink, who does their internet service through DSL, and Sparklight, who does theirs through cable. Both of these ISPs do not have very great ratings or customer support, and can be frustrating to deal with.
If you are an owner of an electric vehicle like a Tesla or Chevy Spark, you will have to connect and charge your car at home. The closest charging stations are in Boise.
11. Lack of Recreational Areas
Outside of two golf courses and a smattering of parks on the east end of Nampa, there is little in the city itself.
For anything recreational, you will have to go outside the city to Caldwell, Boise, or some of the surrounding towns like Wilder, Homedale, or Marsing.
12. Highest Crime Rates in the Valley
Out of every city in the Treasure Valley, Nampa has the highest crime rates of them all.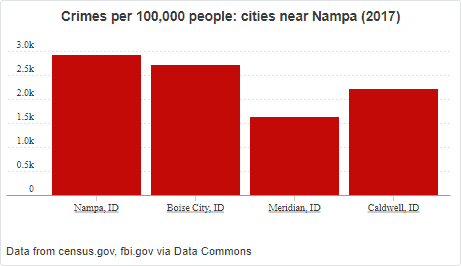 Other than having the highest combined crime rate of the cities of the Treasure Valley, Nampa also has the highest amount of violent and property crimes.
While the Treasure Valley in general is quite a safe place to live, this statistic is definitely one to keep in mind.
You can find out more about Nampa's crime rate and more here

13. Second Highest Poverty Rate In the Valley
Poverty has been on the decline in the Treasure Valley in recent years. However, Nampa still has the second highest poverty rate in the area.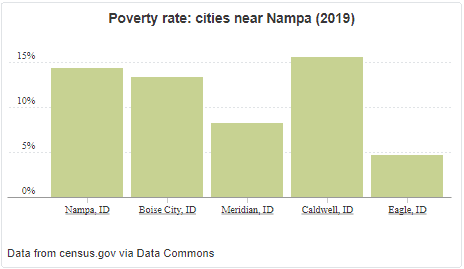 While many impoverished people are perfectly fine people, poverty is cancer that negatively affects neighborhoods. Neighborhoods with a high level of poverty are often not very safe areas, as well as being quite unclean.
Though Nampa has some newer and nicer neighborhoods, there are some that are older and definitely more impoverished areas.
14. There are Lots of College Students
Colleges are fairly common in the Treasure Valley. In Caldwell, Nampa's next door neighbor, there is the College of Idaho and Treasure Valley Community College. In Nampa, there is Northwest Nazarene University. In Boise, Boise State University lies in the center of the city.
While this may provide some measure of convenience, it also brings definite drawbacks. With the amount of colleges, the amount of college students increases. There is significant competition with these college students for jobs and housing in the areas around the colleges.
15. Nampa School District Is Subpar
Out of all the school districts in Idaho, Nampa School District ranks #101 out of 155 school districts in test scores (according to publicschoolreview.com).
Nampa School District also has quite a low spending per student, per the Idaho average, coming in at $7,343 per student. This is in contrast to the Idaho state average of $9,037 spent per student.
Many locals also complain about the poor management of the Nampa School District. I have heard many say that if they had kids in public school still, they would not live in Nampa.
The music programs do not perform very well, despite it being one of the bigger districts. The athletic programs have not produced very good results in a while, and the middle schools aren't even competing right now.
One of the other downsides of Nampa is that the private schools are all in other cities. There are two in Caldwell and quite a few in Meridian, Eagle, and Boise, but not really any in Nampa; at least not any of note.
16. Median Individual Income is Low
Even though it may be slowly rising, the median individual income in Nampa is quite low, coming in at $24,609 annually (according to the U.S. Census Bureau).
While this may not signal that you can't find a decently paying job in Nampa, though you will more than likely find yourself working in Meridian, Eagle, or Boise, it does signal some things about your new neighbors.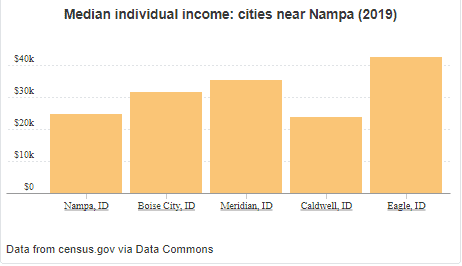 As we discussed earlier, the poverty rate in Nampa is the second highest in the entire Treasure Valley, in which Nampa is located. Higher poverty rates can lead to lower quality of neighborhoods.
17. House Prices and Rent are Through the Roof!
The perfect storm has arrived. Housing prices almost everywhere started to climb during the recent pandemic. However, with the advent of the large number of people migrating to the Treasure Valley, houses are being bought up left, right, and center.
A 2,000 square foot home, if you can find one for sale, goes for just under $300,000. These homes are also typically older homes. This is a huge increase from what it was not long ago.
If you are looking to rent, you will be looking at around $1,800 per month for a home about the same size. While this may not be a lot compared to rents in areas like California and Western Washington, the median income in the Treasure Valley can force a household that normally would only have to have one partner working to have both partners work.
Nampa may be a pretty good place to live, but it's definitely got its number of shortcomings. For many, those shortcomings are deal breakers. Will they be deal breakers for you?
Related Topics:
If you like the article above, here are some other similar articles you should check out!
13 Best Family Neighborhoods in Caldwell, Idaho

13 Best Family Neighborhoods in Boise, Idaho

Is Boise, Idaho a Liberal City?