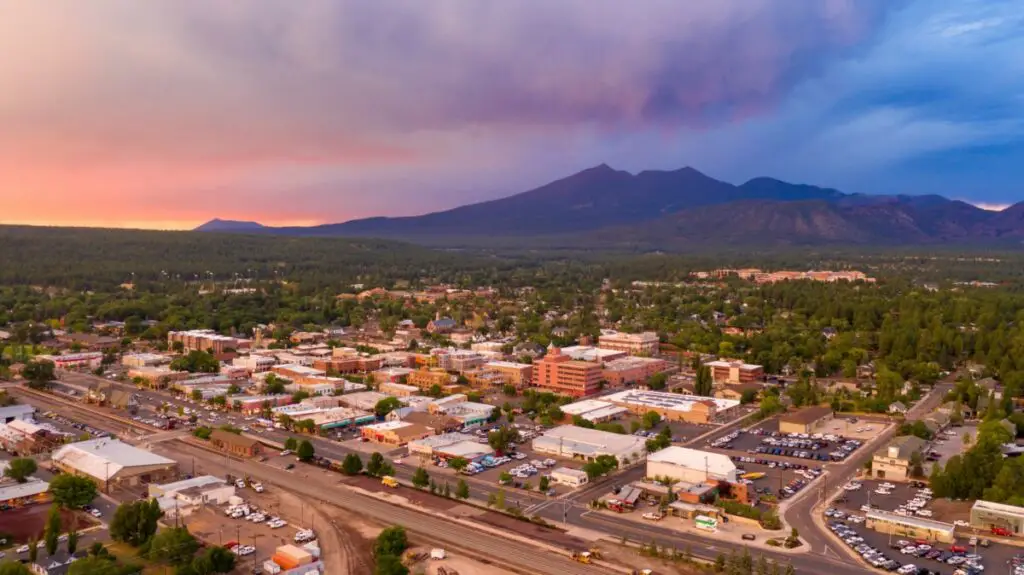 Whether it is due to employment, family, weather, finance, schooling, or any other reason, moving can be hard. Everyone wants to find a safe and enjoyable place to settle down, whether it will be for a long or short period of time.
Flagstaff has many wonderful attributes that draw newcomers in, but it is often difficult to learn the other side of the story. That is why this article lists the reasons that moving to Flagstaff, Arizona may not be the best place for you and your family.
1. High Altitude
Flagstaff is located 7,000 feet above sea level. This altitude is higher than all other areas of Arizona. It will take a while to become acclimated to the city, because of how thin the air is.

There is also a high risk of being sunburned. Sunscreen will be necessary for any outdoor activities, because of how close Flagstaff is to the sun. There are higher rates of suicide in Flagstaff, which could be due to elevation. Many people come from lower elevations and can struggle to adapt to these conditions.
2. Isolation
There are many areas in Flagstaff that are isolated from most things around. Flagstaff is more of a place for people to visit rather than live there permanently. Since Flagstaff is surrounded by lush forest trees, this means houses are further away from each other. Flagstaff is pretty secluded from other areas around Arizona. If looking for an area closer to Phoenix, Flagstaff wouldn't be the best place to live.
This seclusion is great for those looking for an escape, but this could be bad long-term for residents. Many places around Flagstaff require a bit of a drive to get there. Health care and certain shopping are further away from each other in Flagstaff. Shipping is an issue here because of the isolation. When buying items online, it will cost more for shipping in Flagstaff because of its location.
3. Tourism Year-Round
Tourism can become a problem, especially in the summer when most people down in the valley of Arizona want to escape the heat. There are few places in Arizona to escape the heat. Flagstaff and very few other places can be an escape from the heat. Therefore, many travelers will come to Flagstaff to do outdoor activities.

In the winter it is also a problem with tourists. People from the valley will come in the winter to go skiing. There are very few places in Arizona where skiing is an option. Snowbowl is a popular skiing destination for those who travel, which is right in Flagstaff.
4. Low Ranking Schools
The schools in Flagstaff have a poorer score

than other cities around Arizona. If moving with a family, consider researching the schools nearby before choosing a neighborhood to live in. There are good schools in the area, but they will be harder to find, especially the public schools. Public schools usually are rated lower than private schools. The schools with the highest scores are located in the city, with around 29 schools. The average ratings of schools in Flagstaff are 3/10 and 4/10. Keep all of this in mind when looking for schools in Flagstaff.
5. Awful Traffic
Traffic can be a problem in Flagstaff. The most common highways are the 1-40 and 1-17. This means that most people will be using those roads to get anywhere, especially travelers that come through. There is a high chance of getting stuck on icy roads in the winter. The traffic can give nasty effects on transportation when the weather is bad or there is snow. There are many unfamiliar travelers that will drive on these roads, which can increase the risk of accidents and annoyance while driving
6. High Risk of Forest Fires
Since Flagstaff is mostly just a forest, there is a high possibility of forest wildfires. Wildfires leave many residents out of their homes from evacuation. Forest fires can make it hard for residents to breathe, but it also decreases the population's safety. As simple as one lightning strike can leave a forest destroyed by fire. There are safety precautions in place for everyone in Flagstaff, but these situations happen regardless of these rules in place. Keep this in mind if you are thinking to move here. The forest is a great place to live, but there are precautions needed in order to live happy and safe in Flagstaff.
7. High Cost of Living, Expensive Community
Flagstaff is just plain expensive. The cost of living, gas, and groceries are high in price everywhere in Flagstaff. Since Flagstaff is touristy, there are many people that come who are willing to pay higher prices than those who live there locally. Since the city thrives on tourism, Flagstaff would only be a good place to visit instead of live because of the prices.
The amount of isolation in Flagstaff only makes the expenses worse. All of the towns are few and far between, leaving residents having to travel a far distance to get anywhere. The biggest problem with expenses would be gas prices and housing in Flagstaff. The closest bigger city to Flagstaff is Phoenix, being 2 hours away.
8. Springtime Allergies
Spring is a rough time in Flagstaff for those who get bad allergies. Since the snow is melting at this point in time and lots of wind. The wind will blow everything including pollen in the air, which can bother those who are sensitive to these weather conditions. Seasonal allergies can be a deal breaker for some. This makes a poor quality of life, especially when planning on living in Flagstaff for a long time.
9. Minimal Entertainment Options
There is a lack of entertainment options in Flagstaff

because of living in the forest environment. They have a lot of outdoor amenities to choose from such as hiking, trails, biking, and kayaking, but they don't have much to offer in other types of entertainment.
There won't be as many boutiques, shops, bowling, movie theaters, rollerdromes, or other basic activity locations. This means that most people will have to drive further to go to major cities in Arizona with entertainment. Running errands and going to doctor's appointments can even be a struggle for residents in distance depending on where they are living.
10. High Snow Levels
When most people think of Arizona, it is assumed that the entire state is hot year round. While this is true of some areas, Flagstaff most definitely poses an exception. Being nearly 7,000 feet above sea level provides a large amount of snow in the city. The area is recorded to receive around 100″ of snow per year. You will need to invest in some warm clothing and layers for the winter. You will also be one of few people in the state that need to invest in a snow shovel.
11. Lack of Financial Diversity, Snobby Feel
With such high prices ruling the Flagstaff housing market, many families and individuals are unable to afford a home in the area, whether to buy or rent. Due to this high financial bar, the majority of residents are those who have money.
While this is clearly not true of all Flagstaff citizens, many feel that the overall society feel can be rather stuck up. Those that are able to afford houses know that they have what others cannot, and can often come off as rather vain or snobbish. Not all residents feel this way, but it is an opinion that many share.
12. It Really is a Desert
While Flagstaff does have a fair amount of trees and receives snowfall in the winter, it is still located in a desert. Summers can be hot, and when traveling to any cities nearby, the weather is most likely going to get even hotter, especially when driving down to Phoenix. In fact, driving anywhere outside of town will remind you that Arizona is a desert. You will pass flat, dry ground, tumbleweeds, and sagebrush all the way to the next area of civilization, which may be a few hours!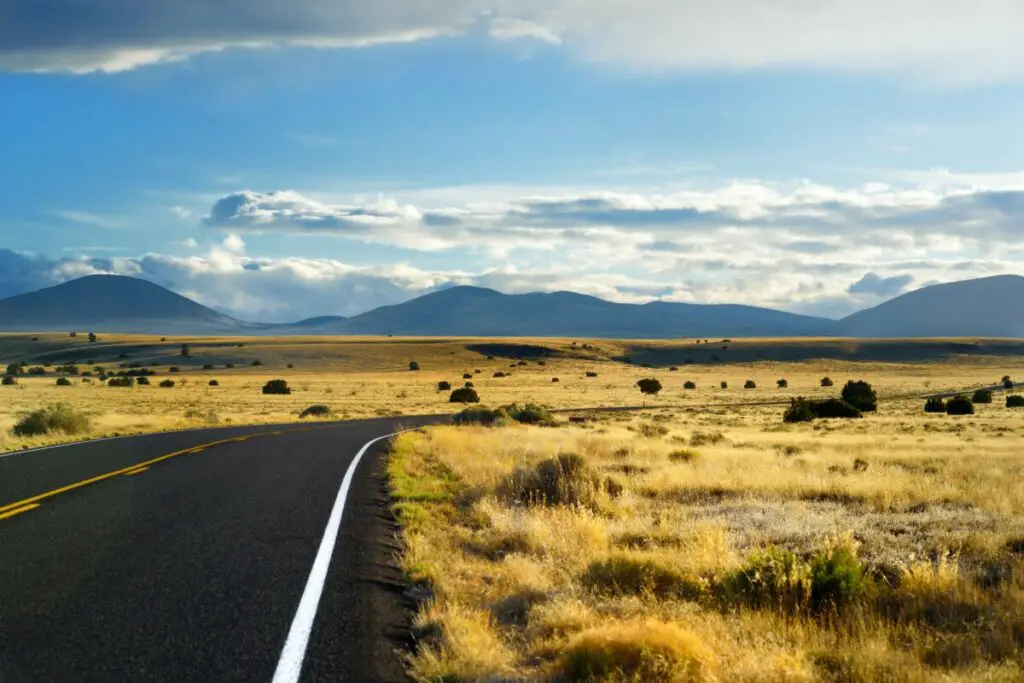 13. Limited Employment Opportunities
Being a town of under 100,000 people, there are not many well-paying job opportunities in Flagstaff. Even if you are able to find a job in the area, it is more than likely that your spouse will not be able to find decent employment.
Several couples in Flagstaff say that either they or their spouse have had to settle for a job in other cities to solve this lack of decent employment availability issue within Flagstaff. Some even say that they had to commute as far as Scottsdale to find solid jobs! That is a nearly two-and-a-half-hour drive each way!
14. Overwhelming Odor
Another thing that you should know about moving to Flagstaff is that the whole city smells like vanilla. This may seem like an upside to some people, but I can assure you that it is not always as pleasant as you may think. The odor can become incredibly strong and is nearly always present. It is caused by the Ponderosa pine trees surrounding the small city.
Especially when it rains, the scent can become nearly overwhelming. It is an unavoidable aspect of life in the city, so locals grow to love or hate it. For many years, the scent will remain until late fall, meaning that the constant smell often takes a toll on your senses day after day.
15. Limited Travel Availability or Options
Many people enjoy taking time off in the summer or near holidays to go on vacations! When living in such a small and middle-of-nowhere kind of city, however, there are not many options in terms of nearby locations to visit. This means that it is likely that vacationers will require an airport when traveling out of town.
The closest (real)

airport is located in Phoenix, about a two-hour drive from the city. This will definitely add to travel times both ways. In my opinion, there are few things worse than flying home from a long trip, landing at the airport, and then squishing into a hot car for a few more hours of traveling between you and your bed!
16. Terrible Roads and Parking
As previously stated, Flagstaff is a rather small town. The roads are rather worn in many areas and are not suitable for high amounts of traffic. While this may not seem to be a potential issue in such a small town, there are most definitely times that these road conditions cause issues. Incredibly high tourist populations flood the city in nearly every season of the year! With a tourism population that can double the city's population on a busy day, the run-down and small roads in the city are often unsuitable for the number of cars on them.
The city also has an incredibly limited amount of parking spaces. This leaves many vehicles with no option but to take space on the sides of roads, leaving the already limited amount of roadways even more packed than before. As a local, this can get old incredibly quickly. No one enjoys having to park several blocks away from their work or a restaurant in their own town due to the lack of parking spots available.
17. Not Family Friendly
Most family-friendly areas are considered to be so based on a few key factors. Good schools, lots of other families with kids in the area, safe parks and streets, good entertainment options, close proximity to houses, and a safe community. Unfortunately, Flagstaff lacks greatly in these areas.
Many of these aspects have been explained before. The school options are limited and do not have good ratings. Houses are located far from one another, making it difficult for children to travel alone to visit friends and play for the day. Because of the limited housing availability, and affordability, most young families are not able to live in Flagstaff at all, and those who are able to find a home and job, are likely to move in the near future. The high amount of tourists keeps the roads busy which is not very safe for children and provides a mysteriously large group of people whose trustworthiness cannot be expected in all cases.