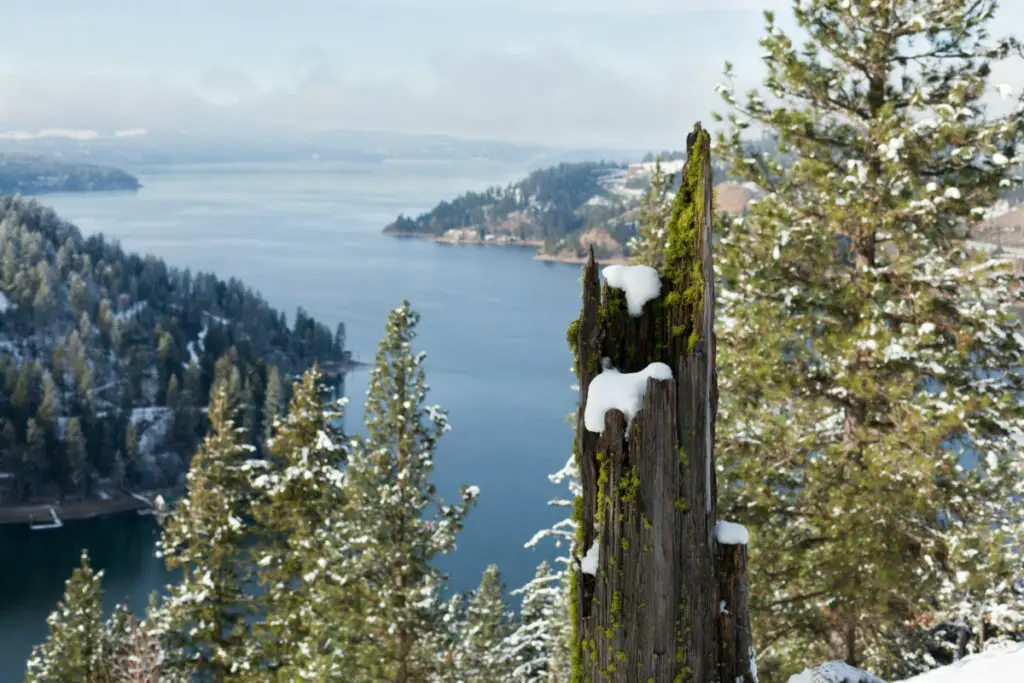 Don't let the beautiful acres of pine trees and pristine blue waters cloud your reasoning! While making the move to a beautiful destination can have its perks, moving to Coeur D'Alene, Idaho is not the wisest decision for a city-minded person who loves the warmth, shopping, diverse culture, and mainstream media.
1. Moody Weather
For those who are not sure, Coeur D'Alene, Idaho is located near the northwest border of Idaho. This town is 30 minutes away from Washington and a 2-hour drive (or 105 miles south) of the Canadian border.
Because of its northern and borderline Canadian location, Coeur D'Alene is the centerpiece of moody weather. This means that Coeur D'Alene is cloudy and rainy until June, just to turn dark again in September. This leaves about 2 to 3 months of sunlight for you to enjoy.
Additionally, the lakes are stunning but often too cold to use, leaving you with no choice but to go back indoors. This contributes to seasonal depression, which is a common diagnosis for Coeur D'Alene residents.
Normal snowfall

for Coeur D'Alene winters is 69.8 inches. However, the winter of 2007 was recorded as the snowiest winter for northern Idaho with a whopping 172.9 inches.
I was 6 at the time of this storm, and I still remember how we couldn't leave our house because all the doors were completely blocked with dense snow. Of course, I was just happy that school was canceled! But looking back, it was a stressful time for young parents. The unpredictable weather can create true hazards for fragile populations such as children and the elderly.
2. It's Politically Charged
If you are looking to move to Coeur D'Alene because you don't mind the cold weather and you want to get some peace and quiet from the media, you are looking in the wrong place.
Coeur D'Alene is located in Kootenai County, which is considered to be highly conservative. 70%

of residents voted for the Republican party in the 2020 election, with only 27% voting democrat and 3% independent. To give context as to why these numbers are considered so high, Wyoming was voted as the most Republican or right-leaning state

in the United States of America. Only 57%

of residents identify as Republican, 18% unaffiliated, and 25% democrat.
This means that Coeur D'Alene has 13% more republican residents than the most right-leaning state in the country! But that's not all.
As mentioned before, Coeur D'Alene is a short 30-minute drive from Spokane, Washington, which is the closest nearby city. As Republican as Coeur D'Alene is, Spokane is just as Democrat. Each city is highly political on opposing sides, creating tensions and inner contempt for their neighbors. Coeur D'Alene was politically divisive before it became the norm.
3. Religion is a Hot-Button Topic
With political tensions close by, religion

follows suit. Approximately 60% of people in Coeur D'Alene are religious and almost all are sections of Christianity. 36.1% are Catholic, 14% are the Assembly of God, 13.6% belong to the Church of Jesus Christ of Latter-day Saints, 6.5% are Lutheran, and 5.5% are Evangelical Lutheran.
While the sects of Christianity hold similar beliefs and are unified on paper, different groups of religions ultimately believe different things. Because of this, people in Coeur D'Alene are often condescending to those with differing beliefs, even if the people they are opposed to are predominately white and Christian.
This means that it can be hard to break into social groups once moving here. The groups are the church you belong to (or lack thereof), school, and families. If you don't have those things, you will most likely be left out.
4. It Has a Simple Culture
The nice thing about north Idaho is that it does have its own culture, however diverse you feel it is not. Residents don't care how you look, what you wear, or the material things that social media and states like California, Utah, or Arizona obsess over. They are extremely hardworking with little financial gain. Everyone has a job, but there is a lack of professionals. Residents tend to work a normal 9-5 job.
So, the culture in Coeur D'Alene, Idaho is conservative, somewhat redneck, Christian, and hardworking. It is people that love the land they live on and that will stand to protect it.
5. Small Town, Big Ego
North Idaho is known not to be highly populated and the people of Coeur D'Alene believe they are the exception. Most residents are born and raised in Kootenai County and stay there for the rest of their lives. They are fiercely conservative, ready to fight back against the radical left or any change to keep their loved town protected.
And these fears are backed up by statistics! Coeur D'Alene, Idaho had a 4.1% population increase from July 2020 to July 2021. This is a terrifying change, so as the population increases, so do egos.
6. Downtown Coeur D'Alene
With that ego in mind, residents think of the Downtown area as a big city, when in reality, the downtown metro is nothing compared to the expansive cities of New York or California. While Coeur D'Alene is beautiful and I have nothing but fond childhood memories of the place, it is by no means a cultural melting pot.
Coeur D'Alene is special in its natural beauty, family-oriented community, and outdoor activities, but ordinary in the rest.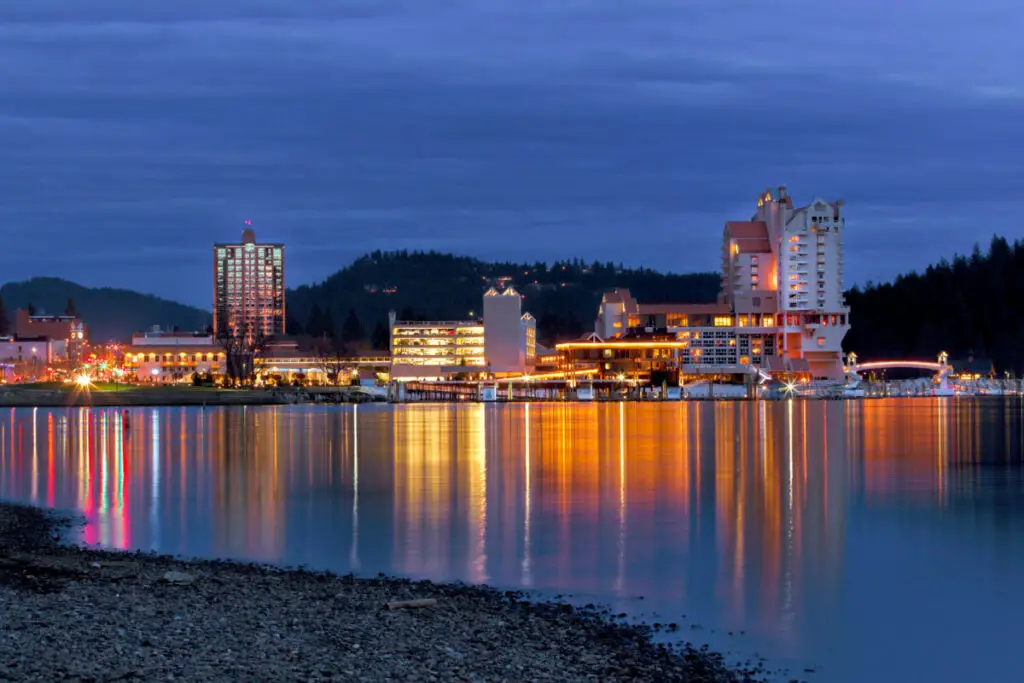 7. North Idaho College
Otherwise known as NIC, North Idaho College has an enrollment of about 2,000 undergraduate students

. The acceptance rate is 100% and popular majors include Liberal Arts and Humanities, Nursing, and Business. Their graduating starting salary is about 26,000 dollars and the price is about 7,000 per year with 89% of students receiving financial aid. Additionally, only 35% of students graduate but 83% of graduates are employed.
So, what do these statistics mean? For starters, North Idaho College is by no means prestigious. However, North Idaho College is considered a great college by locals, but 11 out of 12 in the ranking of Idaho schools.
North Idaho College is a great transitioning point between high school and University institutions because it is a safe and (relatively) inexpensive place to learn. The campus is beside the Spokane River and protected by pine trees.
However, North Idaho College is located near the downtown area. This means that if you are older and looking for a quiet place to spend your retirement and you are dead set on Coeur D'Alene, you might want to move to Hayden, Idaho, or Post Falls, Idaho, which are two nearby cities. If college towns are not your thing, North Idaho College would be a reason not to move to Coeur D'Alene.
8. California Resentment
Recently, many Californians have moved to Coeur D'Alene, Idaho, and the residents have not been happy about it. Because of the Coronavirus Pandemic, lockdowns, political turmoil, and societal restrictions, California's culture has changed drastically. There are increased restrictions during and post-pandemic and Californian residents are wanting a change and want to be closer to the mountains.
They want to experience a right-leaning atmosphere that is cheaper than California and nearby. Oregon and Washington are beautiful but similar to California politically, so Idaho is the raging opposite.
The population in Coeur D'Alene (while small) is rising, making it not the ideal "private getaway location". In 2020, 80,000 people moved to Idaho

, making the city grow by 21%.
9. Increasing Expenses
While Californians try to find their niche, newcomers are difficult for Coeur D'Alene residents. This is because this increase in population brings a rise in pricing, leaving the new residents to take over an Idahoan's childhood town.
The average home price in Coeur D'Alene is 500,000 dollars, but in 2010, the average home price was 200,000 dollars. The truth is, house prices are increasing quickly and kicking out Coeur D'Alene locals.
10. Low Income
Another sad truth of Coeur D'Alene is that there is a low income that cannot combat these rising prices. The minimum wage in Idaho is $7.25

, but most jobs that adults have pay employees $15 an hour. Families are mostly dual-income who are just trying to get by and living paycheck to paycheck, or families are wealthy and enjoy their time here in the vacation town of Coeur D'Alene.
11. Home Quality
It can sometimes feel like the poor get poorer and the rich get richer in Coeur D'Alene, Idaho. An average home costs $500,000, which is cheaper compared to home markets in other parts of the states, but that is reflected in the quality of homes available to the average person.
There are beautiful homes in Coeur D'Alene, Idaho, but they have costs in the millions and are reserved for the wealthy or the famous. The average homes available are older, not of amazing quality, and not the most "Pinterest worthy".
12. Poor Industry
Speaking of the economy, Coeur D'Alene, Idaho does not have a lot of growth to offer in terms of employment for the everyday person. Most adult jobs include restaurant hosts, teachers, grocery store workers, and trades.
There are not a lot of professionals, but the ones that are considered to be professional are doctors, who are still considered to be doing trade, and a few businessmen that milk the vacation market of Coeur D'Alene.
13. Limited Shopping
While the small business boom in Coeur D'Alene, there is not a lot of name-brand shopping. Silver Lakes Mall is the closest and only indoor shopping mall in Coeur D'Alene but was considered a "dead mall" for many years, meaning that it was still open for business, but was certainly not flourishing or had filled stores.
Today, Silver Lakes Mall

has made a bit of a comeback but still features mostly small and local businesses. Name-brand stores in Silver Lakes Mall include Macy's, Claires, Bath & Body Works, and Jo-Ann's Crafts.
Downtown Coeur D'Alene has a little more variety, but most boutiques are for weddings or expensive jewelry. There are skincare stores that sell handmade products, candy stores, an olive oil shop, and art galleries just to name a few.
13. Tourist Culture
As mentioned before, there is a flood of Californians moving to Coeur D'Alene, but that does not consider the tourists

that visit yearly. As of 2017, an estimated 2 million tourists visit this city per year. While Coeur D'Alene is growing, it is not densely busy. However, if tourists just make you go crazy, Coeur D'Alene might not be the best place to move to.
14. Far From Home
While the Spokane Airport is just 40 minutes away from Coeur D'Alene, this means that if your family doesn't live in Washington or Montana, you will be spending a lot of your time there. With prices for airplane tickets skyrocketing, there are times when you might skip the holidays with your family. Homesickness is a common issue with new Coeur D'Alene residents with a costly cure.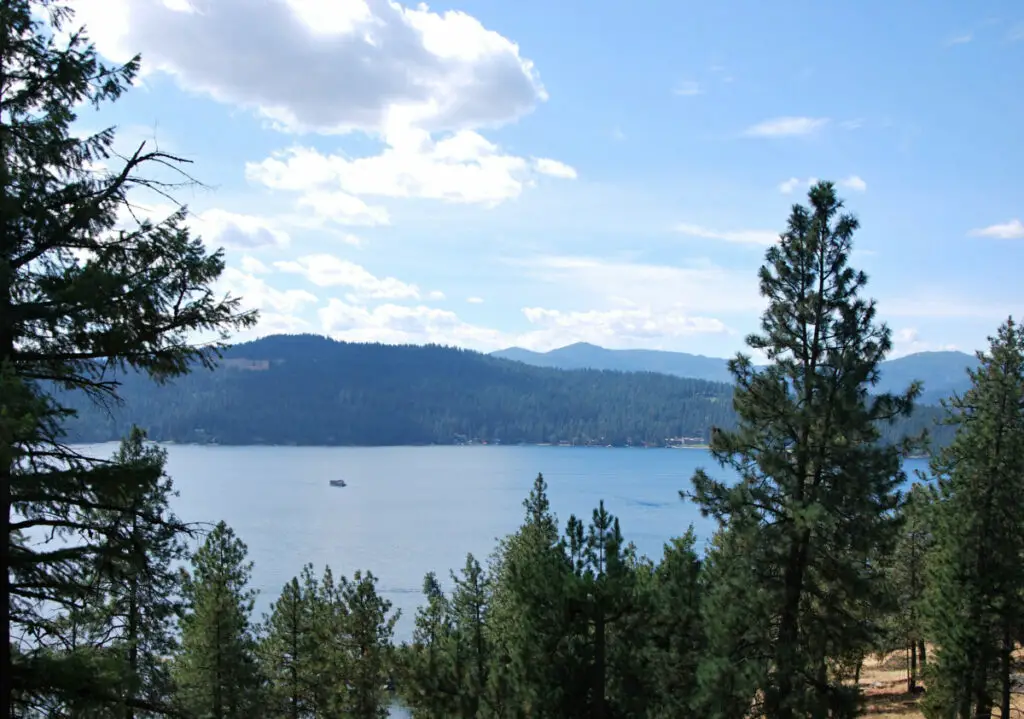 16. Wild Animals
Another factor of living in Coeur D'Alene is that you are living in the woods. But living in this kind of nature means that you will have to deal with the following:
Arachnids
Deer
Moose
Grizzly bears
Pokey pine needles
Spikey stickers
Mosquitos
Gray wolves
Woodland caribou
Lynx cats
The wild animals sound like out of a fairy tale, right? Well, not when you go into your basement to find it infested with bugs, to have a deer run into your car one late evening, or have to be concerned about bears when your children play near your backyard. Yes, these were all things that we had to worry about as a young family living in Coeur D'Alene, Idaho.
17. A History of White Supremacy
As the political atmosphere

concerning race becomes more tumultuous, sounds of white supremacy groups make people run for the hills, especially if you are a person of color. And those dangers are real for Coeur D'Alene residents, as this place was once the center of white supremacist movements.
While things have calmed down, I remember white supremacists marching in local parades. Being a child and watching these political and hateful movements, I felt confused and it wasn't until I grew up that I understood the magnitude of those actions.
There is a Human Rights Education Insitute in Coeur D'Alene that is working to combat these protests. Regardless, these movements are not completely shut down and this can be one of the biggest turn-offs when deciding to move to Coeur D'Alene, Idaho.
Related Topics:
If you like the article above, here are some other similar articles you should check out!
17 Reasons Not to Move to Twin Falls, Idaho

9 Famous Celebrities Who Live in Sun Valley, Idaho

Moving to Idaho vs. Utah 17 Pros and Cons