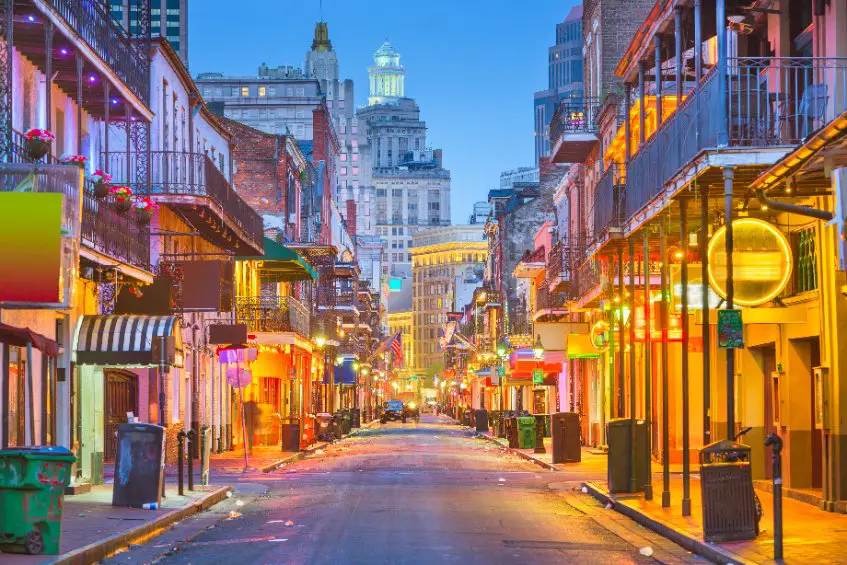 Are you thinking about moving soon? Are you considering New Orleans, Louisiana as one of those places? Are you are looking for some cons to weigh against the pros? If you are finding yourself in this position, this article can help you be educated and make informed decisions!
To learn more about the reasons you should not live in New Orleans, keep reading!
17. No Nearby Beaches
If you are a lover of the beach, New Orleans

is not the place to be to have easy access to the beach. This makes it less of a spontaneous adventure for a beach day and calls for a lot more planning in advance to make it to the beach.
The closest beach to New Orleans is Biloxi Beach in Mississippi. If you are willing to make that drive, traveling to the beach may work great for you, but consider that other people will most likely have the same idea as you and could create a lot of traffic, making your trek to the beach that much longer and frustrating.
16. Large Bugs
There are bugs everywhere, but experiencing life with bugs in the south is a totally different story. One of the insects that are prevalent in New Orleans, Louisiana is the Buck Moth Caterpillar. This caterpillar lives in large oak trees and if you get too close to them, they will land on you and will sting you as they hit your body.
In addition to the Buck Moth Caterpillar, Brown Recluse spiders live primarily in the city, meaning they are more likely to be found in places of homes and public buildings. This is why many people in the south are frequently checking their clothing, shoes, and bedding to make sure there are no spiders hiding.
15. Termites
Termite

swarms are unique to Louisiana, so if you haven't visited or lived there before, it will be something completely new to you and something you should be prepared for. In the spring months, termites will gather and hang around any sources of light they can find. This can include street lamps, car headlights, house lights, etc.
Because there are so many of them, if you have enough swarming around one source of light, it can block the light coming from the source even though it is turned on. During this time, most people stay in their houses and don't leave to keep them from getting into the house and causing damage.
14. Asian Tiger Mosquitoes
Another insect that is everywhere in New Orleans is the Asian Tiger mosquito. These mosquitoes appear very similar to regular mosquitoes from far away, but you can identify them by the tiny stripes on their legs.
The major, disappointing difference between regular mosquitoes and Asian Tiger mosquitoes is that while regular mosquitoes come out and bite during the summer, Asian Tiger mosquitoes are around all year long. Days with especially cold temperatures may be an exception to that, but don't count on it.
13. Car Insurance
If you were living in Louisiana before moving to New Orleans, then this shouldn't be a surprise to you, but car insurance is quite expensive in New Orleans. Louisiana has the third-highest car insurance rate in all of the U.S.
With all the expenses that come with moving, increasing your car insurance is just another bill that will suck your money away. Expensive car insurance is one of the sneaky ways your money gets taken. No one really tells you the rates that car insurance has from state to state prior to making the big move there and when they learn about the higher expense, it can make them question their decision.
12. Constant Roadwork
If you think you have previously lived in an area that has had tons of constant roadwork, you will be shocked at how much and how often there is roadwork in New Orleans. Many tourists comment that the roads in New Orleans aren't in great shape and that the city should do something about it.
Well, the city is actually always doing something about it, which is why the roads are all torn up. This is a major concern especially if you have to commute to work every day and be on the rough roads frequently, which can cause potential damage to your vehicle or take part in an uncontrollable accident.
11. The City is Slowly Sinking
While this may sound a bit dramatic, it is not far from the truth. We have just addressed the abundance of road work that is always happening in New Orleans and this is the majority of the reason why. As you drive around New Orleans, you will notice cracks in the concrete on sidewalks, driveways, and roadways. Both the city's stormwater drainage is to blame as well as an event in New Orlean's history.
In the 1970s, there were 8 homes that were involved in an explosion caused by a gas leak, which then led to the foundations of the homes shifting further, affecting the quality of surrounding roadways.
10. Extreme Weather Conditions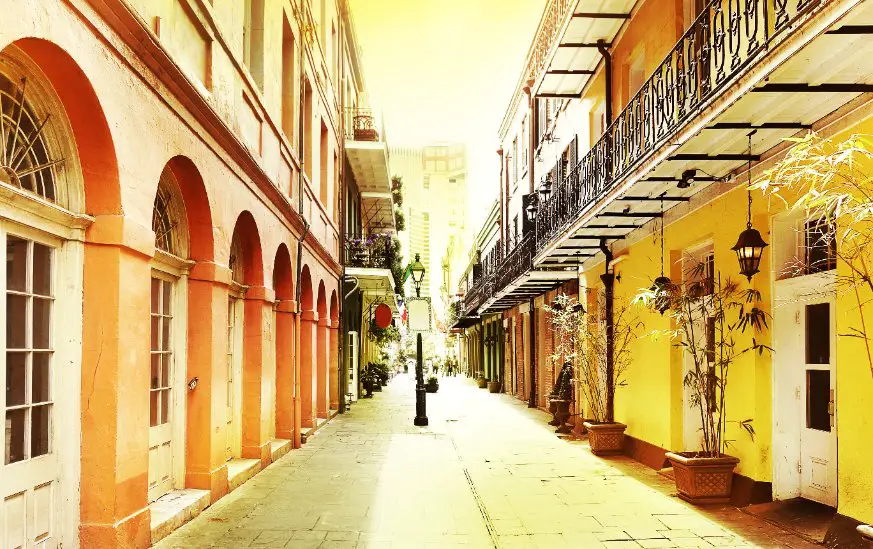 As opposed to other areas in the country, New Orleans is located in a "sub-tropical" climate, meaning it really only experiences 2 seasons rather than the usual 4. Those 2 seasons consist of the dry season and the wet season.
In addition to those seasons, humidity is also something to consider when moving to the south. If you have never experienced humidity, you are guaranteed to run into it here and most people find it quite unpleasant to live in constantly. Also know that air conditioning is not a thing in the south, so if you aren't okay with sitting in the sticky heat, New Orleans is not the place to go.
9. Inner City Real Estate is Limited
Real estate is expensive almost everywhere, but that is especially the case in New Orleans. There are limits because of both the natural and manmade geography on where residential areas are located and could be built.
As it is in most places, the prices to purchase a home in the inner city, where much of the city comes to life, are not only expensive but are limited because of the large number of people wanting to purchase a home in the same location as you.
If you are wanting to live in the heart of New Orleans, you really have to decide if it's worth the price and competition for that specific location.
8. Housing Market Is Competitive
Not only is the location of finding real estate a challenge, but once you find a piece of land or house or apartment that you want to make an offer on, it can get even more competitive to be the offer that is chosen.
The average rent for a 2-bedroom apartment in the center of New Orleans is about $1,450 per month. If you are finding yourself on a tight budget or don't want to spend that much on rent each month or go through the competition of finding a house, it may be best to find housing in a nearby town and commute to work in the city instead.
7. Various Socioeconomic Issues
The effects of Hurricane Katrina many years ago still are prevalent in the economy of New Orleans. Many people chose to leave the city after the disastrous event, but those that have chosen to stay have still been feeling the effects on the economy.
The Gross Domestic Product is only 20% each year of what Houston, Texas makes in a year. The job market is still suffering, with the inability to offer many jobs to the public, thus creating a large unemployment rate, and even if you are hired and have secured a job position, you most likely won't be making as much as you would in a city with a healthier economy.
6. Never-ending House Repairs
In regards to the reasons for the constant roadwork, there are also endless ways those same effects can occur in your home in New Orleans. Many foundations begin to crack and become uneven because of the ground shifting. When the foundation begins to crack, that can cause your walls and ceiling to crack, which then creates several safety issues in your own home.
That being said, many homeowners try their best to upkeep with the many house projects that inevitably come with living in New Orleans, but it is a difficult task that seems to never end. This is a big reason why many people choose to rent and allow their landlord to deal with the house repairs.
5. Traffic Cameras are Everywhere
Not all states in the U.S. have traffic or red-light cameras on their traffic lights. New Orleans does. If you have lived in one of the few areas where there are no traffic or red-light cameras, this may be a new experience and perhaps involve a learning curve for you.
While it is not an inherently bad thing to have these cameras all over the city, they can be intimidating. If you feel strongly about not wanting to be monitored by traffic or red-light cameras, New Orleans would not be a great location for you to live in.
4. Most Residents Don't Have a Southern Accent
Contrary to popular belief mostly due to the inaccuracy of the media, not everyone in the South, particularly in New Orleans, has a strong and distinct Southern accent. While some local residents may have "y'all" slip out here and there, they aren't as dramatic as the films make them out to be.
This may be disappointing for some people and maybe a deterrent from wanting to live there if they aren't going to be surrounded by the interesting southern accent they thought they were going to be.
3. There is Always a Festival Going On
One of the things New Orleans is most known for is its parties. There is always a festival or celebration going on for any occasion big or small. If you can think of anything that is worth celebrating even in just the slightest bit, New Orleans is the place that can do it all.
While this may sound like a major draw to New Orleans to some, there are some people who that sounds like the opposite environment they are looking for. If you fall into that category, New Orleans is the party destination and you would benefit to do your best to avoid it if you can, especially if that is not your thing.
2. Drinking is Not Restricted in Most Places
New Orleans allows its residents to drink whenever, wherever with very few restrictions. This may be great news to those without young children, however, if you do have young children this may be another reason to live elsewhere. In addition to those allowances, bars are often open later than usual, and some are open 24/7.
If you are looking for more of a family-friendly community experience and lifestyle for you and your kids, New Orleans is not one of the top recommended places to live. As we discussed in the previous section, there is always partying going on and that is not an ideal situation for kids.
1. The Economy is Not in Great Shape
Because of the socioeconomic issues that past natural disasters have brought up, New Orleans' economy is continually suffering years after with no hope of improving any time soon. The poverty rate in New Orleans is severely high and is quite apparent when observing the differences in living between those who are wealthy and those who are struggling, which is also due to the low employment rate.
That being said, the cost of putting your children in either public or private school is expensive, as well as paying property taxes. We also addressed the high cost of insurance, which causes 40% of people in the city to not have any form of insurance. All of these individual expenses can add up and create an extremely high cost of living. It is ultimately up to you whether or not you should move to New Orleans, Louisiana.
Related Topics:
If you like the article above, here are some other similar articles you should check out!
Is New Orleans, Louisiana a Liberal City?

Is There Public Transportation in New Orleans?

9 Famous Celebrities Who Live in New Orleans, Louisiana