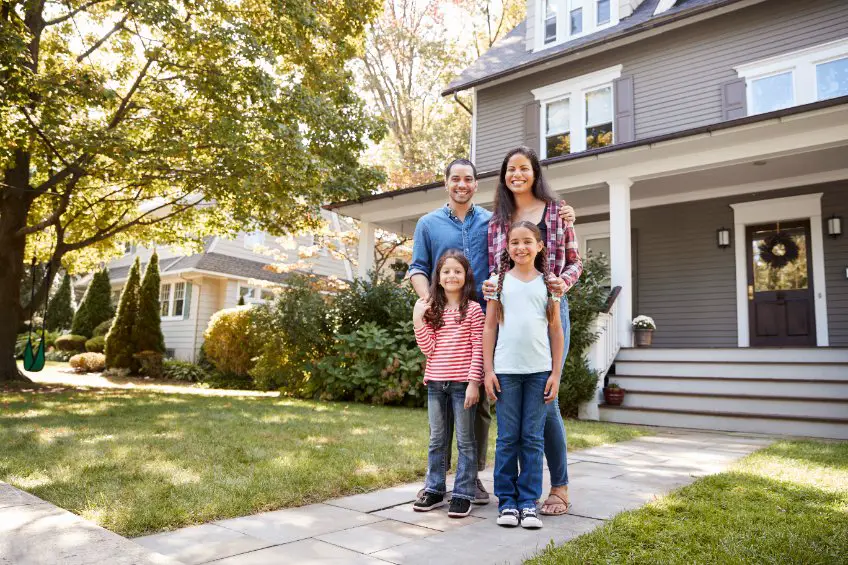 Finding a home to raise children is hard enough but finding a great neighborhood to raise them is harder. Making sure the neighborhood fit your family's need is something of a top priority.
If you are planning to move to Washington City, Utah, then you are in the right place! We've got all the information you need for you and your family to move to Washington City. Read on to find the best family neighborhoods in Washington City!
1. Cotton Meadow HobbleCreek
Located near the Virgin River Park Pond and the Sullivan Virgin River Soccer Park, Cotton Meadow HobbleCreek is a safe and family-friendly neighborhood to move into.
It is located in the suburbs behind the local Walmart and is nearby Dog Town Park. It is a small neighborhood meaning that you are able to walk easily to visit a neighbor's house, while also being able to quickly kip around to Walmart.
What residents love about Cotton Meadow HobbleCreek is how dog-friendly it is, which combined with its walkability and family-friendly area, means it's the perfect area to raise both children and one of man's best friends!
The local animal shelter, Washington Animal Shelter, is located right next to the Sullivan Virgin River Soccer Park. If you are looking to adopt a dog, or even volunteer, the Cotton Meadow Hobble Creek neighborhood makes it easy to volunteer your time or find a fuzzy best friend added to your family.
If you enjoy beautiful and nature-oriented locations, this area will be just up your alley with several parks and a river nearby!
2. Daybreak/Brookhaven Park
Located in a rural area of Washington right next door to the local Staheli Family Farm, you have a great local tie into the local fall festivities when Staheli Family Farm opens its doors to the public with their corn mazes, scare performers, and other open farm attractions every fall for the last 20 years.
Daybreak/Brookhaven Park is the place to be if you love local greenery and a close-knit community, with family-friendly neighbors and an enthusiastic running culture!
3. Desert Meadows
Located near the Gentle Healing Center and several other points of interest, Desert Meadows is a family-friendly neighborhood with beautifully clean and quiet scenery. Its walkability makes for an attractive location for any family looking to find a safe place to raise their kids.
There are two meeting houses for the Church of Jesus Christ of Later Day Saints within walking distance.
Many of the locals are interested in yoga, animal adoption, biking and cycling, home improvement and DIY projects, books, and camping.
4. Green Springs Villas
Green Spring Villas is a neighborhood with a family-friendly atmosphere, located a few blocks away from Green Spring Park. It's a dog-friendly location with a convenient location as well as a reputation for a clean, quiet atmosphere.
Many neighbors are interested in BBQ and Grilling, dancing, travel, and volunteering.
5. Millcreek Springs
Close to The Boiler's Park, Millcreek Springs is a growing neighborhood with friendly neighbors and is close by to the local Walmart Super Center. Close by is also the local Washington City Fire Department, so your home will never be in danger of not being attended to by a local fireman.
It is a quiet, well-kept neighborhood with several dog parks in close vicinity. Down the road is the First Southern Baptist Church of St. George.
6. North Cottonmill Avenue
Located close to the Washington Community Center as well as the local library and elementary schools, North Cottonmill Avenue also has great access to both the freeway and many of the local shops, including the local Walmart and many local fast-food restaurants.
It is a safe, family-friendly neighborhood with well-developed sidewalks and a close-knit community that work together to ensure that the neighborhood is clean and beautiful.
Many local neighbors love learning about home improvement and DIY projects, gardening and landscaping, emergency preparedness, and volunteering in their spare time, so if any of these are part of your passions or interests, you'll find great friends here.
7. Pine Valley
Pine Valley is located right off of Washington Parkway, with a beautiful neighborhood that is safe and family-friendly.
Pine Valley is situated in a prime navigational pathway, with the parkway leading to several different stores and restaurants such as the local favorite Black Bear Diner which opened its second location at the very top of the parkway, close to the freeway access.
Many neighbors are interested in baking, cooking, gardening, landscaping, taking walks, volunteering, and supporting children with special needs. So if you enjoy or are interested in any of these things, you'll get along swell with living with the neighbors in Pine Valley.
8. Pine View Estates
Located across from the local Lin's supermarket and several fast-food chain restaurants, Pine View Estates is family-friendly and has walkability to many of the locations nearby.
Down the road, there is the St. George Dinosaur Discovery sight, which is a fun place for children to learn about the dinosaur fossils and bones that were discovered in St. George, Washington City area in February 2000 Dr. Sheldon Johnson was leveling land on his property. The first fossil discovered was a 3-D cast of dinosaur footprints.
It has a peaceful, quiet, and safe reputation and is a beautiful and nice place to live.
9. Stonehedge
Located right nearby the Church of Jesus Christ of Later Day Saints' new Red Cliffs Utah Temple (still under construction as of 2022 with an estimated completion date in 2023), Stonehedge is a clean, family-friendly area with a peaceful, quiet, and welcoming reputation.
Several blocks away from Stonehedge is the local Washington Fields Intermediate middle school, and several more blocks down the road from Stonehedge is the Staheli Family Farm where fall festivities are hosted during the autumn and fall months.
10. Stucki Farms
Located on the Stucki Farms development, locals have direct access to the Stucki Farms mini-golf and other amenities. Stucki farms is a clean and peaceful area with nice walkability and a dog and family-friendly atmosphere.
Stucki Farms has a pond and park, with a well-maintained sidewalk system and an open field that is neatly landscaped.
It is well maintained and the scenery is enjoyable. Many of the residents of Stucki Farms love hiking, gardening and landscaping, BBQs, road trips, and camping alongside biking and travel.
11. Sugar Plum
Located right next door to the Gypsum Wash Debris Basin Reservoir, Sugar Plum is an excellent place for families. It is close to several local schools and nearby the St. George Regional Airport. It is a family-friendly location with several parks and excellent landscaping.
It is close to the Sandia Nursery, where you can pick up all of your gardening and landscaping needs to design your perfect yard.
Only a few blocks away, Staheli Family Farm offers great fall family activities such as their annual corn maze, waffles, witches program, pumpkin picking at their on-site pumpkin patch, and other farmland attractions.
Sugar Plum has a reputation for being peaceful, quiet, and safe, with many neighbors interested in dogs, taking walks, gardening and landscaping, road trips and home improvements, and DIY projects.
12. Sullivan Park
Located on the opposite side of the river from the Sullivan Virgin River Soccer Park, the Sullivan Park neighborhood is friendly and family-friendly. It is close to many of the local parks and is a peaceful place to raise a family.
It has a reputation for being peaceful and quiet with beautiful landscaping.
Many neighbors are interested in camping, volunteering, gardening and landscaping, DIY projects, and home improvements. Many folks have school-age children which makes it a great place to bring your children as well.
If you enjoy animals or are looking to adopt a pet, there is the local Washington Animal Shelter right next door to the Sullivan Virgin River Soccer Park and Mill Creek neighborhood.
The local Walmart supercenter is nearby at a simple 7-minute drive, leading into the local area of restaurants and other shopping needs with the Mall an additional five-minute drive down the road.
So if you enjoy dogs, camping, or green spaces you will enjoy living in the Sullivan Park neighborhood.
13. Treasure Valley
Right next door to the Stonehedge neighborhood, it is located right next door to the Red Cliffs Utah Temple (estimated to open in 2023). It is located next door to Crimson Cliffs High School and has a peaceful and safe atmosphere. A local elementary school under the name of Crimson View is also nearby.
The locals say that the area is dog friendly as well as family-friendly, with a great reputation for hiking and green areas. Down the road is the local Staheli Farms where in the autumn and fall months there are many family-friendly fall attractions open to the public, such as corn mazes, a pumpkin patch, a ride through the pastures, and much more.
Nearby is Treasure Valley Park, and several blocks away is the South Mountain Community Church.
Many neighbors are interested in books, local history, travel, emergency preparedness, and dogs.
Related Topics:
If you like the article above, here are some other similar articles you should check out!
Is Park City, Utah a Liberal City?

17 Reasons Not to Move to Orem, Utah

Moving to Arizona vs Utah 17 Pros and Cons