In this article, we have listed the top 13 neighborhoods in Spanish Fork, Utah that will provide a safe, convenient, and happy environment for you and your children. We will take into consideration the crime rates, quality of school district, proximity to markets, parks, and doctors' offices, and the emphasis on community.
If you're looking to move your family to Spanish Fork, Utah, and want to find the best area of town to raise your family, look no further.
1. River Road Cul-de-sac
This cluster of cul-de-sac roads begins at the corner of arrowhead trail road and south del monte road. The roads that make up this neighborhood include River Way Road, River Ridge Lane, River View Drive, River Crossroad, River Fork Road, River Rock Road, and Riverside Lane.
Most of the roads in this neighborhood end in a cul-de-sac, making the area a safe place for children. Children like playing in the street with other neighboring children, so a cul-de-sac not only provides a cluster of homes in one tight-knit area but also prevents excess traffic from people taking shortcuts to work or other daily commutes.
This neighborhood is also located in the number one safest

area regarding the crime rate. You'll find this neighborhood in the community of Leland, named after the Leland Milling Company, which encompasses the southern portion of Spanish Fork and parts of Benjamin, Utah.
The neighborhood is also close to Spanish Fork Recreation Complex, several walking trails, and American Leadership Academy

, a quality accredited K-12 charter school.
2. River Bottoms Fairway Circle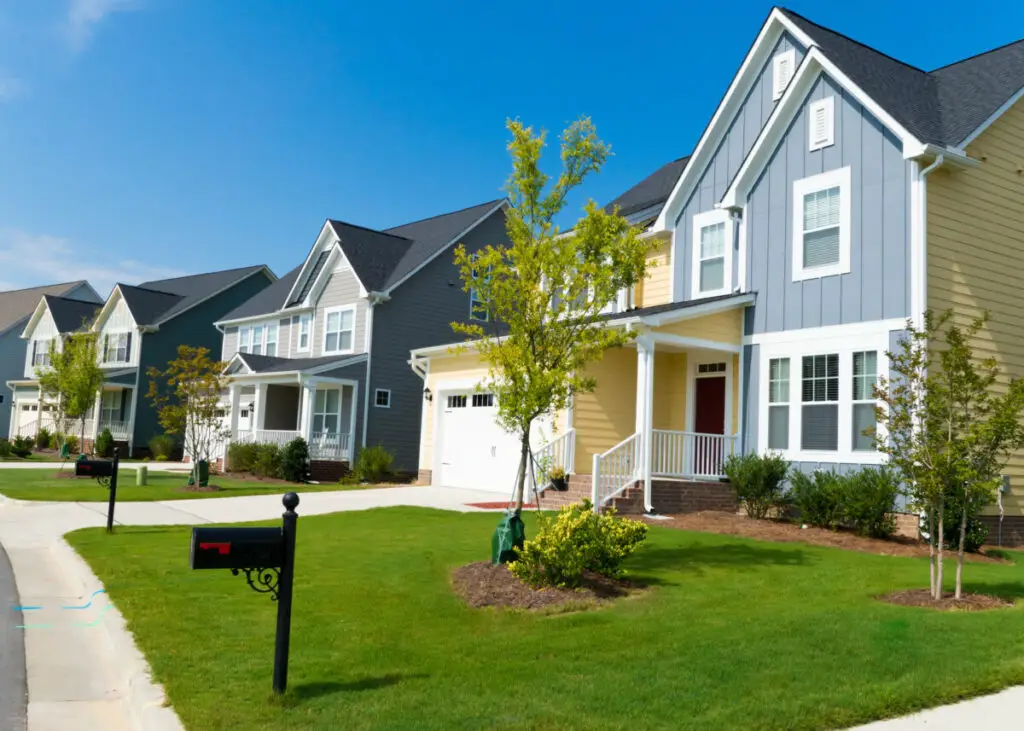 Located along the scenic drive up River Bottoms road, this neighborhood surrounds Fairway circle and Fairway lane. This neighborhood doesn't have everyday traffic cutting through it and remains in a hidden area just north of Spanish Oaks. Because it is so close to Canyon View Park

, your family can easily spend the day fishing or barbequing, or spend a weekend at one of the Canyon View campgrounds.
While this secluded neighborhood is a ways away from downtown shopping centers, grocery stores, and restaurants, it is close to US Highway 6, which will run you straight to these places at a 65-mile-per-hour speed.
3. East Meadows Block
This neighborhood, which is just south of East Meadows Elementary School, is the block of 1400 South, 2050 East, 1480 South, and 2250 East. East Meadows Elementary is a highly rated elementary school in the Nebo school district.
The neighborhood is not only close to a great school for your children, but is also located just East of Abbie Court Park

, which has a basketball court, open field, pavilion, and a playground, providing fun for all ages.
4. Sunset Park Trail
This neighborhood, often referred to by locals as "Barbieville" because every house looks so similar and is painted in bright pastel colors, is located west of Spanish Fork High School and North of the police station. The homes in this neighborhood surround sunset park and sunset park trail.
Because this neighborhood is located so close to the police station, you can live here rest assured that you, your family, and your home will remain safe, knowing that likely nobody will try to do anything suspicious so close to police officers. If an emergency or crime were to happen in or near your home, police will be able to arrive promptly at the scene. This neighborhood is also within close driving or walking distance from Canyon View medical clinic, so doctor check-ups and urgent care visits will be easier than ever.
With a sunset park right at the center of this neighborhood and a walking and biking trail through the neighborhood, your family will always have something to do outdoors.
5. Somerset Village
In the southeast part of town just off of Canyon Road is a gated community called Somerset Village. This neighborhood is a tightly knit community full of friendly neighbors. The community is near Canyon View park, US Highway 6, and the Neighborhood Walmart.
Knowing this is a gated community, you can rest assured that your family and your home will be safe each night when the gates lock up. Only residents will be able to enter the community at night. The neighborhood is not only safe but also quiet and secluded.
There are also pavilions available to rent in the neighborhood for large family events.
6. Stallion and White Horse Drive
Located just off State Road are newly built houses along Stallion Drive and White Horse Drive. These homes, while close to a busy street, are secluded and the two roads along which the houses are built end in a cul-de-sac. This is the perfect neighborhood for street parties and family gatherings.
Stallion and White Horse Drive neighborhood is close to the highly rated Rees Elementary School

, and a close drive to Walmart, Vasa Fitness, and other major shopping stores and restaurant chains. It is a great neighborhood for families who enjoy frequent outings.
7. Whispering Willows
Whispering Willows is a community of affordable townhomes along State Road, with street names like Lilypad Drive, Firefly Drive, Willow way Drive, Cattail Drive, Dragonfly Lane, and Bullfrog Drive.
This townhouse community is a friendly neighborhood where children are constantly roaming the low-traffic streets on their bikes and scooters, or running around the various community playgrounds and parks. The neighborhood also has several picnic tables and a dog park, making it the perfect neighborhood for large families with pets. The community is also a close drive from Walmart and other shopping and restaurant centers.
8. Maple Leaf Drive
This neighborhood, just east of Maple Mountain High School, is in the beautiful suburbs and outskirts of East Spanish Fork, near fields and fields of crops. This small community is right between Maple Leaf Drive and Spanish Fork Parkway. Because the neighborhood is away from the rest of town and near a public school patrolled by officers, you can expect a much lower crime rate in the area.
With homes close together and the community on the outskirts of town, neighbors are likely to know each other like family. You can expect your children to develop close friendships with other neighborhood children, especially those they go to school with. When they reach high school age, you won't have to worry about them driving to school because the high school is within walking distance.
9. Little Chicago
This neighborhood is located on the block of 700 North, 400 East, 800 North, and 300 East. This block hides a small park surrounded by houses in the center called Little Chicago Park

, which makes it a perfect place for your family to play, exercise, relax, and spend time together.
This block neighborhood is just a couple of blocks south of Macey's, Costco, and several other shopping spots and restaurants, so your daily commute will be less taxing on your gas mileage.
10. Little Cleveland
Near the Little Chicago block is another block hiding a small community park surrounded by homes called Little Cleveland

, on the streets of 600 North, 400 East, 700 North, and 500 East. This hidden park allows for a private place for your family and your community to relax, exercise, and spend quality time together.
This block is also not far south of Maceys, Costco, and other shopping centers and restaurants, so you can count on this convenience to help you save on gas.
11. Adventure Heights Park
This neighborhood is located right along Canyon Road and just south of Adventure Heights All-abilities Park

. Adventure Heights is an all-abilities park that accommodates children with any physical disabilities, including wheelchair-accessible swings and a sensory garden, which helps those with sensory issues a refuge from all the energy of the main park. You can find this neighborhood between 1100 East, 1240 East, 8th South, and 1000 South.
This quiet neighborhood is the perfect spot for families with children, especially families with children who have special needs, as the park provides fun for all ages and all abilities. The homes are well spaced out and several new homes are currently being built just east of this neighborhood, meaning more new builds will become available in the near future.
12. Sierra Bonita
Located just west of the highly rated Sierra Bonita Elementary School and Sierra park between the streets 1000 East, 100 South, 1430 East, and 130 North is a tight-knit yet spread-out neighborhood.
Because this neighborhood is so close to both Sierra Bonita Elementary and Maple Mountain High School, you can be assured that your children will be within boundaries and close distance to quality public education. Your family can also spend time together at Sierra Park

, which is the perfect destination for both big and little kids, as there is a soccer field and playground in the park.
The homes in this neighborhood have ample front and back yard space for personal family activities and large get-togethers.
13. South Cemetery
Located in one of the quietest parts of town, is a neighborhood just south of the Spanish Fork cemetery. While living near the cemetery may seem a bit spooky, it is actually a very peaceful area surrounded by trees. This scenic neighborhood is made up of scenic drives, 720 South, and 530 East.
Your family will be within close driving distance to the main street, downtown shopping and dining, as well as the fairgrounds, where local events are held year-round. The neighborhood is also just south of Centennial Park

, where there are soccer fields and playgrounds, as well as the city skate park, providing multiple fun spots for all ages to hang out or play.