Salt Lake City is a beautiful city nestled against the Wasatch Mountain Range. The area is especially popular among avid skiers and snowboarders, hikers, and other lovers of the outdoors, thanks to the readily accessible peaks to the east and the oh-so-sought-after powder blanketing them in the winter. It's a pretty religious area too, housing the headquarters for the Church of Jesus Christ of Latter-Day Saints.
If you're considering moving to Salt Lake City but are concerned about how family-friendly its neighborhoods and suburbs are, look no further. We've compiled a list of 13 of the best places to raise your family in the area.
Wasatch Hollow
Wasatch Hollow rates high on several different lists ranking neighborhoods in Salt Lake City. Located several blocks south of the University of Utah campus, it is a suburban area where most of the residents own their own homes.
For young families, a good school environment is usually one of the top concerns when looking for a home. The public schools here are above average, according to niche.com. They include Uintah School, Bonneville School, Emerson School, Dilworth School, Innovations High School, and several more.
One resident noted that though people with many different religious beliefs and views live in the area, they all get along well. Young families as well as older folks live happily in this safe, quiet, very walkable neighborhood.
Greater Avenues
The Greater Avenues is located just east of Capitol Hill in Salt Lake City and is safer than 95% of SLC neighborhoods. The ratio of residents who own their homes versus those who are renting here sits right around 50-50.
This neighborhood is also one of the most beautiful in the area; it offers a stunning view of the Utah State Capitol and overlooks the Salt Lake Valley from its place on the hill. You can also find a few different parks and trails including Memory Grove Park, City Creek Canyon, and the Bonneville Shoreline trail.
One resident said that the community sends out a regular newsletter informing everyone of upcoming events and other issues that affect the neighborhood.
Finally, the public schools serving this area are considered some of the best in Salt Lake City.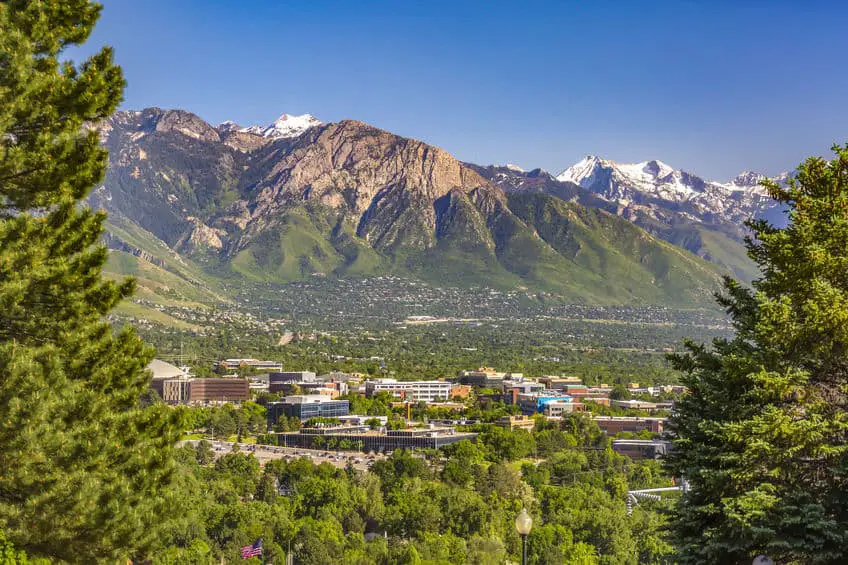 East Bench
East Bench is tucked right against the Wasatch Mountain range, close to the University of Utah. It is densely suburban and over 85% of residents own their homes. It is also one of the safest neighborhoods in Salt Lake City.
For families who love the outdoors, there are plenty of opportunities to get outside and hike, bike, climb, and more, practically in their own backyards.
This neighborhood is also very close to several other family-friendly activities, including Utah's Hogle Zoo and This is the Place Heritage Park.
Liberty Wells
Liberty Wells is closer to the heart of Salt Lake City, about 8 minutes from Downtown. It is also slightly more affordable than some of its "uptown" neighbors.
Extraspace.com describes this area as having an "easy-going" vibe, with plenty of family-friendly restaurants, parks, and great schools. Some of the closest places for educational, fun activities include Tracy Aviary, Smith's Ballpark (home to the Salt Lake Bees), and the Grand Theatre.
The crime rate here is a little higher than in other neighborhoods in the city, but overall residents love how friendly their neighbors are, the central location (just close enough to the downtown action without too much traffic) and the plethora of dog lovers.
Sugar House
This neighborhood may house many younger, single residents, but is still very family-friendly! One of Salt Lake's oldest neighborhoods, Sugar House is cozy and suburban, with lots of 1920's style bungalows still lining the streets.
Sugar House may feel more "small town," but it is still very close to the University of Utah, Westminster College, and downtown Salt Lake. Some residents say that it is a very walkable area with friendly neighbors and great community events.
Sitting at the heart of the neighborhood is Sugar House Park, a 110-acre green space complete with a large duck pond, sports fields and courts, pavilions, and playgrounds. The Salt Lake County website calls it "the crown jewel of Sugar House."
Yalecrest
Yalecrest lies directly south of the University of Utah campus. It's an older suburban area where most residents own their own homes and children can be seen selling lemonade on the side of the road in the summertime.
Its residents seem to have nothing but good things to say about their neighborhood, noting that everyone feels welcome and part of the community, even if they aren't members of the Church of Jesus Christ of Latter-Day Saints, the prominent religion in the area.
The neighborhood is also within walking distance of everything from grocery stores to doctor and dental offices and other small businesses. It's just a brief bike ride to the university campus and a 10-minute drive to the middle of downtown Salt Lake.
Bonneville Hills
Bonneville Hills is just east of the Wasatch Hollow neighborhood, and it's similarly safe and quiet. Most residents consist of young couples, young families, and working professionals and most own their own homes. The public schools serving the area are highly rated.
This neighborhood feels like it's far away from all the action of the "big city," which families often appreciate, but if you ever want to do something a little more upbeat, you're only minutes away from Downtown, the Hogle Zoo, the Bonneville golf course, the nightlife of Sugar House, and more.
Capitol Hill/Marmalade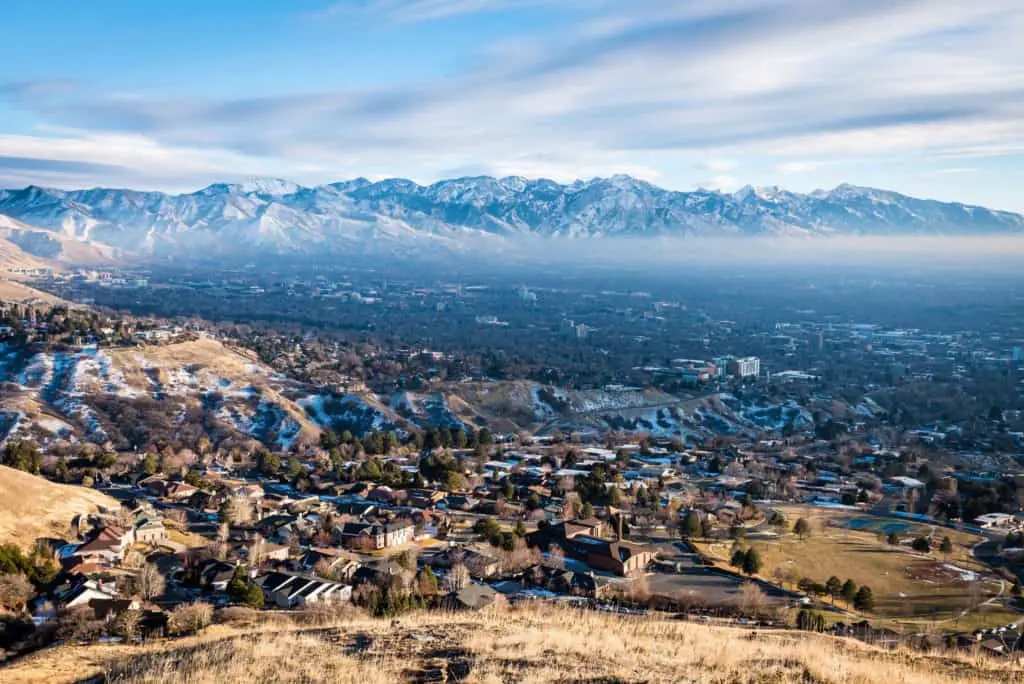 Capitol Hill, as its name suggests, includes the area right next to the Utah State Capitol building and part of Beck Street. Marmalade is a smaller subsection within the Capitol Hill region.
This neighborhood has great access to public transportation that channels through the heart of Salt Lake City. Residents love the different community events and service opportunities that happen frequently. They help the neighborhood feel united and involved.
Some beautiful natural features in the area include Ensign Peak (a relatively short hike with a spectacular view at the end), Memory Grove Park, and the Bonneville Shoreline trail.
Capitol Hill, as with many of the neighborhoods in Salt Lake City proper, can be expensive to live in, but Marmalade has some more moderately-priced homes available, making it ideal for younger families purchasing their first home.
The next few areas on the list are actually suburbs of Salt Lake City itself. Many families prefer living further away from the city, and these towns are some of the best, family-friendly suburbs in the Salt Lake Valley.
Cottonwood Heights
Cottonwood Heights is nicknamed the "City Between the Canyons" because it sits at the entrance of both Big and Little Cottonwood Canyons. Families who love to be outdoors together will enjoy the easy access to the many hiking trails and creeks/rivers, as well as the close proximity to some of Utah's best ski resorts, including Alta, Snowbird, Brighton, and Solitude.
The Cottonwood Heights Recreational Center is a great family amenity, with a pool, gym, basketball, tennis and racquetball courts, ice-skating rink and plenty of fitness classes. The schools in the area are also highly ranked. Part of the town has seen a lot of business growth recently, but the majority of neighborhoods still have a pleasant suburban feel.
Bountiful
Bountiful is about 20 minutes north of the outskirts of Salt Lake City and is filled with both younger and older families. It offers a wide variety of homes for almost any families budget. As is the case with most big cities and their suburbs, it's cheaper to live here than in Salt Lake City proper.
Bountiful has multiple large parks and green spaces, great public schools, access to beautiful hiking, walking and biking trails and even a local farmers' market. Residents note that they feel very safe living in the area and feel close to their neighbors.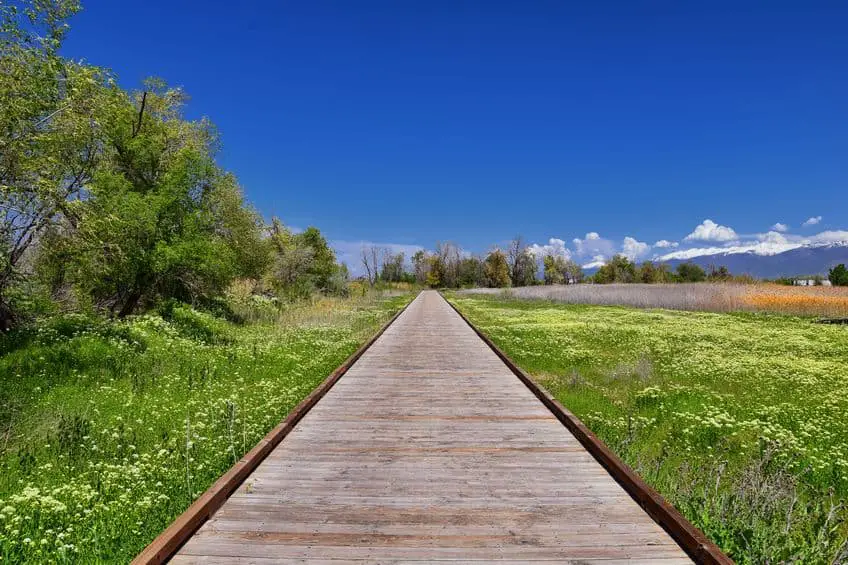 Draper
Draper is a slightly pricier suburb of Salt Lake, located about 30 minutes south of the city. It has over 35 parks and lots of active family-friendly activities including horseback riding, biking, hiking, and more. There are also plenty of community activities always going on, which help residents to meet their neighbors and feel more close-knit as a community.
South Jordan
South Jordan is located a few minutes northwest of Draper. Like its suburb neighbors, it is very family-friendly with schools that are easily accessible by foot or a short drive, lots of parks, and a fitness and aquatics center. Families don't have to worry about finding something fun to do, because there are plenty of activities close by. Residents note that the community is very welcoming and very safe.
Woods Cross
Woods Cross is another more affordable suburb, located about 15 minutes north of Salt Lake City. It has easy access to public transportation, which makes it convenient for those who commute into Salt Lake City proper. The majority of residents own their own homes here. There are usually several community events going on, including activities like movies and concerts in the local parks. The Legacy Nature Preserve is also close by.
Related Topics:
If you like the article above, here are some other similar articles you should check out!
Best Internet Providers in Salt Lake City, as Voted by Over 50 Locals

Is There Public Transportation in Salt Lake City, Utah?

Is Salt Lake City, Utah a Liberal City?