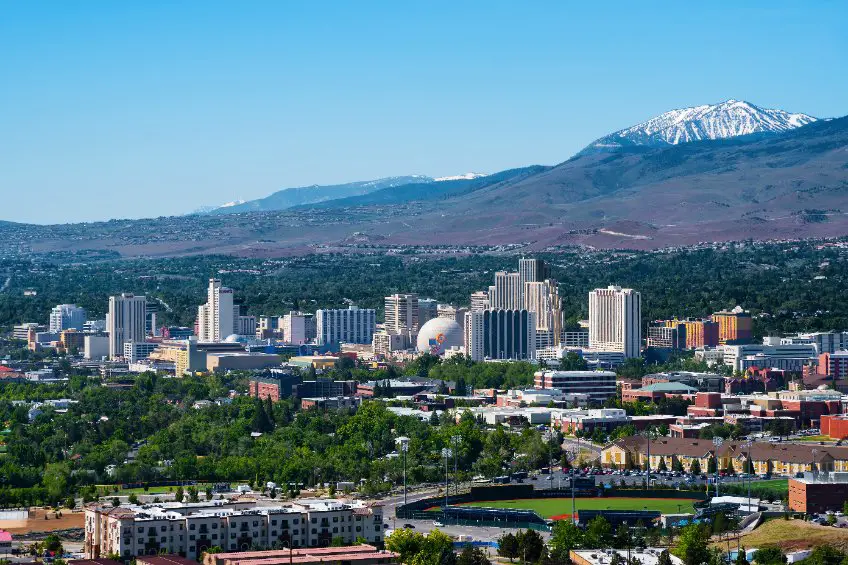 Are you planning to move to Reno, Nevada, but you don't know which neighborhood is the best for your family? To help you decide, here are the 13 best family neighborhoods in Reno.
These are the highlights of each of these communities, whether that's the quality of life, the things to do nearby, the schools, or opportunities that you might find there.
13. Virginia Lake
Just 3 miles south of Downtown Reno

, Virginia Lake is a good choice if you want to cut down on your commute to work every day.
Nearby Virginia Lake Park

is a great park for kids and dogs alike, with plenty of space to run around, bike, play ball, or picnic, not to mention the playgrounds or trails. The 25-acre lake located in the park is a popular fishing spot. Most fish caught in the said lake are rainbow trout, largemouth bass, and common carp, but there are also catfish, walleye, bluegill, muskie, and northern pike.
You can also find the Pioneer Center for the Arts and the Meadowood Mall nearby, as well as Reno Century 16 Theaters, Costco, and Sam's Club.
12. Kings Row
The suburbs of Kings Row house a community that includes families and young professionals, and it's near the West University community, where college students and staff live, so there is a lot of potential to meet interesting people! Nearby, you'll find Northwest Park, where you can spend time outdoors or in the public swimming pool.
There are a lot of schools around Kings Row, including the Crosswalk Preschool. Then there are Towles Elementary School and Peavine Elementary School, the Honors Academy of Literature and Clayton Middle School, and the Davidson Academy and Robert McQueen Highschool. Kings Row is also home to the King's Academy and the Community Life Center.
11. ArrowCreek
If you want luxury, ArrowCreek

has it. From the two eighteen-hole golf courses and the country club to the ArrowCreek Resident's Center and Ellen's Park, there is plenty to do around here. There's also Double Diamond Athletic Club, a premiere gym facility that includes a Junior Olympic Pool and a kids club.
Ellen's Park has a playground, but if that isn't enough outdoor adventure for you, you could also head over to the Galena Creek Regional Park or the Galena Creek Recreation Area, where you can explore the Galena Forest and the hiking trails around there.
A short drive towards South Towne Crossing can take you to Walmart, Sprout's Farmer's Market, Marshall's, or fast food restaurants including Panda Express and Chipotle.
In ArrowCreek, you'll be able to take your pick from several high-quality schools, including Hunsberger Elementary School, Sage Ridge School, Pine Middle School, Herz Middle School, Galena High School, and Bishop Manogue Catholic High School.
10. Estates at Mt. Rose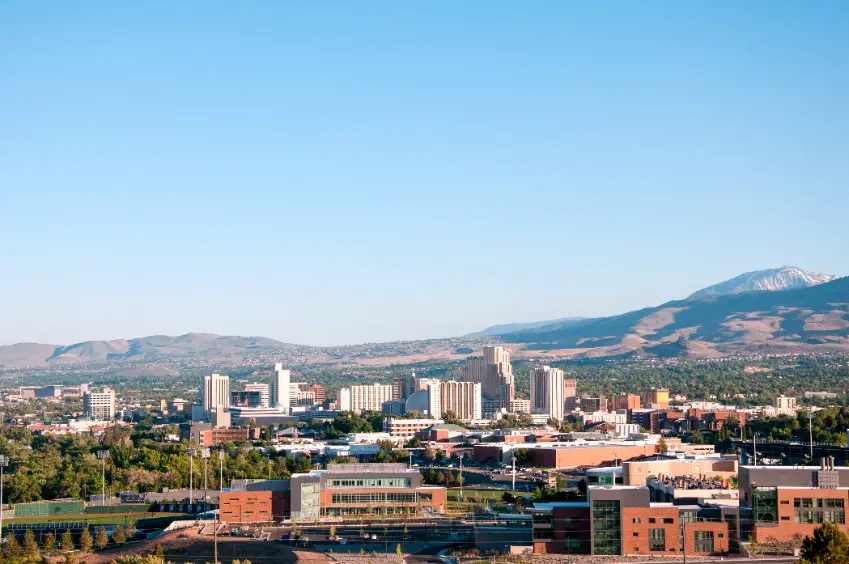 Another luxurious neighborhood is the Estates at Mt. Rose, complete with upscale homes and beautiful scenery. These homes are ideal for large families, with four to six bedrooms, half an acre of land to work and play with, and service from the top-rated schools in the local school district.
Those schools include Hunsberger Elementary School, Edward L. Pine Middle School, and Galena High School, but students can also attend Mountain View Montessori School or Sage Ridge School.
To explore the local area, you can go to either Steamboat Hills, Callahan Park or Galena Creek Trail, where you can enjoy parks and/or hiking trails. There is also Washoe Lake, which is 13 miles south and is smaller than Lake Tahoe, but it's still a real sight to see.
9. Virginia Foothills
Virginia Foothills

is a quiet suburban neighborhood that is separated from the rest of Reno, but still easily accessible by 1-580. There are nearby hiking trails that you can use to enjoy the beauty of all the beautiful mountains around the area, and if you're lucky, you might even see some wild horses.
The Virginia Foothills Park has plenty of things to do: you can play horseshoes, tennis, or volleyball, and it also has a playground, a fitness track, and picnic tables with views of the mountains.
Residents here are interested in cycling, books, DIY, volunteering, crafts, sewing, and camping, so it shouldn't be hard to find a neighbor who shares your interests.
8. Galena Forest Estates
This neighborhood

, as you might have guessed from the name, is surrounded by the lush pines of the Galena Forest. It's a nice, peaceful place to relax after leaving the pressures of the city.
Houses typically have four to six bedrooms, and if the dense nature in your backyard isn't enough for you, you can go to Galena Creek Recreational Area, Galena Creek Regional Park, or Brown's Creek Trailhead for your fix of natural wonder.
Schools serving this area are Hunsberger Elementary School, Edward L. Pine Middle School, and Galena High School.
7. Fairways at Fieldcreek
If you're more into the gated sort of community, Fairways at Fieldcreek might pique your interest. With fantastic views and a champion golf course, this gated community is home to young families and retirees alike. The homes are typically large, with up to 8,600 square feet and private lots that can be up to 2.9 acres.
Students living in Fairways at Fieldcreek go to Elizabeth Lenz Elementary School, Edward L. Pine Middle School, and Galena High School, unless they choose instead to go to Mountain View Montessori School or Sage Ridge School.
Lake Tahoe is just a 25-minute drive away, with scenic views along the way.
6. Copper Knolls
Copper Knolls

is surrounded by beautiful mountains so that you always have a great view. Houses are built on lots of 0.19 acres to 0.37 acres, so you'll have some yard area to play around with.
You'll also have Somerset West Park and Somerset East Park on either side of the neighborhood for the kids to play at, with lots of places to explore and have picnics, as well as basketball courts and a playground.
Schools for residents of the Copper Knolls are the George Westergard Elementary School, B.D. Billinghurst Middle School, and Robert McQueen High School. Those schools are part of the public Washoe County School District, but students could alternatively go to the public charter school, the Coral Academy of Science.
5. Stead
The suburbs in Stead

offer a nice chill vibe for families. There are nice green spaces nearby, including the Keystone Canyon. The Swan Lake Nature Study Area is also a great place to explore.
Then there's the Lemmon Valley Community Center, which has a baseball field, basketball court, and soccer/football field. There are three more baseball fields in the North Valleys Regional Park.
Students in Stead go to Stead Elementary School, the middle school O'Brien STEM Academy, and North Valleys High School. High school students may choose to go to TMCC High School instead, which is part of Truckee Meadows Community College. TMCC High School can prepare them for a specific career path or give them college credit.
4. Caughlin Ranch
Caughlin Ranch

is a suburban community that's full of trees, giving it the lush feeling of green life. The regional park is Village Green Park, which hosts Concerts on the Green in the summertime, as well as other various seasonal events.
There's also Idlewild Park, which sits on the northwest side of the neighborhood and borders the Truckee River. At Idlewild Park, you can play baseball, tennis, basketball, or volleyball. Then there's Idlewild Pool, and the park's weekly Food Truck Friday. Nearby, you can find Safeway, Walgreens, and Save Mart.
Students in Caughlin Ranch go to Caughlin Ranch Elementary School, Swope Middle School, and Reno High School. Caughlin Ranch Elementary School is conveniently placed right next to the Village Green Park, so students like to head over there to play after school.
3. Copper View at Caramella Ranch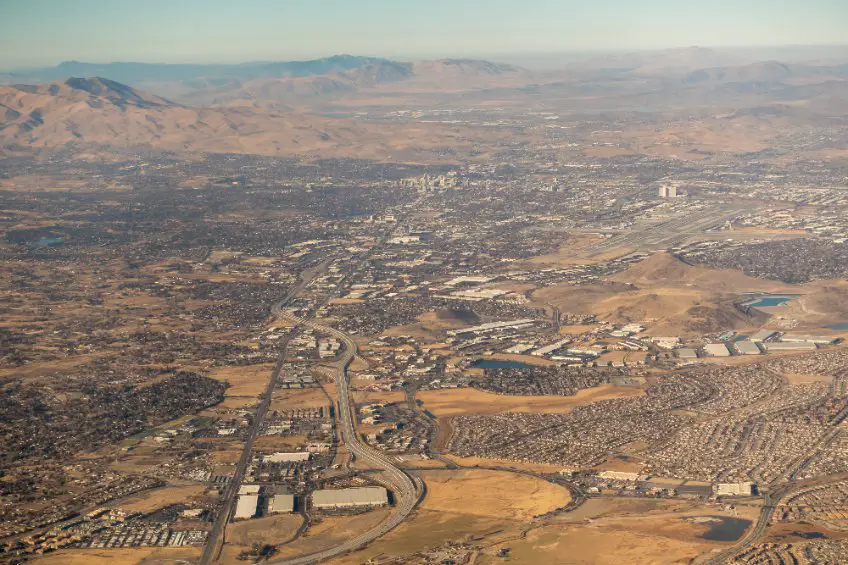 Copper View

has a private pool that's exclusively for residents, where you can have fun gathering with old friends or making new ones. It has a great view of both the Sierra Nevada and the city, and you can get to Lake Tahoe or to a ski resort in just a short drive.
Damonte Ranch Park is extremely close to Copper View. It's also very close to the Summit Mall, as well as some restaurants for when you want a treat.
Students from this neighborhood will typically go to Brown Elementary School, Kendyl Depoali Middle School, and Damonte Ranch High School, but they also have the option to attend Foothills Church Academy, a privately-run Christian school for K-12 students.
2. Belsara
Belsara

is a small, quiet community, located near the southwestern edge of town, with beautiful views and three to four-bedroom houses. It's next to Lake Stanley, so you can spend some time out on the water kayaking, canoeing, fishing, or swimming.
The schools near this community are Caughlin Ranch Elementary School, Huffaker Elementary School, Darrell C. Swope Middle School, and Reno High School.
1. Mayberry Ranch Estates
This is another small, quiet community that is close-knit and family-friendly, so it's potentially a great place to settle in and make new friends. The Truckee River is right next to the neighborhood, and it's kept stocked with all sorts of trout for fishing.
Schools that serve this area are Roy Gomm Elementary School, Darrell C. Swope Middle School, and Reno High School.
Related Topics:
If you like the article above, here are some other similar articles you should check out!
Is There Public Transportation in Reno, Nevada?

Is Las Vegas, Nevada a Liberal City?

17 Reasons Not to Move to Las Vegas