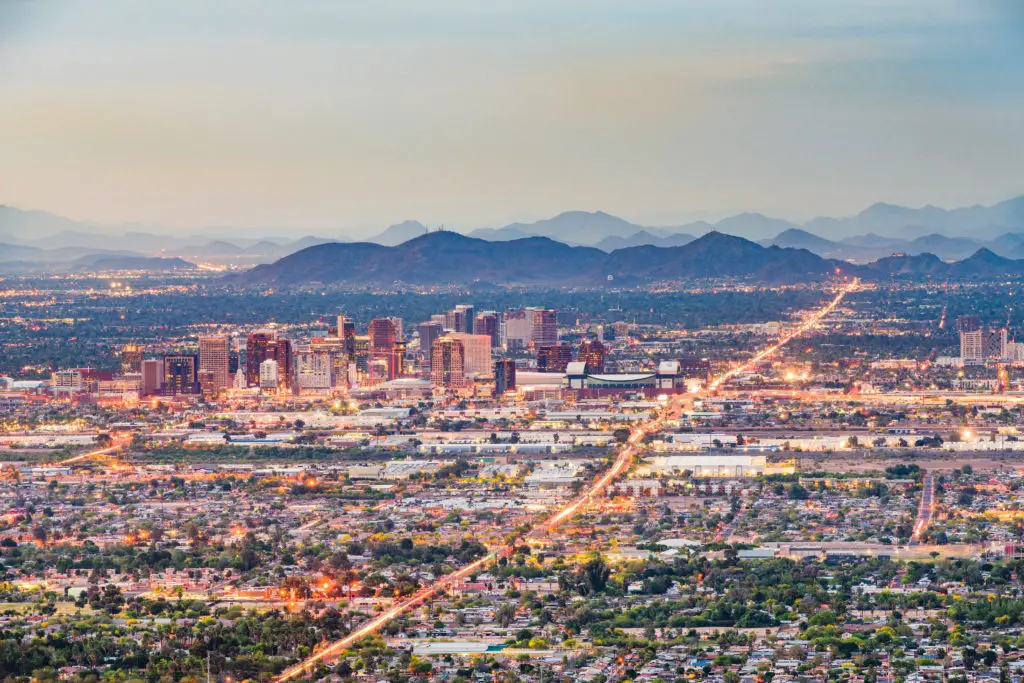 Phoenix, Arizona has long been the site for the pursuit of a better life. With its rich culture, abundant luxuries, and temperate climate, Phoenix is becoming one of the most sought-after places to live. Here are 13 of the best neighborhoods to consider settling in.
1. Paradise Valley
Heralded as the Beverly Hills of Phoenix, Paradise Valley (commonly referred to as "PV") is comprised of mountain-top mansions and 360-degree views of the Valley of the Sun. A number of world-class resorts and golf courses contribute to the size of Paradise Valley Village, with its boundaries just meeting TPC Scottsdale– the golf course where the Phoenix Open is held every year.
The life and culture of Paradise Valley appear differently than in other nearby neighborhoods. It is more isolated than others. PV is still accessible and central to many other communities but is set high in the mountains for a secluded and elite appeal.
2. Arcadia
For many, Arcadia is the center of the universe. As one of the most desirable neighborhoods in the Phoenix Metro area, Arcadia is a bastion of luxury and refined living. Its location in the valley is ideal: it is right in the middle of several other lovely neighborhoods, and just a stone's throw away from high-fashion boutiques, dazzling resorts equipped with world-class golf courses, and rave-worthy restaurants and bars.
Not far from Arcadia lies Old Town Scottsdale, also known as Downtown Scottsdale. While being more touristy than its Northern counterpart, Old Town features Western store after Western store with no shortage of turquoise jewelry and cowboy accessories. It might be a little cheesy, but it exists as an homage to the foundations on which Phoenix was built.
3. North Scottsdale
North Scottsdale exists as a perfect pairing of high-class society and refined desert dwelling. Nestled in the northern ridges of Phoenix, North Scottsdale is mingled with newer, sleek developments, venture capital start-ups, and the quiet chill of the desert, creating a neighborhood that is refined and exciting all at the same time. Communities cater to those who want the ease of a classy townhome and to those who want a spacious desert oasis. Both styles of living are affected by the arid climate of the Sonoran Desert, meaning there is little maintenance required for yard and landscape upkeep. Despite this, however, North Scottsdale has some of the most beautiful golf courses in the whole state.
The newer suburbs of Scottsdale bleed into the North, which then leads into towns that haven't changed much since they were established in the days of the Wild West. Of course, the buildings are up-to-date, but the themes and styles of the towns reflect the simplicity of Western country living saloons lining the streets, featuring horse posts in the parking lots. Towns like Cave Creek and Carefree embody the characteristics of Old Town Scottsdale while remaining authentic and rustic.
Another attractive feature of the North Scottsdale area is the equestrian population. Ranches and stables coexist with luxury car shops and fine-dining establishments.
4. Camelback East Village
Arcadia's closest neighbor, Camelback East Village offers many of the same social amenities while also being a more subdued version of the gauche Phoenician neighborhood. With direct access to Camelback Mountain, the East Village offers a more laid-back lifestyle with numerous trails and walking paths in the area. Camelback East is still a short drive from plenty of shops and eateries but is home to a more reserved, quieter demographic.
Camelback East also offers a wide variety of homes, from new developments to mid-century fixer-uppers, all with the same access to incredible public and private schools alike.
5. Chandler
Chandler, Arizona, and its twin, Gilbert, make up an area known to locals as "Chandler-Gilbert." The Chandler-Gilbert area is becoming one of the best areas for families. Chandler not only has some of the best burgeoning culture in the Phoenix Metro region, but it also has a great deal of historic charm.
Chandler is set further away from the mountains that make up the Valley of the Sun but its expansive boundaries provide ample space for walkable suburbs and sprawling parks.
Another feature that sets Chandler-Gilbert apart as an exceptional place for larger families is its schools. They are high-ranking both academically and in extracurriculars. The high school sports teams in the Chandler area are frequently some of the most successful teams in their divisions. And as the culture caters to youths and families, the recreation and social scene is vibrant and inclusive to all ages at an affordable cost.
6. Verrado
Verrado is a newer but rapidly growing community in Western Phoenix. Though this neighborhood is the farthest west of those on this list, it is still a 25-minute drive from Downtown Phoenix.
Built into the White Tank Mountains just north of Buckeye, Arizona, Verrado is a golf community that is home to about 20,000 residents. Not only is the quiet neighborhood perfect for young, active families, but it also features a 55+ community. The neighborhood has its own elementary, middle, and high schools, all named after the community. They are also all highly ranked within their districts and are relatively new builds, along with the rest of the neighborhood.
7. Roosevelt Row
The Roosevelt Row Arts District is a newer neighborhood that is quickly making a name for itself as one of the quirkiest and most culturally abundant neighborhoods in Phoenix today. Called "RoRo" by the locals, this district is teeming with funky and hip venues, open-aired markets and restaurants, and one-of-a-kind art installations.
Homes in the area are confined to townhouses and apartments, but there is no shortage of style and swankiness within the complexes.
Roosevelt Row is certainly more ideal for the artistic types, small families, and adults. RoRo is not a place for white picket fences and minivans. It is for seeking out and relishing the rich details of life in vivid colors.
8. Agritopia
What was once a small farming neighborhood just outside of Gilbert, Arizona, Agritopia is now one of the newest and most charming neighborhoods in the region. Especially for families, or anyone searching for a charming, small-town feel near a metropolitan area. Agritopia boasts narrow streets and low fences, which encourage neighbors to interact with each other and find life outside of their homes.
One of the strongest appeals of Agritopia is its familial attributes— attributes that were the foundation for the town. Since its founding in the 1990s, it has grown to be a tight-knit community dotted with houses of all kinds of styles, and fun joints that reflect the roots of the neighborhood.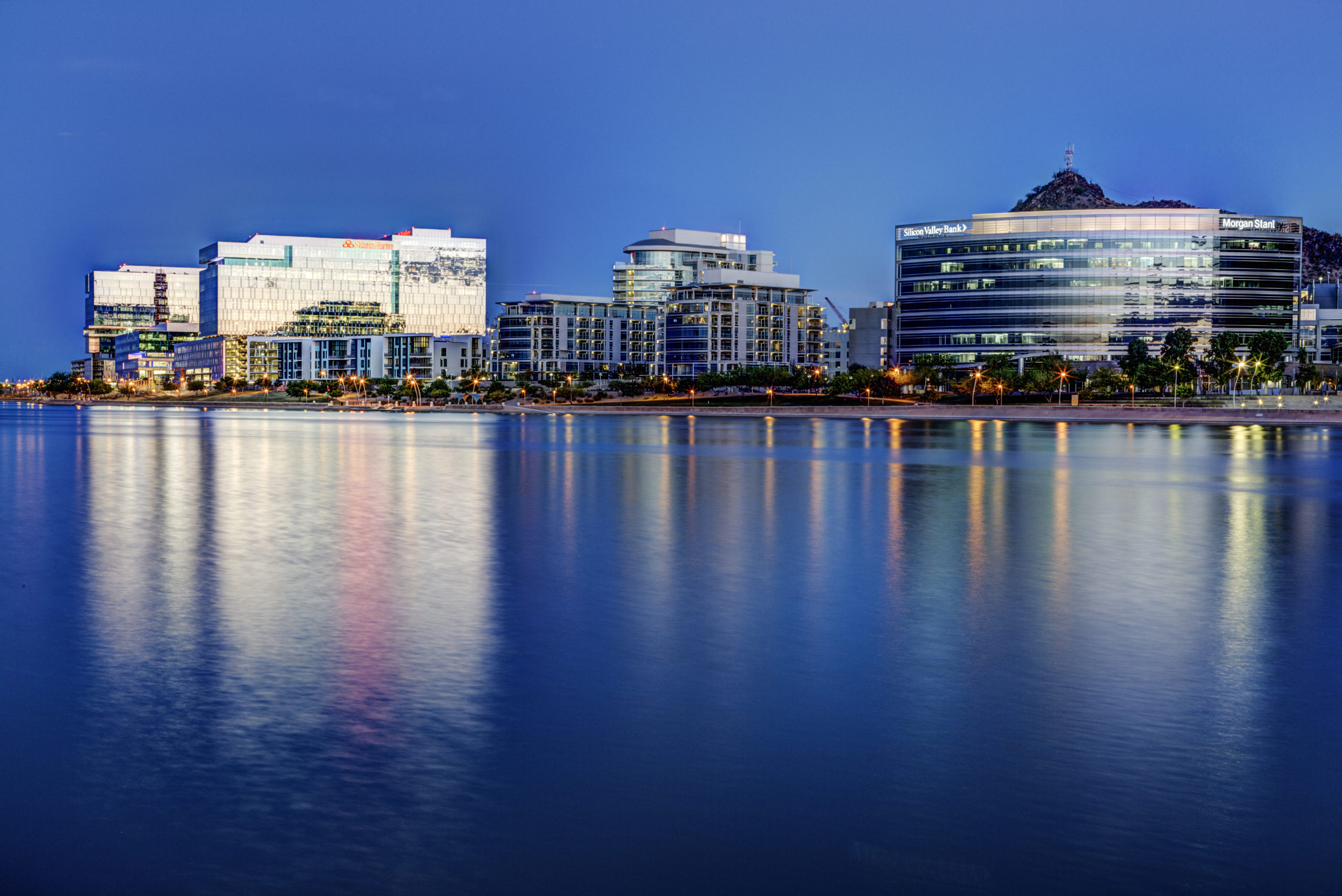 9. Tempe
Because of the demand for life in Arizona, Tempe has grown from simply being a college town into being a fun and fresh neighborhood for young adults and young families to settle. The proximity to such a large university has its perks as well: there are plenty of options when it comes to dining, entertainment, and recreation.
Arizona State University sits just off of Tempe Town Lake with Scottsdale on the other side. The Town Lake offers canoeing and kayaking opportunities for the city slickers that make up Phoenix. ASU's prodigious arts programs and Gammage Auditorium provide a cycle of new shows and art exhibits regularly. The sports teams at ASU are not particularly well-decorated, but their events are frequent and incredibly fun to attend.
As ASU has grown, so have the neighborhoods in Tempe. Historic districts and old communities have received remodels in recent years, increasing the curb appeal and functionality of the homes, drawing in more business to an incredible area. The revamping of neighborhoods has spread to the revamping and remodeling of local schools as well, making them stronger and better than ever.
10. Deer Valley
Deer Valley sits on the northwest side of the Phoenix Metropolitan area. It is a densely-packed neighborhood with almost 200,000 residents. Because of its northern location, its outskirts are spacious, making it a perfect place to host autosports and race tracks. The Phoenix Deer Valley Airport serves as a campus for numerous aeronautical schools. Its location is also such that there is easy access to the freeway, meaning commuting is fast and easy from the quiet and charming neighborhood.
11. Desert Ridge
Between Paradise Valley and North Scottsdale, Desert Ridge is a large master-planned community perfect for families. You can think of it as the Chandler-Gilbert of northeast Phoenix. In fact, the Chandler-Gilbert area is very closely modeled after the Desert Ridge community. It is older than Chandler-Gilbert, as its major growth took place 15-20 years ago. But as Scottsdale continues to grow, Desert Ridge becomes more entwined with new growth and people.
On the other hand, Desert Ridge's age is a testament to its quality. The establishments that have existed for the last decade or so are cherished and well looked after.
Another similarity Desert Ridge shares with Chandler-Gilbert is its schools. In fact, the Desert Ridge schools are typically direct rivals for the schools in Chandler and Gilbert, both academically and athletically.
12. Ahwatukee
On the southern side of Phoenix Metro, Ahwatukee is an area of Phoenix with a population of about 83,000. It is a community that combines the perks of big city living (lots of entertainment, including a number of golf courses) with the quaint association of a small town (quiet streets, lots of parks, and social events).
Ahwatukee is also blessed with quick freeway access, making the commute to Chandler, Scottsdale, Glendale, etc, manageable and functional. Because of this, Ahwatukee is a great place to settle if you want to be somewhat removed from the place you work. It's the right amount of accessible, mixed with the right amount of isolation.
13. Biltmore

The Arizona Biltmore is a Waldorf-Astoria private resort neighborhood community due east of Camelback mountain. Over the last fifteen years, "the Biltmore" has grown into its own as a self-sustaining luxury community within Phoenix. Everything you could need is within a mile radius of the complex: cozy and luxurious homes, an 18-hole golf course, high-end designer shops, renowned bars and restaurants, a "downtown" area with an array of companies inhabiting towering office buildings–all complete with well-kept greenery juxtaposed against the rocky ridges of the valley.
As a resort, the Arizona Biltmore has a rich history of entertaining the notable and famous, including JFK, Marilyn Monroe, and Irving Berlin. But the community that inhabits the residences at the Biltmore has a much more low-key history, making it the perfect place to live. The neighborhood is quiet and comparatively understated, but still maintains a rare refinement and sense of luxury in a way that few other Arizona neighborhoods have.
On the eastern side of Phoenix, the Biltmore has close access to some of the best private schools in the area, namely All Saint's Episcopal Day School, Brophy College Preparatory, and Phoenix Country Day School.
Related Topics:
If you like the article above, here are some other similar articles you should check out!
9 Famous Celebrities Who Live in Greater Phoenix Area

11 Things to Know Before Retiring in Phoenix

17 Reasons Not to Move to Mesa, Arizona (Voted by the Locals)