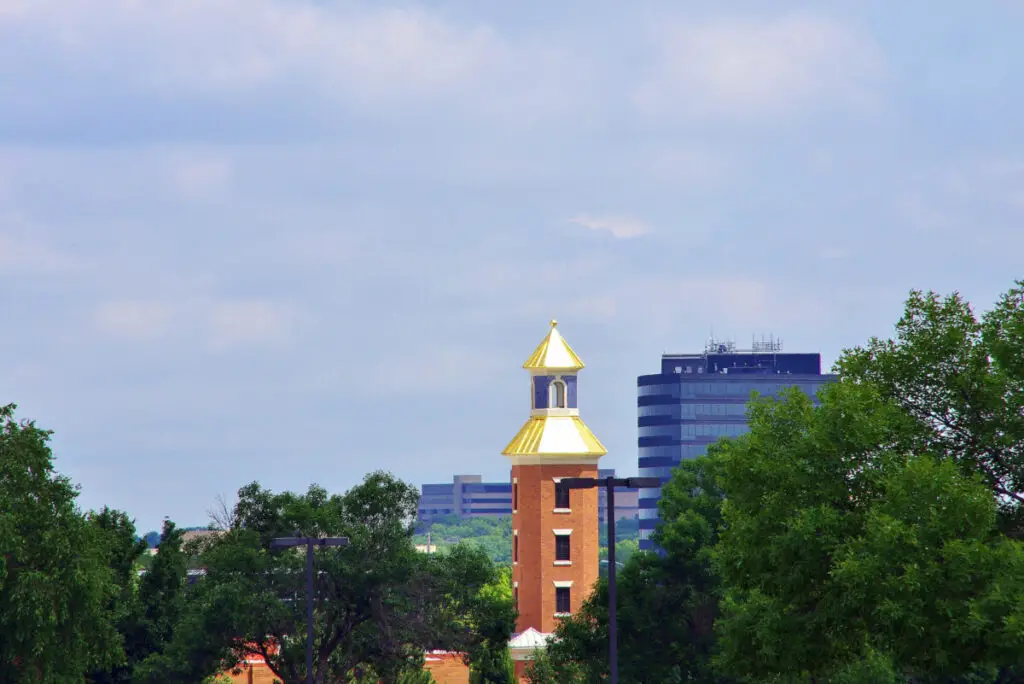 Moving to the Kansas City area? Overland Park is a great suburb right outside of the city to raise your family. The neighborhoods in Overland Park are abundant with friendly neighbors, amazing elementary schools, and plenty of parks.
Continue reading for a list of the best neighborhoods in Overland Park, Kansas.
1. Beverly Estates
Beverly Estates is the top-rated neighborhood in Overland Park! Out of the 46 neighborhoods, it is the best neighborhood to live in and the best neighborhood to raise a family. Now, what does that depend on, what makes it the best neighborhood to raise a family?
Beverly Estates is right next to Briarwood Elementary School, making it an easy walk to school. During the warm months, you can make countless memories with your children walking them to school alongside their bikes, and being outside waiting when the last bell rings. During the cold months when you need to drive, it will only be a few minutes out of your already busy day.
There are also several nearby parks only a block away from the neighborhood. Parks include Osage Park, Franklin Park, and Meadowbrook Park. There is also no crime in this neighborhood! Crime is something to highly consider when moving your family to a new location.
In addition to Briarwood Elementary, there is Indian Hills Middle School and Shawnee Mission East High School. If you are looking for a private high school for your kids to attend, Saint Thomas Aquinas High School is nearby as well. Locals say that Beverly Estates is a great place to live, with a good environment and kind neighbors.
2. Brookridge Estates
Brookridge Estates is much smaller than Beverly Estates, with only 900 residents. This helps to create a close-knit community of lifelong family friends who make the neighborhood a safe place for your kids to run around in the summertime with their friends, making memories that will last a lifetime. Beverly Estates is located right next to Brookridge Elementary School, with Brookridge Park and Pinehurst Estates Park right next door.
So after picking up your children from school you have a multitude of parks to choose from, for the afternoon hangout spot. Beverly Estates is also right by a shopping center with shops and restaurants that include Chick-Fil-A, Taco Bell, Jack Stack Barbeque, Mud Pie Bakery, and several medical offices. The neighborhood is right off Metcalf Avenue for easy access to all of these places. On top of all that, there is no crime in the neighborhood.
3. Mills Farm
Mills Farm is much newer, on the high end of these neighborhoods. It has amazing, beautiful, just-built houses ready for move-in. Home prices range from $500,000 to the millions. Mills Farm is within the Blue Valley School District, one of the best school districts in the county.
Many families move to Overland Park just to attend Blue Valley schools. It is right in between Switzer and Quivira, two main roads that give you access to several shops and restaurants. It also has close access to major highways like I-435 and I-35. Mills Farm has a range of ages from retirees to families with young children. It is a new and thriving neighborhood within Overland Park.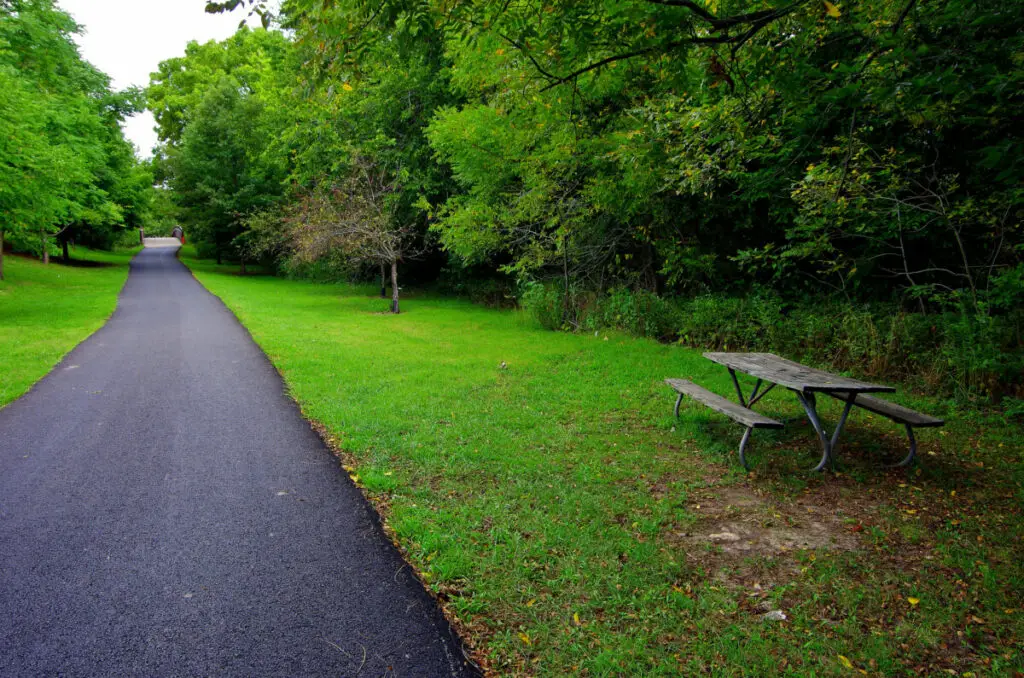 4. Lions Gate
If you are looking for a larger home and love to go golfing, Lions Gate is the place for you. Lions Gate is also located in the fabulous school district of Blue Valley and other amazing resources in the area like gyms, shopping, and restaurants. Lions Gate is a much larger neighborhood with much larger amenities as well. It has a clubhouse that sits on the lake, along with an 18-hole golf course.
There are also swimming pools and tennis courts. You don't even have to leave your neighborhood to have fun! Lions Gate is right next to Lakewood Middle School, close enough for your tweens to ride their bikes without breaking a sweat. If you do end up leaving your neighborhood it is right next to a fabulous shopping center with Asian Food, Grill&Bars, Mexican Food, Cafes and so much more.
5. Deer Valley
Deer Valley is right next to Mills Farm in the Blue Valley School District. It sits right off 159th street, with close access to the county airport and highway 69 if needed for travel. It has a beautiful lake, right next to the neighborhood pool. Neighborhood pools are the perfect place for kids to hang out while the parents get time to relax and take a break. (Source

)
6. Cherry Hill Estates
Cherry Hill Estates is only a few streets wide, creating a small space to bond with your neighbors and create a close community. It was rated the number one neighborhood to buy a house in Overland Park and the second-best neighborhood to live in. It was also rated the second-best neighborhood to raise your family in.
There are also no reports of crime in the neighborhood. Cherry Hill Estates is just a block north of the nearby high school, Shawnee Mission South, along with several parks. The parks include Roe Park, Foxhill North Park, and Nail Hills Park. It is also near Top Golf, the perfect Friday night activity for your family.
7. Pinehurst Estates
Pinehurst Estates borders Brookridge Estates, so it is also right next to Brookridge Elementary and Pinehurst Estates Park. It is great when neighborhoods border each other. Compared to neighborhoods next to busy streets, bordering neighborhoods are much safer for children. Pinehurst was rated number seven for neighborhoods with a low cost of living, so if you are on a budget after making a big move, this place is for you.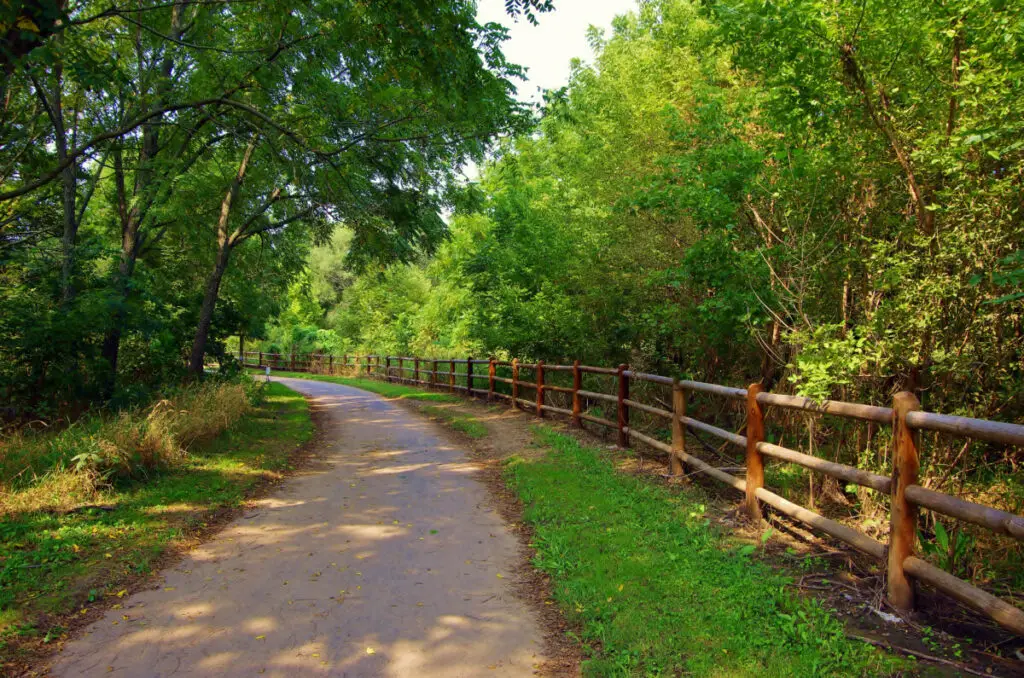 8. Oak Park
Oak Park is much bigger than most neighborhoods, with 9,000 residents. It ranked third in neighborhoods for raising a family, and fourth in best neighborhoods to live in Overland Park. It has no reported incidents of crime and is right next to Oak Park Mall, the main mall in Overland Park and surrounding cities.
Oak Park mall has places to shop, eat and hang out on the weekends. When your teenagers beg for a ride to the mall, it won't be as much of a hassle. It will only take a few minutes out of your day. It is also between I-435 and I-35. So if you are a busy family with several teenagers, Oak Park is the neighborhood for you.
9. Nall Hills
Nall Hills is great for nearby schools, with Indian Woods Middle School within the neighborhood boundaries. It also borders Shawnee Mission South High School. Also within the neighborhood boundaries on the corner of 95th street and Nall Avenue is Nall Hills Shopping Center.
It includes banks, grocery stores, places to create pottery, clothing stores, gyms, ice cream, and several other places convenient for your daily errands. Residents say it is a safe and stable community to live in. The residents aren't super welcoming and friendly, but they will be there for you when you need it most.
10. Regency Park
Regency Park consists of smaller homes lower in cost, as well as apartment complexes. However, residents say all of the homes are taken care of and in great shape. There are great opportunities for jobs, and several nearby places to shop, and residents say they feel safe as well, with police and fire stations less than 10 minutes away.
11. Gramercy Park
Gramercy Park is located right next to I-69 off of 95th street, with an apartment complex and several beautiful homes. Residents love how close the neighborhood is to several of their favorite Restaurants like CInzetti's, an Italian buffet, and the T-Rex restaurant which is great for kids. There's also a fork and screen called Cinetopia, great for family movie nights on the weekends. Gramercy Park is also not too far away from downtown Kansas City, great if you are going to commute every day to work.
12. Tomahawk Ridge
Tomahawk Ridge is located right off of 87th street and Metcalf avenue, near some amazing shopping areas and the Johnson County Museum. Tomahawk Ridge was rated second for neighborhoods to buy a house in Overland Park and second in neighborhoods with the lowest cost of living in Overland Park. It also has no reported incidents of crime in the neighborhood.
13. Moody Hills
Moody Hills

was rated number nine for the best neighborhood to raise a family in Overland Park. It is right next to Pawnee Elementary School in the Shawnee Mission School district. Residents say there is plenty of access to gyms, parks, trails, and healthy grocery stores. If you love staying active and being outside with your family, then Moody Hills is the place for you.
Choosing a new neighborhood for your family depends on so many different factors. Where the shopping centers are, how close the elementary schools are, how many parks are nearby, what the neighbors are like house prices, neighborhood amenities, and more. There are some neighborhoods in south Overland Park with nearby schools and parks, while homes in north Overland Park are closer to shopping centers and highways that take you downtown.
It all depends on the lifestyle of your family, how old your children are, and the price range you have for your home. Hopefully from this list of neighborhoods in Overland Park, you can decide on which one would be the best location for your family. In the end, Overland Park, Kansas is a great community for any family.
Related Topics:
If you like the article above, here are some other similar articles you should check out!
17 Reasons Not to Move to Kansas City, MO

Is Kansas City, Missouri a Liberal City?
17 Reasons Not to Move to Wichita, Kansas