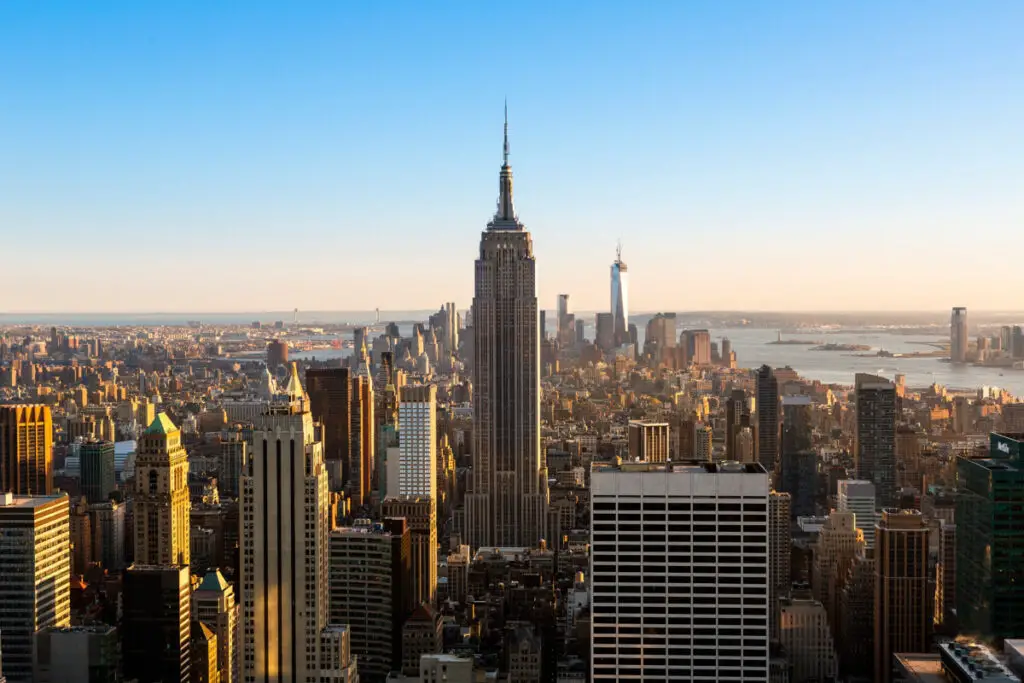 New York City offers a wide variety of people, food, industries, and countless things to do. Most people envision family life in the suburbs, but plenty of families thrive in the big apple.
Raising kids within the largest US city can be tricky, whether it's safety or claustrophobia, it just requires some research to find the right neighborhood. This guide will take you through all the top family neighborhoods in New York City that will provide your family with a good experience.
1. Battery Park City
Battery Park City

offers so much for a family. With its family-sized buildings, there's plenty of space to fit everyone in your household. The neighborhood is made up of great food, athletic activity options, art, and views of the Hudson River.
There are various parks for kids and taking everyone to enjoy a picnic. For example, Rockefeller Park and Teardrop Park are the most liked ones in the neighborhood. A popular place for kids is Battery Parks Seaglass Carasoul, which also has a playscape attached to it. The kids can also have fun spending time participating in its tree-house-style play areas, watching puppet plays, and rock climbing.
Located right next to the Hudson River, there are beautiful views, and you don't feel like you're in the center of the city. Many families live here and recommend the neighborhood.
There are also great schools that Batter Park City

has in range to attend. Here are the top public schools:
Stuyvesant High School
Bronx High School of Science
Townsend Harris High School
High School Math Science & Engineering at The City College of New York
High School of American Studies at Lehman College
2. Tribecca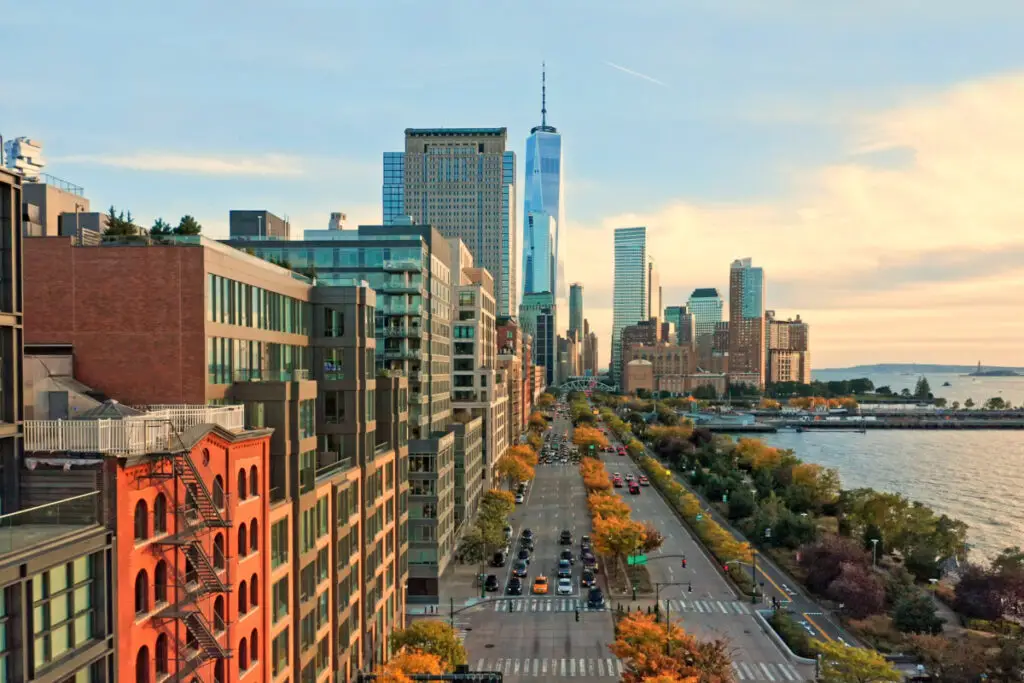 The people of Tribecca love this neighborhood and its dense-urban feel. It has many parks, restaurants, bars, and easy subway access. Although it is a bit pricey and the residents are wealthy, they agree that it's worth the price tag.
As the neighbor of Battery City Park, it also benefits from being close to the Hudson River. Families can walk along the river, spend time in art parks, play mini-golf, and visit the Children's Museum of Arts. There's also an annual Tribeca Film Festival.
Tribecca is ranked as one of the top neighborhoods in New York City and has the top public schools in the area. Locals only have good things to say, and you will definitely be surrounded by families if you move there.
3. Riverdale, Bronx
Riverdale is found right in the hills lining the Hudson River, providing the neighborhood with beautiful views. Adding to the views are the large houses, gardens lining the river, parks, athletic fields, green space, outdoor pools, and horseback riding trails. It's easy to sit on a bench by the Hudson and watch the sunset while living in this neighborhood.
As far as dining options go, this neighborhood includes a wide collection. For example, there are many sushi, Italian, Greek, and burger restaurants in and near this neighborhood.
The residents of Riverdale can attest that it's also very safe and quiet here and that you'll see people taking walks with family or pets pretty much any time of the day/night. It's known for being filled with friendly people and having great community programs. If you want to move your family right in New York City while wanting a quiet experience than the center of Manhattan, Riverdale is the perfect spot.
4. Upper West Side
The Upper West Side is a great neighborhood for families since it brings that community feeling you usually only find in suburbs. There's a lot to offer in this location from superb restaurants, convenient transportation, and good schools. It's actually one of Manhattan's largest neighborhoods, extending the entire length of Central Park.
The Upper West Side is fenced with various scenic and activity-filled spots. Starting with the east side of this neighborhood, it's lined by Central Park, giving you easy access to walking and running paths, an ice rink in winters, concerts in summer, Central Park Zoo, woodlands, ponds, and more.
On the west side, it borders Riverside Park which has biking, walking, a marina, sports fields, playgrounds, and a skate park. Along the southern end of the Upper West Side is Columbus Circle, which is a transit hub that has restaurants, a mall, and a hotel in the Time Warner Center.
5. Park Slope, Brooklyn
Locals of Park Slope describe it as a relaxed, down-to-earth place for families with beautiful architecture. There's good food, plenty of different things to do here, and there are multiple cafes and playgrounds.
You'll find many kids and single adults alike here. There's a low crime, good public schools, and shopping, and it was even ranked the "most liveable neighborhood" in New York City a few years ago. Filled with leafy streets, there's a mix of red-brick apartment buildings and mansions.
A big perk to Park Slope is that it's right next to Prospect Park. As it's designed by the same person who designed Central Park, it involves green space, walking and running paths, athletic fields, horseback riding, nature walks, boating, and a green market. (S

ource

)
6. Carroll Gardens, Brooklyn
Carroll Gardens is stocked with families and has evolved into a trendy neighborhood. While living here, you're likely to see brownstones and brick rowhouses with some high-rise condos thrown in the mix. The parallel Smith Street and Court Street consist of clothing boutiques, old-school delis, nail salons, insurance agents, pharmacies, groceries, a pet store, bars, restaurants, and more.
Residents mention it's a quieter and safe park in Brooklyn, with plenty of lively historic character. Since it's historically Italian, there are delicious, authentic Italian restaurants here. The people are friendly and will always greet with a "hello."
7. SoHo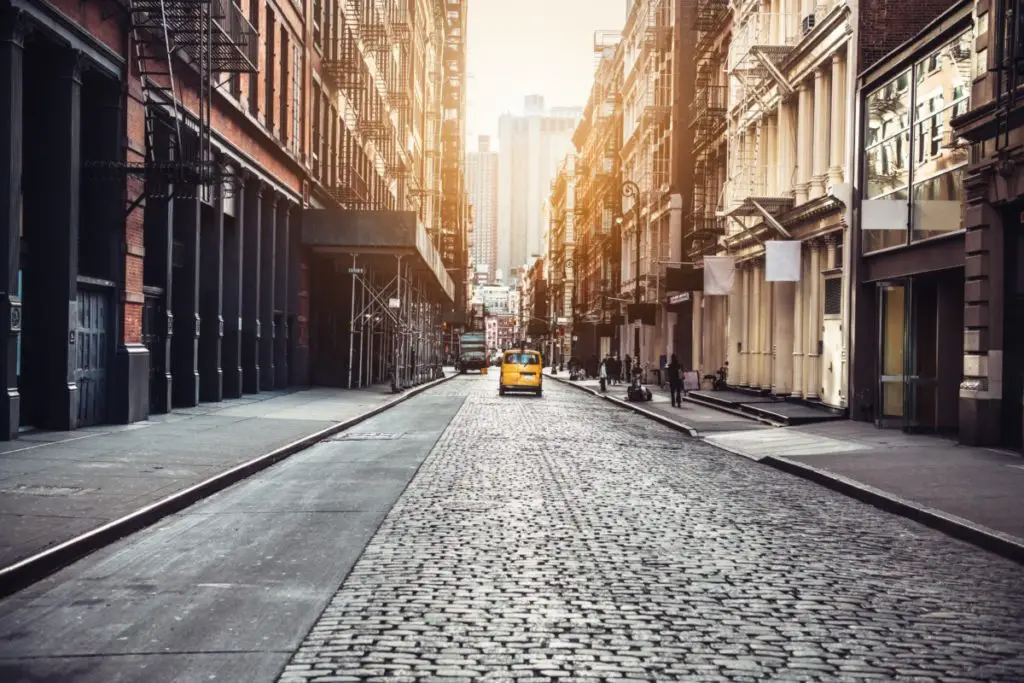 SoHo is in reference to the "South of Houston Street," with cobblestone streets, cast-iron buildings with large windows, and a lot of shopping. It's become a popular place to shop whether that's boutiques, chains, art galleries, home decor, salons, or spas. There are countless food genre options and bars, but it's relatively quiet at night.
This neighborhood is known for being fun, inviting, educational, and one of the hippest. There are so many interesting people and really good schooling options from public schools, to private schools, to colleges. You can easily say that SoHo stands out in New York City, and your family will enjoy living there.
8. Chelsea
Chelsea is a very vibrant area of New York City with so much to do. The neighborhood offers dining, shopping, art galleries, and studios. The Chelsea Piers is here which is a sports and entertainment complex. It has fields for many different sports, a golf driving range, batting cages, an ice rink, a skate park, bowling lanes, and more.
The people of Chelsea love all the activities available throughout the neighborhood, which seem to be endless. Not only this but there is a great community and family-friendly environment.
9. Prospect Heights
Prospect Heights is a great place to raise a family in the big city. Residents feel safe, there are friendly people, it's located near subway trains, has great kid programs, and the list goes on. The neighborhood provides so much to do and so many different ways to get involved in the community.
Not only are the streets lined with leafy trees, but there are grassy areas for lounging, walking and running trails, a lake, fishing, athletic fields, horseback riding, playgrounds, and more. Prospect Heights has the Brooklyn Museum and the Brooklyn Botanical Gardens, which also hosts the Cherry Blossom Festival each year.
10. Astoria, Queens
In the Northwest corner of Queens, you'll find Astoria. The neighborhood is filled with diversity and people of so many different cultures. The houses are prewar apartment brick buildings, town-houses, and single-family homes, which are all more affordable in this area of the city.
In Astoria, you can spend time at museums, the Socrates Sculpture Park, and Astoria Park.
Everyone loves Astoria as it feels safe, clean, and has great views. This is a perfect family-friendly neighborhood with all there is to do and the different dining and shopping spots nearby.
11. Williamsburg, Brooklyn
Williamsburg provides a sense of community and lots do while still being quiet at night. It presents options for all ages from kids, to teenagers, and even senior citizens. There's a diverse group here with different races and cultures that make this environment so friendly and great for families.
In Williamsburg, there are parks, rivers, entertainment, grocery shopping, activities, and great hangout spots. The locals love the creative vibes and energy it has, along with the places to eat and things to do.
12. Greenwich Village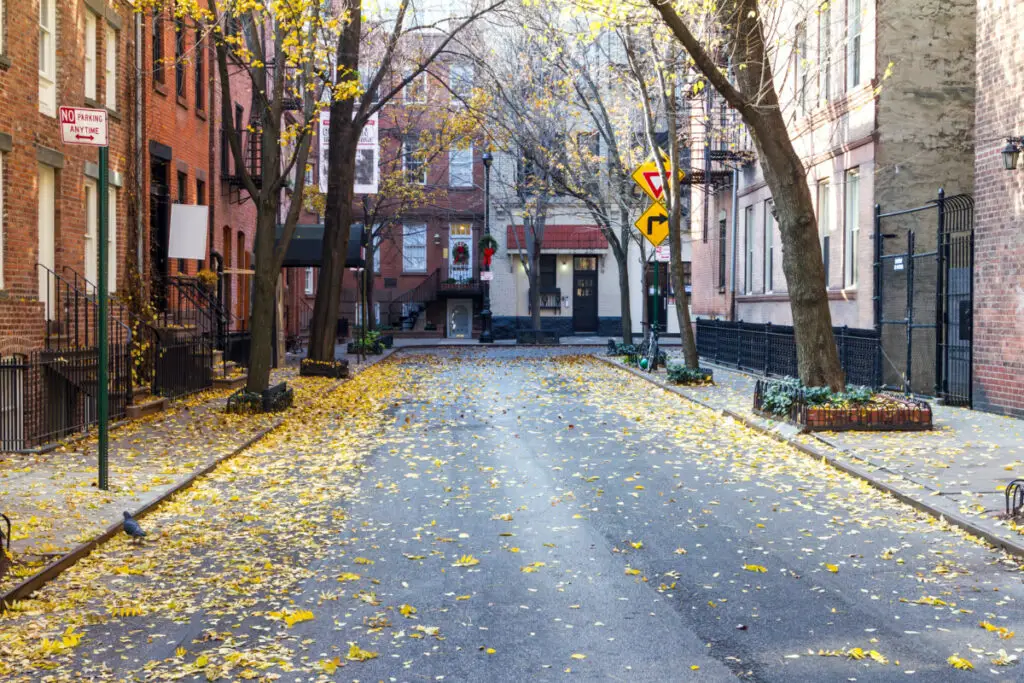 Greenwich Village is right near the Hudson River with beautiful architecture. Since it includes a large number of New York University's campuses, it's a great mix of neighborhood residents and the excitement of the city.
This neighborhood consists of historic brick townhomes, brownstones, cafes, restaurants, and leafy streets. With Washington Park Square in arms reach, you can watch a live performance there or spend time at the Chelsea Market nearby.
13. Murray Hill
Murray Hill has so many unique things that set it apart from other neighborhoods in New York City. It feels safe and secure due to the sense of community that exists. The residents are friendly and there are local shops and restaurants that make it more close-knit. Murray Hill has a great environment, making it a good option for families.
This is a more affordable neighborhood in New York City and is in a very convenient location, as it is near larger business areas. There are several parks, a running path along the river, and ethnic restaurants in this neighborhood or nearby.