There is much more to discover in New Haven, Connecticut other than the prestige university known as Yale. Due to its rich history, New Haven has unique neighborhoods that are exciting for families, all while being generally safe. Sitting right on the coast, this city comes with waterfront views, beautiful architecture, and an abundance of families that have already fallen in love with the area.
With that being said, here are the top 13 best family neighborhoods in New Haven, Connecticut.
1. East Rock
East Rock is full of Yale students and staff members with a population of roughly 41%

of families. Children and parents can be surrounded by similar people within the community, and it has plenty to offer. Not only is there a plethora of fun coffee shops and stores, but the neighborhood has a long city bike lane

that runs along its main road. For families who love to bike, this is the perfect spot for you.
This area of New Haven will bring your family great amenities, awesome education options, and safety!
2. West River
West River is loved for being a convenient neighborhood for families. This is due to its close proximity to everything necessary like downtown

New Haven, restaurants, shopping, gas stations, hospitals, and a train station. You are guaranteed to be among friendly neighbors and peers. Kids here love to play outside, and it's super dog-friendly!
Another great aspect of West River is that it's safe. Most people feel comfortable when walking outside at night time, and the streets remain well-lit after dark. This neighborhood is well-maintained and full of residents who love it so much, they plan on staying in West River.
3. Prospect Hill
Prospect Hill is a very historic

neighborhood and you'll come across some distinguishable buildings on your daily walk. The historical prevalence is noticeable in the architectural styles including Queen Anne, Shingle, Colonial Revival, and Tudor Revival architecture. Just under half the residents are families and it's a quiet area of New Haven.
You can walk to most places from your home since it's located right by downtown. You can spend quality time with your family with all there is to offer here from the abundance of parks

, greenery, and botanical gardens. Grab a bite at the Orchid Cafe at ConnCAT, or have a shopping spree at the plethora of stores in arms reach.
4. Long Wharf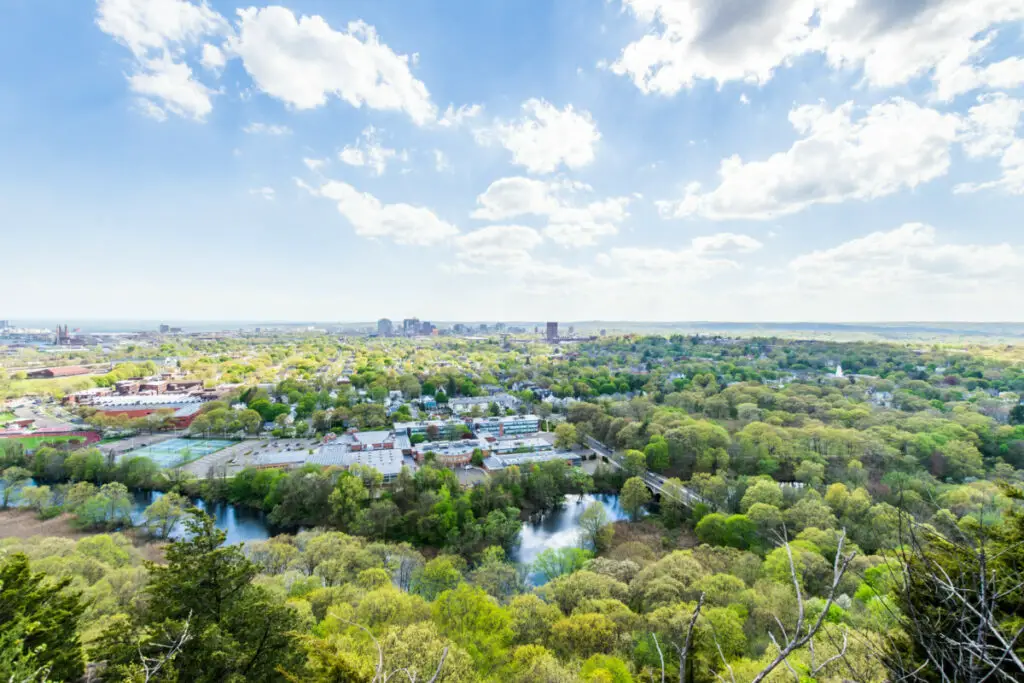 Long Wharf is a coastal neighborhood that gives you beautiful waterfront views. Located right along the bay, it attracts many young families. In fact, the population consists of 63% of families with kids

. It's a very unique area to live in with a seaside feel and fun activities for residents or visitors.
It's historic, walkable

, provides a wide assortment of housing styles, and residents feel safe here. There's so much to do in this part of New Haven, especially with the ocean in sight from your front yard.
5. Beaver Hills
Beaver Hills is the perfect neighborhood to raise your kids. It's a close distance to downtown with well-maintained

yards and friendly neighbors. This area of New Haven is a lot quieter, with a laid-back atmosphere that locals love. For those who commute to work, Beaver Hills makes it very easy with the bus stops it has.
Without having to live in the city chaos of downtown, this neighborhood still lets you reap the benefits since it's so close to all the great places New Haven is comprised of. The architecture is unique and the population is culturally diverse. Also, 59% of the people here are families, meaning you will fit right in. There isn't much more you can ask for when living in Beaver Hills!
6. Edgewood
Its residents love Edgewood for a number of reasons. Located right next to Beaver Hills, it carries similar traits of beautiful homes, full of other friendly families, and it's close to just about everything. It's known for being dog-friendly

with a large dog park and plenty of sidewalks to go for a walk.
You'll always be entertained in Edgewood, and it is a chance to be surrounded by others different than you since it's culturally diverse. Kids enjoy the many parks in the area, and you can even walk to the grocery store. Based on what the locals have to say, there aren't many complaints that come from living here.
7. Westville
Westville is a creative neighborhood with an avid community of artists. There are constantly artsy events and activities going on like the Art Walk

in May, or the Pies and Concerts in July. This spot is great for families, and you're most likely to have friendly neighbors.
It's another neighborhood that is close to everything, including grocery stores, parks, shopping, and the list goes on. There is a Farmer's Market, fun events, and several block parties that will keep you and your bunch busy. For a night out, restaurants are only a walk away and the streets stay lit at night. Westville is comprised of everything needed for a family to thrive.
8. Cheshire
Cheshire is known as "The Bedding Plant Capitol of Connecticut

" because it's a gardener's paradise. It grows about 400 million plants in 300 different varieties from about 30 farmers that live in town. There is so much natural beauty to admire here with the endless acres of open spaces and parks. Locals love to stop by Quinnipiac Recreation Area, Mixville Recreation Area, and Lock 12 Historic Park.
This neighborhood is located about 25 minutes from Downtown while keeping a small-town

atmosphere present. Cheshire will not disappoint you, especially considering Time Inc. has consistently ranked it as one of the top 50 places to live in the country!
9. Quinnipiac
Quinnipiac is a very intrinsic neighborhood filled with character. One of its most notable qualities is diversity. There are more Puerto Rican and South American ancestry

people living here than in almost any other neighborhood in the country. In Quinnipiac, 3.6% of the residents five years and up mainly speak German/Yiddish at home, which is 98.6% higher than the neighborhoods in America.
Not only is the area blooming with a wide range of residents of different backgrounds, but it's very well-kept, dog friendly

, and quiet. It's an easy commute to work with buses coming by every 20 minutes. You'll experience living next door to friendly neighbors, and it's overall a great place to live!
10. East Shore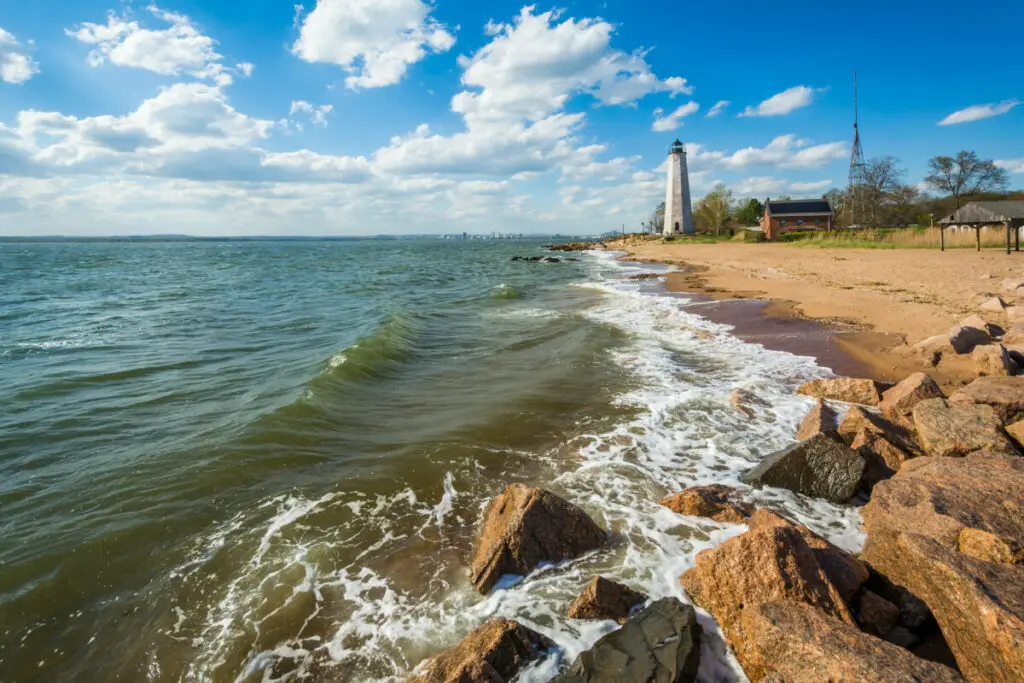 East Shore is lined right along the ocean with easy access to the beach, parks

, and downtown. Here, you'll find a warm sense of community, and your appreciation for the coast will grow. East Shore is a very vibrant and diverse spot in New Haven, and if you love taking walks around the block, you'll fit right in.
People who have resided here for years love attending the Halloween parade each year and getting to see the West Haven fireworks from the sea wall on the Fourth of July. Take a run at Lighthouse Point Park, grab a slice of pizza at Joey D's Pizzeria, or get dinner with an oceanfront view at Aramantes. Over half of the locals in East Shore are families, so your kids will have company!
11. Amity
Amity is a family-friendly neighborhood where both kids and parents love it! There is some unique architecture with stores on the first floor and apartments above, and what once were grand Victorian residences

have been turned into apartments. The culture is diverse with more Canadian and Puerto Rican ancestry compared to most neighborhoods in the U.S., not to mention a high amount of single-mother households.
A common opinion Amity residents have about their hometown is that they feel safe living here, the schools

are good, and the kids play outside together. There is an event for almost every holiday, and plenty of social gatherings to immerse yourself in the community.
12. Orange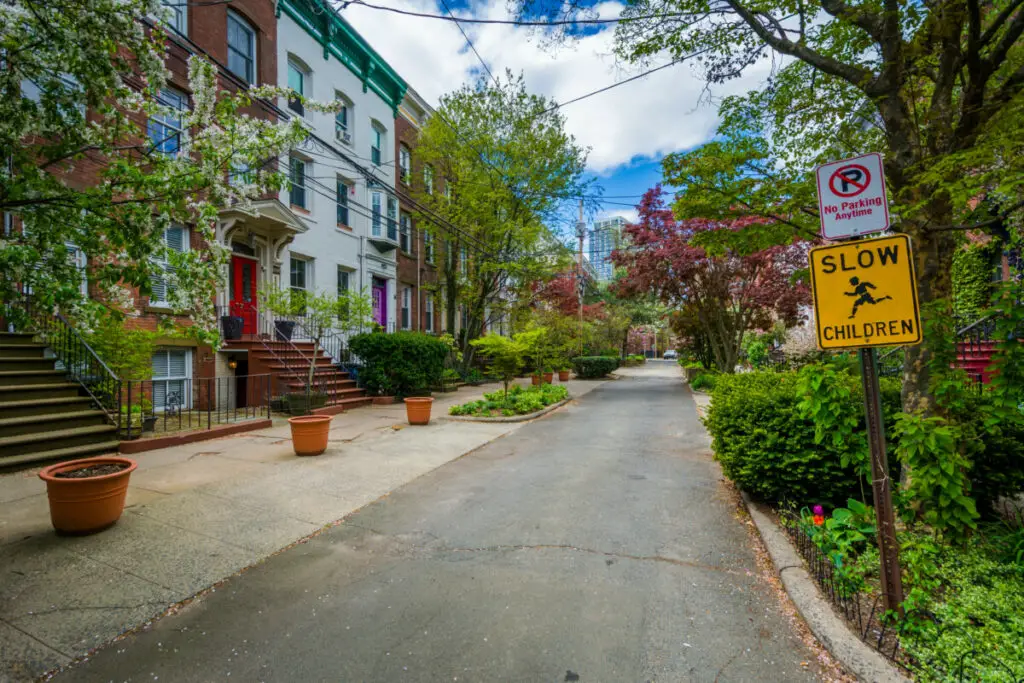 Orange is a more historically-minded neighborhood in the state where its cultural roots are celebrated at the annual Orange County Fair

and Orange Volunteer Fireman's Carnival. There are multiple academic institutions located here including the New Haven graduate school and Yale School of Nursing.
Orange embodies a close-knit

community with a small-town feel. Whatever you need housing-wise, you can find it here. There are ranch-style single-family homes, condominiums, two-family homes, and more. Although this neighborhood is mainly residential, some superb places to eat are the Bonfire Grill in Milford and the Hook & Reel Cajun Seafood Bar.
13. Woodbridge
Woodbridge is a suburb about five miles northwest of New Haven. It's made up of rolling-green countryside

and one-family homes with large yards of over 1.5 acres. This area is known for having excellent schools, countless walking trails, and a variety of recreation programs.
There is an old-fashioned small-town charm that dwells here, and you have easy access to transportation channels. With I-95, I-91, Wilbur Cross/Merrit Parkways, and Route 8 Highway, you can easily commute to wherever you need. Nearby are cultural, educational, medical, entertainment, and business services to use to your advantage. This Woodbridge is the perfect neighborhood for your family to live right outside of the city's hustle and bustle.