Mobile is easily considered the first city to be in Alabama. For this reason, Mobile is well-known by many and has lots of history within the city.
Read to learn more about the best neighborhoods Mobile, Alabama offers to residents looking to buy.
1. Country Club Estates
The Country Club Estates

is a gated community located in Mobile, Alabama with a lower population density compared to surrounding areas. There is beautiful scenery, golf club courses and so much more.
This neighborhood is a great option for those looking for a place to retire and settle down. The neighborhood overall is a very safe location, with a ton of options in the housing market.
The homes are beautiful and new in their design. There are newer and older home listings posted for sale online. The older homes seem to be well kept on the outside as well as the inside.
The community has a ton of activities for the residents to do year-round. Whether looking for a place to retire, or things for grandchildren to do, this would be the best retirement neighborhood in the area to live in.
2. Huntleigh Woods
Huntleigh Woods is a nice, well-kept neighborhood close to the Airport. There are various malls and shopping centers nearby to choose from, golf courses, botanical gardens, and even a museum close by.
There are lots of job opportunities near Huntleigh Woods to choose from. Walmart and Amazon businesses are scattered throughout the area, close distance to hospitals, and most other businesses and work opportunities are going to be closer in distance.
There are various high schools and elementary schools in the area available. Schools such as Faith Academy, E.R. Dickson Elementary School, Old Shell Elementary School, and others are all located near Huntleigh Woods boundaries.
3. Kingswood
Kingswood

is a great place for nature lovers. The neighborhood itself is more tucked away from the city with cleaner air and a calmer, nicer environment for families. Even though this area is tucked away, there are various shopping centers, restaurants, and commercial businesses operating in the area.
The area surrounding the neighborhood has lots of towering old oak trees throughout the neighborhood. The scenery and location are probably the best factors for this neighborhood.
Most of the shopping centers, businesses, and more can be accessed by walking or by bike if chosen. There are local colleges nearby. This neighborhood is a great place to choose if looking to be closer to everything around town, with the quietness of the neighborhood itself.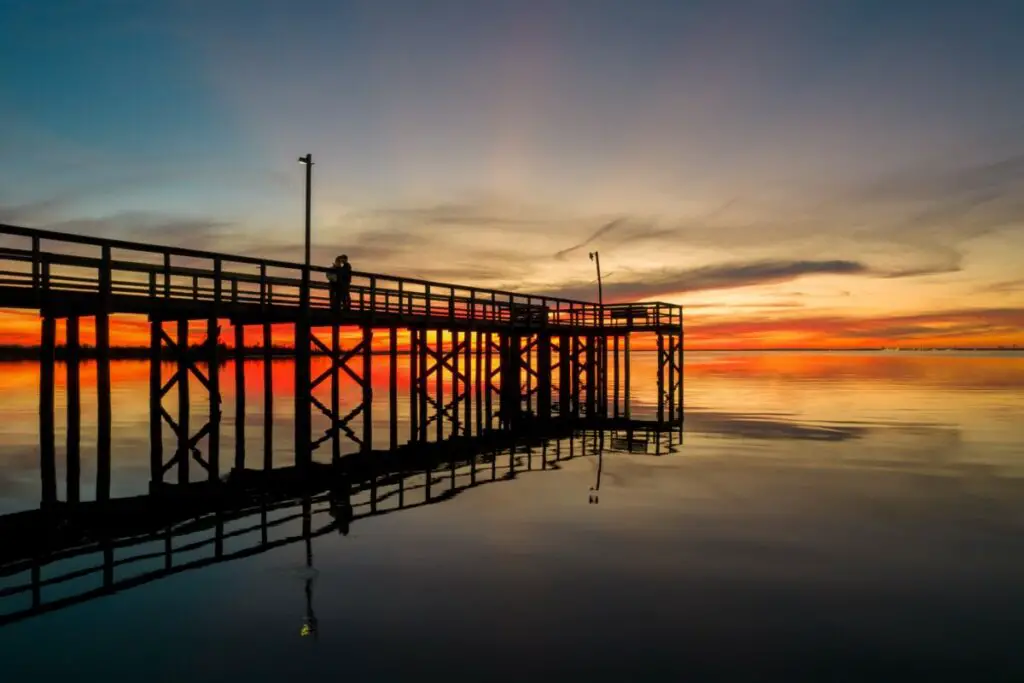 4. Ridgefield
Ridgefield is very close to the airport. With its close proximity to everything around, there are spacious properties to choose from throughout the neighborhood, and trails as well as various places to sit and look around.
The homes in Ridgefield are known to be historic. The neighborhood itself is a beautiful place to live for all families. The University of South Alabama

is also nearby, as well as Spring Hill College. There are many opportunities for things to be lively in the area with everything close in proximity.
There are many shops, businesses, and other things to do very close by. There is no need to worry about things to do when living in Ridgefield.
5. Llanfair
Llanfair

is close in proximity to most places nearby in walking distance. The environment in this neighborhood is nice and clean as well as the air quality.
The neighborhood is known for its lower crime rates and great public schools. This place attracts so many residents and families because of these reasons.
The cost of living in the area is in a modest range for residents looking to buy. The prices in the neighborhood are good considering how big most of the properties are. The properties consist of newer and older homes that have been nicely renovated. There should never be a lack of finding a nice place to live.
6. De Tonti Square
De Tonti Square is a great neighborhood sitting right in the heart of downtown Mobile. The neighborhood is gated making it safe and secure while also reducing the amount of traffic on the neighborhood streets. You can feel safe letting young children play outside since there are not any major roads with cars driving fast.
There are a variety of homes available for families within the De Tonti Square area. Homes start at just under 200 thousand and go up to 500 thousand providing a broad range of homes available for sale. There are also places available for rent in case you are looking for a more temporary place to stay with your family.
7. Parkhill
Parkhill

is a great neighborhood located in Mobile. The residents love the area and the idea of living in this neighborhood. It is a great place for families of all ages due to its family-friendly activities here. There are various restaurants, shopping centers, and other entertainment nearby.
All of the schools listed near the area are all rated very well. The environment surrounding the neighborhood seems to be nice and inviting for residents.
Most people say that a car is needed to travel anywhere in the area, the neighborhood is quiet and friendly, and the neighborhood is also dog friendly. There are many places for children to play outside within the neighborhood boundaries.
Overall, Parkhill is a great option for residents to choose from. The factors that make up a good neighborhood are all listed here.
8. Jackson Heights
Jackson Heights is a densely populated neighborhood and has a suburban feel to the neighborhood. The amount of poverty within the area is significantly low despite its population size.
The neighborhood cost is more expensive compared to surrounding neighborhoods. The neighborhood is nicely kept and is nice within the location of the city.
Colleges are nearby, therefore there are many activities going on within the area. Many families choose to live here because of its proximity to everything. Choose to live here if you like the location, schools, and things to do nearby.
9. Grand Bay
Grand Bay

is a suburban-rural mixed neighborhood. Within the neighborhood, most of the residents own the homes. There are many seniors who live in the area. The residents in the neighborhood are friendly, and the neighborhood gives off a nice vibe.
There are highly-rated public schools within the area. The public schools seem to be better than most of the private schools in the area.
There are several well-run hospitals in the area to choose from. Within the boundaries, there are many churches of different faiths located nearby. The churches seem to run nicely and attract many of the residents living in the area.
10. Marchfield
Marchfield

is a nice neighborhood within Mobile that has many different styles of homes and prices of homes to choose from. The average square foot of homes is around 3,700 square feet.

There are many properties for sale to choose from, so you shouldn't have a problem finding a nice home.
The residents of Marchfield participate in many different events that happen throughout the year. There are many walkways throughout the neighborhood, as well as paths for walking and biking.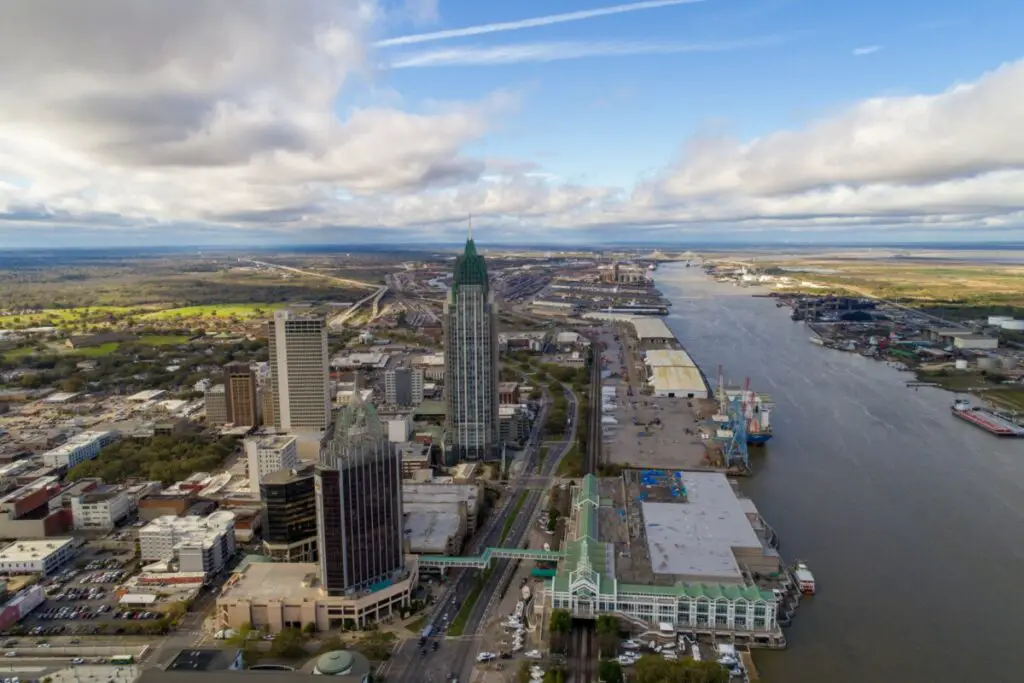 11. Muirwood
Muirwood

is a family-friendly neighborhood with many different styles and types of homes at affordable prices. Most of the older population lives in this neighborhood. Even though there are many older residents living here there are also many young families who choose to live here.
Muirwwod has a ton of homes for sale in the average price range. Most homes are on big acre lots, with plenty of room to raise a family and have a lot of backyard space. Muirwood is near most things to do nearby including shopping centers, grocery stores, hospitals, and other places.
12. Carlen
Carlen is a great neighborhood option for residents to choose from. The homes in this neighborhood are lower in price compared to other surrounding neighborhoods. The schools in the area are highly rated. There is one elementary school, and various middle and high schools nearby.
Most families in the neighborhood are married and have children. There are many job opportunities in the area to choose from. Most of the residents in Carlen are employed and actively working in the household. Most jobs in the area consist of healthcare, professional work, education, insurance, and government industries.
This neighborhood is a great choice when looking for homes in a relative price range, as well as a great neighborhood to raise a family. With many businesses and work opportunities nearby, this neighborhood is a great choice to look into.
13. Daphne
Daphne

is a great neighborhood tucked inside Mobile, Alabama. There is plenty of things to do in the area including a variety of restaurants, and parks nearby. There are plenty of spaces outside for people to participate in activities outdoors. There are many parks and hikes to choose from.
In Daphne, there are various historic landmarks such as Olde Town Daphne. This old town has charm and has many restaurants and retailers that are locally owned. This small town is full of residents who love and care for this community.
Many young families and professionals choose to live here. There are low crime ratings for this neighborhood. It would be a safe place to live for this reason.
These neighborhoods are rated the best in the city because of their close proximity to businesses and activities. These neighborhoods have frequently been chosen from other neighborhoods by most of the residents. The safeness of the communities and the nice atmosphere feel makes these neighborhoods great places to live.