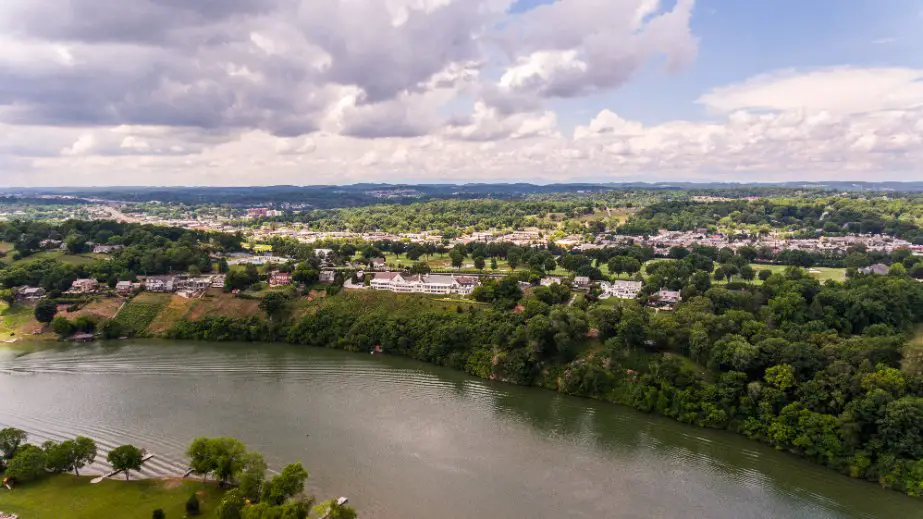 So, you're looking into places to relocate to, but you've got to find a place that has good schools, low crime, easy access to all of the activities that you want to provide to your family as they learn to play sports, or instrument, or compete in any other activity that might be offered to them, but which location will provide the best opportunities, and also be convenient for you as a parent. Typically the safest places to live are family-oriented and focused on the higher education of their young citizens.
There are many options to consider like would it be better to live closer to the school, or in the middle of town? Is there a location that has decent housing prices, nearby outdoor activities, good schools, and isn't too far from work? While that will be ultimately up to your discretion, we can help point you in the right direction by giving you a good idea of what exists out there.
1. Farragut
Farragut is a small suburban town with a population of under 23,000 in Knox county. Farragut gets its name from a Union Admiral named David Farragut who fought in the Civil War and was born near modern-day Farragut. The town stretches 16.2 mil2 in total. It sits to the south of Melton Hill Park. The landscape is a bit hilly but comfortable to live in. This town is rated #1 based on polls given to Tennessee residents.
The town has been rated the most family-friendly of all other suburbs in Knoxville by residents and official reports. Crime is low as compared to other suburbs but, Farragut does have its own crimes to deal with just like any other town, but most residents say that they aren't very threatened by it. Public school students score well on their tests, and most of the residents of Farragut have bought their own homes. Homes typically cost around $370,000 which is about $153,000 more than the national median cost value.
2. Oak Ridge
The next best place to live would be Oak Ridge. Oak Ridge is another suburban town just north of Farragut. It's divided by Harden Valley and then Farragut by Melton Hill Lake. It sits on top of that lake and below the Frozen Head State Park. It has a population of 29,037. The median home value is $155,800 which is $61,700 less than the median U.S. value. Public schools do very well in their scoring. The housing also scores well.
Overall Oak ridge scores very well as a good environment to raise a family with decent activities to do with the family including outdoor activities and health and fitness activities. The one minor drawback is the commute to the city for jobs.
3. Maryville
Is another suburb of Knoxville with a population size of 28,974, which can give it a dense feel in the 16.8 mil2 that it stretches. It sits in Blount County directly south of Knoxville underneath Alcoa. It includes Sandy Springs park and scores fairly well on outdoor activities, jobs, cost of living, health, and fitness, and crime and safety. The only crime that Maryville gets close to the national average on is assault.
The average income in Maryville is $61,384 with restaurants, hotels, a hospital, and larger businesses to work for nearby.
4. Alcoa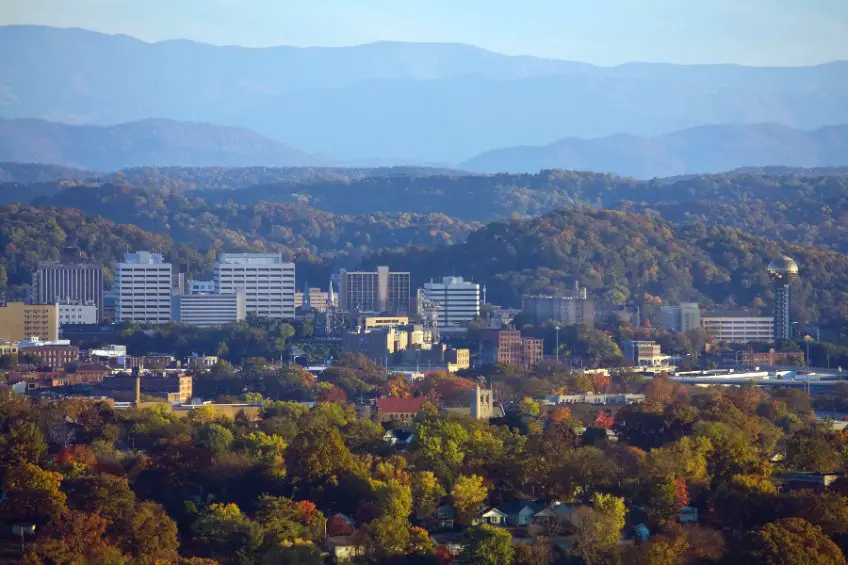 Alcoa is also located in Blount County south of Knoxville, but north of Maryville. Its population is much smaller than that of the first few towns estimated at 9,561. The city gets its name from the aluminum smelting plant owned by Alcoa Inc. which plays a huge part in refining aluminum worldwide.
The scoring for Alcoa is very good when considering public schools, diversity, jobs, weather, and more, but it doesn't score as well with crime and safety. Assault is above the national average by almost 2 times as much. Theft and other crimes are also high based on reports.
5. Louisville
With a population of only 4,133, this suburb of Knoxville is a rather rural-feeling town within 17.05 mil2 of land. It was developed in the 1800s as a port town for steamboats on the Forth Loudoun Lake off of the Tennessee River. It sits above Maryville and Alcoa.
It's rated highly in housing, jobs, and cost of living, and it has decent outdoor activities along with the weather and public schools. The town, just like most of the suburbs surrounding Knoxville, is primarily conservative in policy and politics. Housing in Louisville is $14,500 more than the national median at a $232,000 median home value.
6. Knoxville
This city ranks better in nightlife and diversity than it does in its public schools, housing, and family environment, but it's certainly not the worst as far as cities go. The commute is ranked better in this city and there are still plenty of outdoor activities to keep a family entertained.
The population size is 186,173. Housing in Knoxville is substantially lower than places like Maryville with a median home value of $136,300, $81,200 below the national average. Rent in Knoxville is more popular than owning a home. Unfortunately, the city aspect of Knoxville means that you will see higher or sometimes double the number of crimes here than the national average.
7. Norris
Norris is a small city to the north of the main Knoxville area with only an area of 8.33 mil2 for a population of 1,272. Public schools, crime and safety, housing, jobs, and outdoor activities all score decently well, but the nightlife and diversity of the city due to its location suffer. The feel here is suburban with most residents owning their own homes. Homes here cost $209,200 on the median, which is $8,300 below the national average.
Violent crime here appears to be very low, but you would need to watch out for theft and car theft which is not close to the national average, but they are higher for this particular location.
8. Loudon
Loudon is another one of Knoxville's suburbs with 13.05 mil2 included in the city. It sits about 30 minutes south of Knoxville along the Watts Bar Lake. Its population is 5,747 which gives it a more separate suburban feel. The cost of housing is relatively low at a $123,300 median home value. Most residents own their own homes and they tend to tend towards conservatism as well. Crime is relatively low compared to other suburbs and the national average. Housing and public schools are rated well, but outdoor activities are not.
9. Clinton
The population here is 9,964 for the 12.24 mil2 of acreage that it has. It's considered to be part of the Knoxville metropolitan area. It was historically a Native American territory and later became part of the Manhattan Project during World War II. Today it has good public schools, housing, crime, and safety, cost of living, and outdoor activities. Jobs, nightlife, and health and fitness. The area is dense and has many retirees.
10. Seymour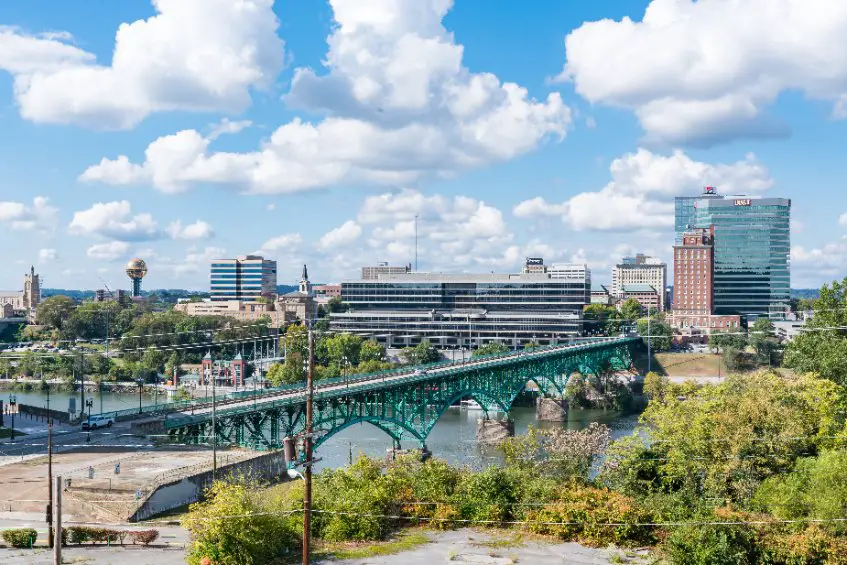 Seymour is another suburb with a population of 11,193 and 12.6 mil2 of land. It sits to the southeast of Knoxville with good public schools, housing, diversity, jobs, outdoor activities, and weather. Houses here cost $171,700 on the median home value. Homeowners far exceed renters in this suburb. A typical median household income is $57,773, just below the national $62,843 median household income. It's a residential town.
11. Lenoir City
Other than with crime and safety, jobs, and health and fitness, this town ranks well in most aspects such as public education, housing, being good for families, and outdoor activities. The population here is 9,162 and is sparsely populated with still a suburban and even rural feel. Median home values here are $125,500. Renters and homeowners are almost evenly split in this community and public schools are still above the average.
12. Tellico Village
The population here is 5,671 giving it a nice rural feel in an area of 7.77 mil2. Public schools, housing, jobs, cost of living, and outdoor activities all score well for this community. It's named after the Tellico Reservoir and it is southwest of Knoxville. Home costs are higher than other suburbs mentioned at a median home value of $382,100. The median household income is higher than most at $76,149.
It's been described as clean and safe and a beautiful place to live. There are lots of fun outdoor activities as it sits right along the Little Tennessee River.
13. Eagleton Village
Eagleton Village has a small land area of 2.9 mil2 and a population of about 5,903. It's known to be more conservative in its views and nearly half of the residents have done some college or high education programs. The cost for a home is about $137,700 on the median and the majority of residents own their own homes. Household incomes are about $45,833 on the median. It's not the best of the Knoxville, Tennessee suburbs, but it does offer better public schools than most localities in other areas.
Related Topics:
If you like the article above, here are some other similar articles you should check out!
17 Reasons Not to Move to Knoxville, Tennessee

Is Chattanooga, Tennessee a Conservative City?

13 Best Family Neighborhoods in Nashville, Tennessee