Gilbert, Arizona is one of the fastest-growing cities in the state. It has increased 770.3 percent since the 1990s. With families flocking to this desert city, where are the best places to live? Which ones are family-oriented? Where is the best place to go if you are planning to move to Gilbert, Arizona in Maricopa County?
13. Val Vista Lakes
Val Vista Lakes is a neighborhood in Gilbert, Arizona that is on the south end of Val Vista Drive and Baseline Road. Val Vista Lakes offers homes with waterfronts and gated communities within. This neighborhood was originally built in the 1980s, however, it continues to be renovated and modernized. The price range for Val Vista Lakes is varied, with some homes at $400,000 to $2 million.
Val Vista has similar amenities

to other neighborhoods

in Gilbert, such as sports parks, bicycle paths, a clubhouse, a gym, and a swimming pool with its own sandy beach. Buyers have options of homes that are one or two stories with garage spaces that can hold up to 4 cars.
12. Power Ranch
Located on Power Road and East Pecos Road, Power Ranch is a community that is 10 minutes from San Tan Village, a popular outdoor shopping mall filled with retail and restaurants. Power Ranch was built in the early 2000s but has remained up with the times in terms of architecture and community. Power Ranch was also selected as the Best Master Planned Community in 2003, 2004, and 2005. It was ranked as one of the five best master-planned communities in the Nation by the National Association of Home Builders in 2002.
Power Ranch has an array of amenities, with two community parks, two fishing lakes, two clubhouses, a 25-meter swimming pool, basketball courts, volleyball courts, and three soccer fields. The price range for homes in Power Ranch is from $500,000 to $1 million.
When I first got married, I lived with my in-laws who had a home in Power Ranch. I noticed that while the homes tend to run smaller in Arizona, they were of great quality. This is a necessity if you are thinking of moving to Gilbert, Arizona, because of the intense heat and monsoon seasons. Homes in this neighborhood have one to two floors.
11. Seville
Seville is a golf course neighborhood that is family-oriented and located in South Gilbert on Riggs and Higley. The Seville neighborhood

is right across the street from Casteel High School and Queen Creek, Arizona. If you know this area of town, you know that Queen Creek is more of a quiet, rural location focused on farming. This makes South Gilbert similar in its atmosphere. It is quiet, family-focused, and safe. Seville is also located down the street from local grocery stores.
Seville has two sectors, custom homes, and homes built from a plan. The neighborhood is gated and has design influences featuring Farmhouse, Desert Prarie, Ranch Hacienda, and Spanish Colonial Architecture. Seville has two parks and a private golf course with a perfect view of the San Tan Mountains.
After my in-laws lived in Power Ranch, they moved across the street from Seville in Queen Creek, but we had family that lived in this neighborhood. I was impressed with the gated community and how clean the parks were.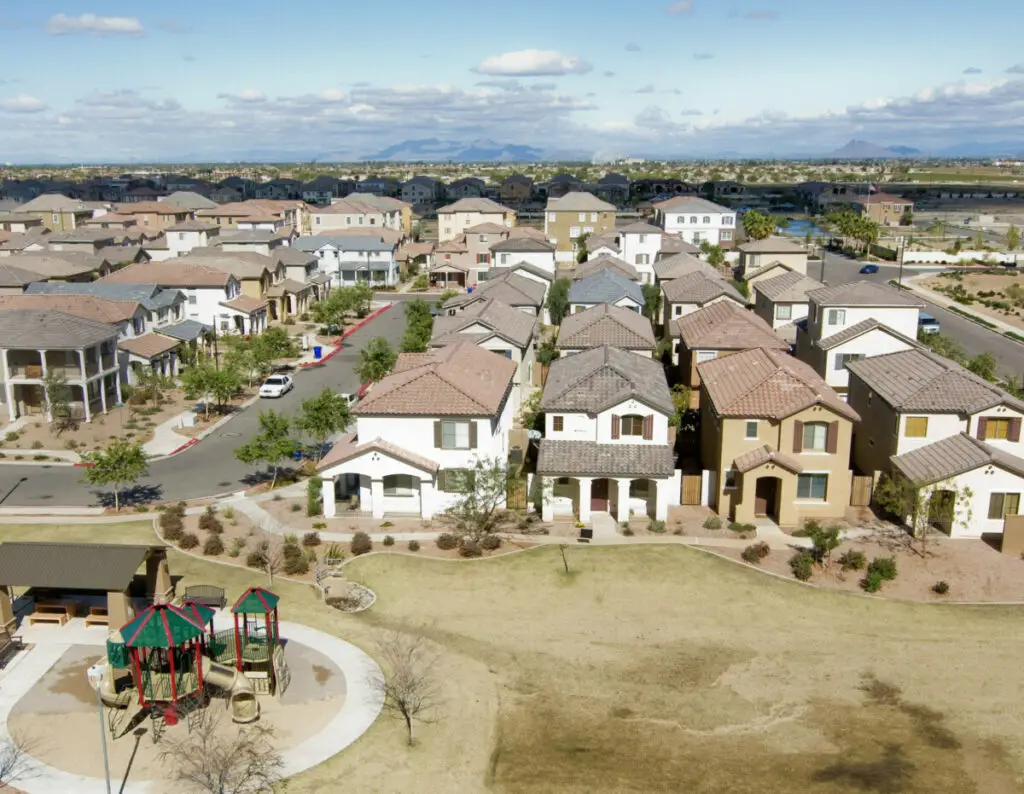 10. Agritopia
Considered a 'modern-day village", Agritopia is on the northwest corner of Higley and Ray Road. The neighborhood is built around local farming, a restaurant with a coffee shop, and a farmer's market. Agritopia is also adjacent to Gilbert Christian Schools, which serves school years kindergarten through eighth grade. Prices for the Agritopia neighborhood range from $500,000 to $1.5 million.
Agritopia began to be built in 2002 with homes ranging from 1,300 square feet to over 5,000 square feet. Single and two-story homes with up to 4 car garages are available in this neighborhood. Typically Arizona houses are single stories and if they are two stories, they have an upper floor.
However, some Agritopia homes have basements available, community pools, gardening, and a tennis court. Some homes also have swimming pools, but they are often more expensive than other similar homes in the neighborhood.
9. Silverstone
Silverstone Ranch is a neighborhood in the heart of Gilbert, Arizona with horse facilities. Silverstone Ranch is located on the northwest side of Val Vista, and Warner Road and is extremely close to San Tan Freeway 202 and San Tan Village outlets.
Silverstone focuses on the lush greenery that can be cultivated in the desert of Arizona. This neighborhood was originally built in the 1990s, and homes in the neighborhood range from 2,300 square feet to 3,500 square feet. Single and double-story houses are available with a 2 to 4-car garage space.
Silverstone Ranch HOA fees are approximately $155 per month and homes cost $450,000 to $1 million. While the amenities are not as extreme as some Gilbert neighborhoods, Silverstone Ranch offers a great living space.
8. Finley Farms
Finley Farms

is a very family-oriented neighborhood that has Finley Farms

Elementary School located in the center. This is one of the more affordable neighborhoods located in Gilbert, Arizona, but it can still be costly. The median price for Finely Farms is $640,000.
Finley Farms has amenities such as biking trails, tot lots, and lush green hills. It is close to grocery stores, schools, the San Tan 202 Freeway, and San Tan Village.
7. Layton Lakes
Layton Lakes is an upscale gated community built by Lennar Homes in Gilbert, Arizona. This location features amenities such as equestrian trails, baseball and softball fields, BBG areas, a splash park, streams, lakes, and waterfalls. Layton Lakes is also very family-oriented and is close to multiple schools.
Layton Lakes

is also a great location for the older demographic because of its quiet atmosphere, lakes, and places to take an evening stroll. The Layton Lakes splash park at the heart of the neighborhood is a great place for younger kids to make friends, and get their energy out.
6. Bella Vista
Located on the southwest corner of Ray Road and Recker Road and near the San Tan 202 Freeway. Their focus is on outdoor amenities, such as walking trails, playgrounds, and outdoor eating areas for picnics.
Home Owners Association fees are a monthly payment of $55 which include common area maintenance. Home prices

range from $500,000 to $800,000. Yet due to limited space, no homes are available for sale in the Bella Vista neighborhood.
5. Copper Ranch
Copper Ranch is a luxury mater-planned neighborhood that is located near ASU East and the Pheonix Mesa Gateway Airport, making it perfect for an older demographic. This community has a neighborhood pool and jacuzzi as well as areas for BBQs. The median price for these homes is $490,000

, making them more affordable than other neighborhoods in Gilbert, Arizona.
4. Lyon's Gate
Lyon's Gate is a great neighborhood for young families with a smaller price range. The median for homes in the Lyon's Gate community is $535,000

and this area includes amenities such as a nearby dog park, BBQ stands, picnic tables, walking, and biking trails.
Lyon's Gate neighborhoods were built in 2006 and vary from 1,000 square feet to over 4,000 square feet, a perfect space for younger children to play while keeping homes below the million-dollar mark.
3. Coronado Ranch
Coronado Ranch

is a neighborhood in Gilbert with prices ranging from $395,000 to $825,000. The community was built in 2001 and ended construction in 2004. The homes range from condos, townhomes, lofts, to single-family homes. Bedrooms range from 3 to 7 rooms, and there are often 2 to 4 bathrooms.
Coronado Ranch is located near multiple junior high and high schools and this community is known for being extremely pet friendly with a friendly atmosphere.
2. The Islands
The Islands is one of the most grandiose waterfront neighborhoods in Gilbert, Arizona. It really looks like you're staying at a beach resort with an overview of a lake, playgrounds, clubs, fishing, and neighborhood events throughout the year. The median home listing price

is $400,000, and it has a population of approximately 6,000 residents.
This community has undergone development from 1986 to 2015 with a variety of home types with scenic views. The Islands

is a 40-minute drive outside of Pheonix but 10 minutes away from amenities such as grocery stores and retail shopping.
1. Ashland Ranch
Ashland Ranch is considered one of the safest neighborhoods in Gilbert, Arizona. It has extremely easy access to the San Tan Mall compared to other popular neighborhoods. This neighborhood is close to Benjamin Franklin Charter School, which is where my husband attended high school and loved it. This location gives a suburban atmosphere while providing the convenience of a semi-urban life.
The median price range for this neighborhood is $400,000, and it has a population of over 2,000 residents. This location is well-designed for young families, dogs, and teenage residents because of the safety scores given by locals. This would be a great place for you and your family to live if you want a safe, family-friendly, and beautiful place to live!
Related Topics:
If you like the article above, here are some other similar articles you should check out!
Is There Public Transportation in Gilbert, AZ?

17 Reasons Not to Move to Gilbert, AZ

Is Gilbert, Arizona a Conservative City?