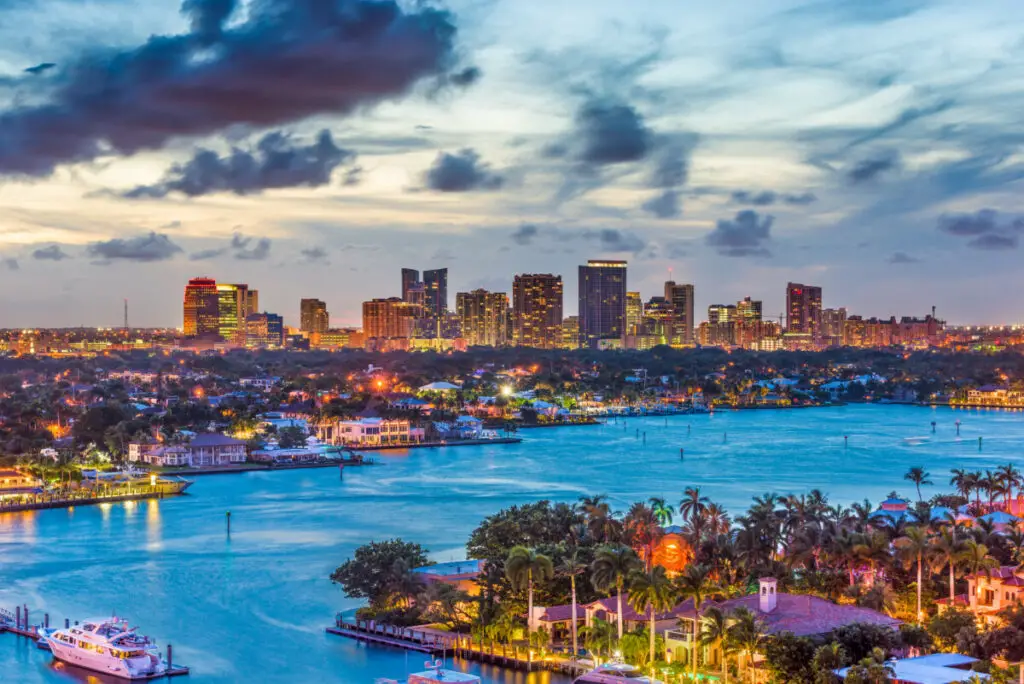 Florida is a beautiful, green state that is known for its beautiful beaches and scenes. It also is home to many families. It can also become a wonderful home to a new family! Luckily, there are many different cities that people can move to in Florida.
Let's look into what neighborhoods are the best for families in Fort Lauderdale, Florida!
1. Coral Ridge
Coral Ridge is a beautiful family-friendly neighborhood that is just a brisk walk away from the beach! Having the beach so close leads to children having many opportunities to have less screen time, exercise more, make friends, and learn about the world around them. Also, one of the best elementary schools in the area is nearby. This particular elementary school is named Bayview Elementary School.
It also has opportunities for the older members of the family to enjoy the area. Another great feature of Coral Ridge is that it is close to many different stores. One of the places is called the Galleria and it is one of the largest malls in the nation. The area has an a

bundant social life

, which will make living there enjoyable for people of all ages.
2. Coral Ridge Country Club Estates
This is an extension of the Coral Ridge atmosphere, but now it has a country club nearby! The people who live here enjoy many luxuries, such as a golf course, nearby stores, and close proximity to the ocean. This area provides many of the same benefits

for families as Coral Ridge does.
However, it includes additional opportunities for parents who want to kick back with many options of entertainment and employment opportunities. It also allows people to share different experiences with their children, such as teaching them how to golf.
3. Laudergate Isles
Laudergate Isles

is an incredibly nice neighborhood that is considered one of the best places to live in Fort Lauderdale. Some of the most notable things about this neighborhood are that there is a wide variety of activities that are available nearby. There are a large variety of stores, parks, and other restaurants in the area. A unique quality of this neighborhood is that there is a canal that runs through it. This means that a family won't need to plan a beach trip in order to have some fun in the water.
Some other important things to note are that the neighborhood is nearby some of the best schools in the area. This leads to children having the best opportunities for success! People in the area also tend to be highly educated and own their homes, so families often can bond and grow close together. Laudergate Isles is what most would consider a happy community.
4. Flagler Village
Flagler Village

is a little bit different than some other neighborhoods. It used to be a poorer spot in town but has since evolved into a newer neighborhood with a variety of opportunities and experiences other places lack. For example, they have an art district, music district, newer restaurants, and shops nearby. They even have a train line close by so the residents can use public transportation to access the rest of Florida.
Schools and the beach are further away than in the previously mentioned areas, but Flagler Village is still relatively close, so it shouldn't be an issue.
5. Bal Harbour
Bal Harbour is a neighborhood west of Coral Ridge. This neighborhood is another treat that is near two different beaches and has similar amenities to Coral Ridge. They also have a variety of local activities and locations that are fun for families. Some of these include the Poppet Project, the Laboratory Art Studio, and some parks.
There is also an abundant social life

and opportunities for fun for the young and old in the nearby shops. This area also offers homes to own and rent, so whatever budget a family has can be satisfied.
6. Birch Park Finger Streets
As implied by the name, this area is a great area for families that love parks and outdoor activities. This community is on an island called Barrier Island and is surrounded by water. There is also a state park nearby that the neighborhood was named after. For families with a deep love and passion for the outdoors, this area has many options of activities to do. Some family-friendly activities that you can do in this neighborhood are birdwatching, swimming, camping, fishing, and even boating.
7. Victoria Park
Victoria Park

is also a great place for families to live. It is enjoyed by locals, as it has many different amenities available. The area has seven schools within its borders, which allows families to have many options for their child's education.
There are also three parks and many other entertainment options in the area. There is an art gallery and a theatre, so families can explore the arts and enjoy the culture of the area.
Locals say that the area is walkable to restaurants and to grocery stores. They also mentioned that it is pretty dog friendly, and the majority of people felt safe walking alone at night. This area is a safe and inviting place to live.
8. Edgewood
Edgewood is another area that is near the coast that has many options that are appealing to families. One unique thing about the area is that there is a dance studio close by. For families with children who love to dance, this is a big plus. Other factors that make this area appealing are how nicely kept everything is and that it is easy to get around. A family would need a car to get around the city, but parking is nice and easy. There are nine schools within the area as well.
9. Copper City
Unlike most neighborhoods in Fort Lauderdale, Co

o

per City

is a suburban community. The homes are substantially cheaper in this area without sacrificing some of the amenities that people treasure. There are plenty of stores and restaurants that help people get by. Crime rates are low here and much less than the national average. There are also high-paying jobs in the area, making the average income of the people living there over $100,000 annually. The public schools in the area are also pretty amazing! It is a wonderful little place to raise a family.
Another important thing to note about Copper City is that the homes are almost all new, so they were build relatively recently. As this is the case, the price will be higher than you may expect at first. But if a family is thinking of moving in a few years, they could turn around and resell it for much more than the original selling price.
10. Silver Lakes
Silver Lake

is deeper into town than the other neighborhoods listed. However, there are plenty of amazing factors that make this place great for families. For one, there is a bus stop nearby. This allows for families to use public transportation much more easily than in other places. There is also a lake super close to the neighborhood where children can run and play with each other while in nature. There are also dozens of grocery stores and other markets that are available nearby.
11. Pembroke Pines
Pembroke Pine

is one of the cheapest family-friendly neighborhoods in Fort Lauderdale. The average home costs about $159,900, which is unheard of in this day and age. There are four schools in the area that are rated good and higher in quality of education. There are also several parks within the bounds or right next door, such as Pembroke Park Preserve. This area is also closer to the heart of town, so there are more than enough stores and restaurants to satisfy a family's needs and desires.
12. Boulevard Heights
Boulevard Heights is a nice place to live. The homes are at a decent price and there are several different options of activities to do in the area. There are seven schools, and they are ranked decently. One nice thing is that there is a college just outside the neighborhood that children can attend in high school to get concurred enrollment or go to afterward. There are also many stores and restaurants available. There is also a rec center that families can go to.
13. Lake Eden
Lake Eden

is a high-end place for families to live. The median price homes are selling for is about $2 million. There are some different benefits of living here that are not common elsewhere. There are a variety of churches in the area. This allows a family to practice the belief that suits their family and their values. They also have a library nearby. There is also a lake that sits in the center of the neighborhood that children can enjoy.
A good thing to consider when thinking about Lake Eden is that it is one of the most expensive places to live in. With these expenses should come great benefits, such as good restaurants. They also have several bus stops within the neighborhood that can help cut down costs on transportation.