Moving to a new neighborhood can be a scary thing to do, whether you have had kids for a while or are a brand new family. Nobody wants to live in an area that is located far away from schools or stores or that hinders a family's ability to thrive and grow.
Because of that, we decided to come up with a list of the 13 best family neighborhoods in Caldwell, Idaho for those looking to move here.
This list is not in any particular order. Any of these neighborhoods would be fantastic places to live and raise a family, and each comes with its own set of pros and cons. Don't miss out on the great neighborhoods down at the bottom of the list!
1. Weston Pointe
First on our list is Weston Pointe. Remember, being first on this list does not mean that Weston Pointe is the best; simply that it is first on the list.
Weston Pointe is sandwiched in between Lexington to the left, which we'll talk about later, and Windsor Creek below it. The subdivision has easy freeway access via Lake Road and commercial boulevard access via Homedale.
Weston Pointe is at least an 8 minute or so drive to the Vallivue High School, and fairly far from Central Canyon Elementary School and Vallivue Middle School, but not too far.
As far as amenities such as parks go, Weston Pointe has a couple of small grassy areas, but no parks.
2. Copper Creek
While perhaps a slightly older subdivision compared to some on this list, Copper Creek definitely holds its own.
Located directly across the street from Skyway Elementary School, right next door to Vision Charter School, a 5-minute drive from Sage Valley Middle School, and a 5-minute drive from Ridgevue High School, Copper Creek is perfect for new and established families alike.
Not only is it located next to some wonderful schools, but it is also located next to Highway 20-26.
Unlike some of the neighborhoods on this list, Copper Creek is close, but not right next to the highway. There is a whole subdivision separating it from the highway, which lowers noise levels and makes it safer for kids.
Speaking of safety, Copper Creek is a safe and quiet neighborhood. It also has a couple of parks for the kids to play on or for a nice family picnic.
3. Virginia Park
Virginia Park is one of the bigger subdivisions on this list, and is still building and expanding. This makes it perfect for families, due to the amount of new families that will inevitably move in to the new houses.
Virginia Park is a wonderful neighborhood, but something to keep in mind is that it is located right next to Highway 20-26, and right next to a storage facility. KCID Road, which is the main accessway to the subdivision, can become fairly congested at times, as it is becoming increasingly difficult to turn left onto Highway 20-26.
4. Delaware Park
Contradicting its name, Delaware Park does not have any parks. The subdivision does have a couple of small green areas, but no parks.
Despite the lack of parks, Delaware Park is a great place to live. I currently live there with my wife and newborn baby, and we have loved it. The people here are very nice and welcoming.
Delaware Park checks all the boxes that Copper Creek does in terms of location, though it is slightly farther from Vision Charter, so if you have a kid going there you may have to drive them if them walking an extra 5 minutes or so to school bothers you.
5. The Aspens
The Aspens subdivision is an older subdivision but with a twist: it's got a brand new section built right next to it. Having both the older section and the newer section allows you to either buy or rent a cheaper, older house or a newer home.
The Aspens also has a road that connects to the neighborhood behind it, Heritage Meadows, so it all feels like one big neighborhood even with a canal separating the two.
One of the great things about the Aspens subdivision is its family diversity. There are families of all different ages and all different kinds that live in the Aspens. However, this diversity tends to be both a blessing and a curse.
There are a few families that live there that tend to be on the rowdier side. Don't panic, they aren't dangerous, but some of the people can be loud.
Location-wise, the Aspens is a short 5 minute drive from Central Canyon Elementary School, an 8 or so minute drive to Vallivue Middle School, and a 5 minute drive to Vallivue High School. Living in the Aspens would be great for any family, but especially those that wish to live somewhere long-term due to its proximity to schools.
6. Lexington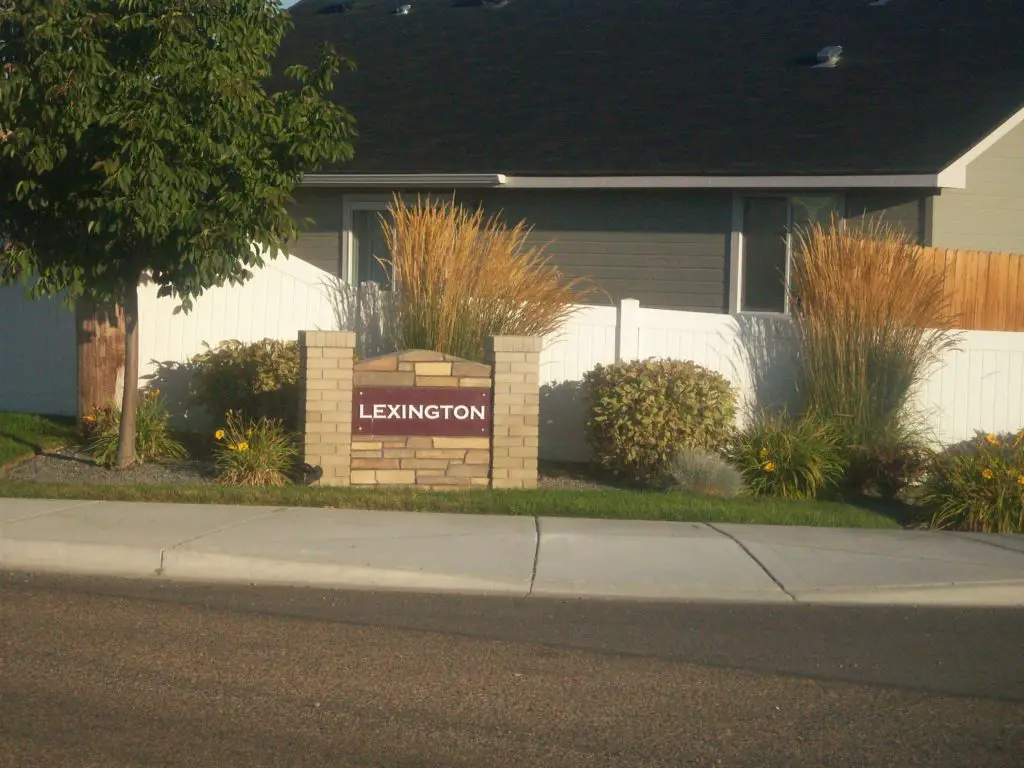 Most subdivisions are almost maze-like. One of the things that make Lexington unique is its relatively simple layout and its load of cul-de-sacs.
Lexington encourages being social with your neighbors; which is apparent from the 6 cul-de-sacs in the small neighborhood. Over a third of the houses are on a cul-de-sac.
Lexington is located right next door to Weston Pointe, separated by a row of trees. The subdivision has the same easy access to the freeway via Lake Road, and to the commercial boulevard via Homedale Road.
7. Four Seasons
Four Seasons is one of the smaller and more expensive neighborhoods on this list. Across the street from The Aspens, it benefits from a lot of the same location benefits as The Aspens does.
This neighborhood has a beautiful tract of green area running down the center, and another in the upper left corner.
Due to its more expensive nature, while there are plenty of families that live in Four Seasons, there are fewer young and new families. Many of the families living there are older and more established families.
If you are looking to live in an area with younger families, you might want to pick a different neighborhood. However, if you are fine with having a majority of older and more established families, the Four Seasons neighborhood is a wonderful place to be.
8. Sienna Hills
For those of you with some more money to spend, Sienna Hills is probably the best option. Rather than being built by CBH, Hayden Homes, or another company that mass produces houses, Sienna Hills contracted a custom home building company to custom-build each of the homes in the neighborhood.
Each home is unique, modern, and ultra-high-quality. For those of you that want a nice family neighborhood, but also want the option and luxury of having a custom-built home, Sienna Hills is definitely the place for you.
However, the niceties don't end at the custom homes. Sienna Hills also has a community pool and vineyard.
The neighborhood is also conveniently located in a more empty and quiet area on the other side of Highway 55, making Sienna Hills a wonderful choice if you can foot the bill of an ultra-high-quality home and higher than usual HOA costs.
9. Cirrus Pointe
Built by Hubble Homes, Cirrus Pointe is across the street from Sienna Hills.
Cirrus Pointe is a nice budget alternative to Sienna Hills if you like the benefits of the location Sienna Hills is in.
Cirrus Pointe is probably the greenest area on this whole list. Behind every house is a stretch of green parallel to the road. If you like green areas and having places to play and picnic, this could very well be the place for you.
10. Dover Place
Still under construction, this subdivision sits right across the street from Delaware Park and Copper Creek, reaping all the benefits they have.
Dover Place will sport nice, brand new modern homes and will have some nice park areas for the kids to play in.
11. Heritage Meadows
While most of the subdivisions in this list were constructed by CBH Homes, Heritage Meadows was built by Hayden Homes, and fairly recently. The neighborhood is located right behind The Aspens subdivision.
The homes are new and high-quality. Rather than wooden fencing, they incorporate high-quality vinyl fencing for the privacy fences.
Additionally, there is plenty of green area in the subdivision. In the back of the subdivision, there is a walking path that is well maintained.
12. Kingsview
Kingsview homes are a slightly different style than much of the rest of the neighborhoods listed here, but they are still great homes in a great neighborhood.
Other than being located right next to Highway 55, which leads directly to the freeway, and Vallivue High School, one of the big pluses for Kingsview is its park.
The park is quite large, with a sandpit and play structure as well as a basketball court and a small pavilion. There is also a nice, large green area surrounding the park, and a nice green area just outside the neighborhood close to the north entrance.
13. Fieldcrest Village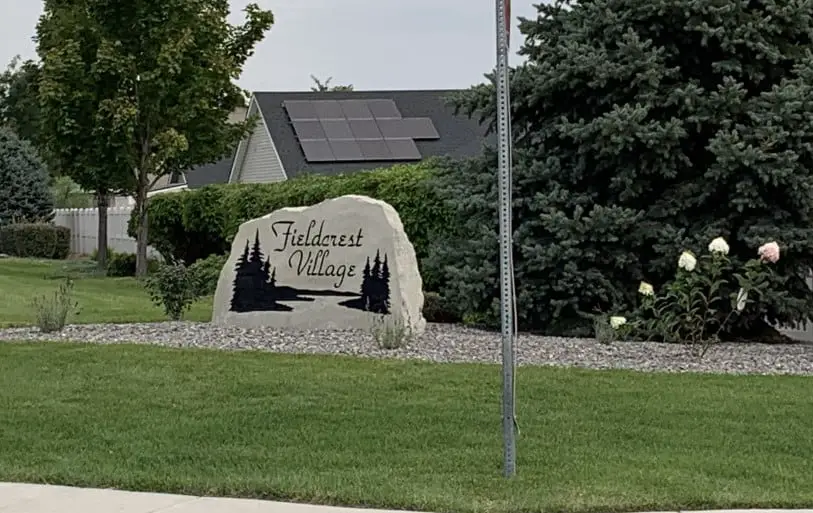 Another subdivision built by Hayden Homes, Fieldcrest Village is in a unique location. There are no other subdivisions directly touching Fieldcrest Village, large fields separate the subdivision from other subdivisions.
Similar to Heritage Meadows, Fieldcrest utilizes vinyl fencing and has a large amount of green area. This green area also has a walking path through it.
Fieldcrest Village is directly adjacent to Highway 55, which leads to easy access to the freeway and commercial boulevard.
Hopefully, this list helps you to find the family neighborhood in Caldwell that is just right for you and your family. We love each of the places we have mentioned and know you will too.
Related Topics:
If you like the article above, here are some other similar articles you should check out!
Best Internet Providers in Caldwell, ID as Voted by Over 50 Residents

Is there a Lot of Crime in Caldwell, ID?

9 Best Family Neighborhoods in Pocatello, ID