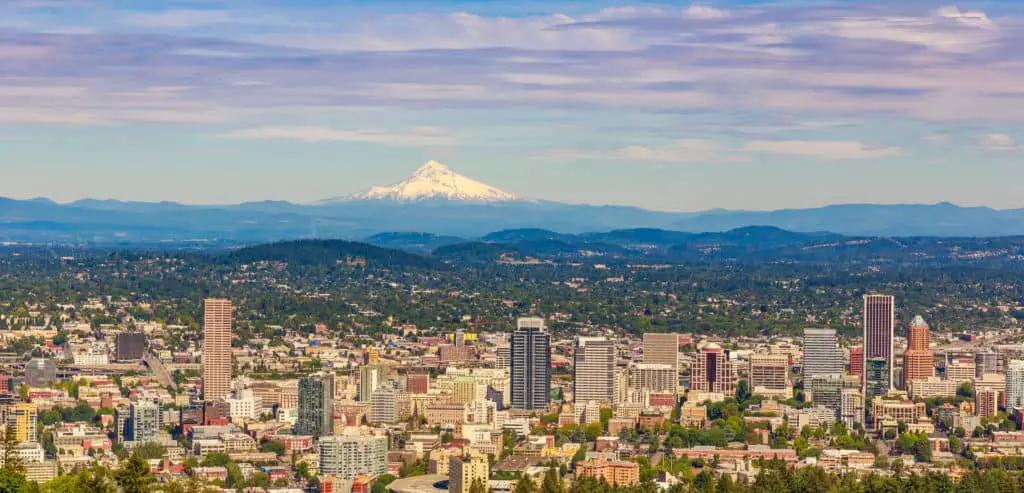 Portland, Oregon is a great place to live and work, but is it a great place to retire? Do a lot of people retire in the area?
Pros
1. Relaxed Atmosphere
The phrase "Keep Portland Weird" is very important to the native residents of Portland. Many of the people who live in the area have odd interests and hobbies. However, the acceptance of those strange habits means that people tend not to care if you have different interests in them, or if you dress in a different way than many others do. There is a "Live and Let Live" atmosphere. The main downside to that type of mindset is that since people do not really care about what others do, they tend not to socialize with strangers unless they have to.
However, it is important for you to evaluate each town near Portland, Oregon before you decide whether or not you want to retire there. While downtown Portland may not be the best area to retire in because of its high cost of living, areas such as Lake Oswego, Stafford, and Raleigh Hills, which are all suburbs of Portland, Oregon, are great areas for people to retire in. Each of these towns has a relaxed atmosphere and plenty of activities to enjoy during retirement.
2. Access to Nature
If you enjoy being in or near natural areas, then Portland, Oregon is a great place to be. There are at least 279 parks, and even more areas full of plants, trees, and flowers. If you enjoy being and relaxing amongst trees, then Portland is the place for you to be.
If you enjoy camping, then you are in luck. There are dozens of camping grounds close to Portland, Oregon with various amenities. However, it may be hard for you to find a place for you to set up your tent if you decide to go camping in the summer. Most of the people who live in Oregon enjoy going camping and take advantage of the warm summer days by taking their friends and families camping.
If you prefer to be on the sand rather than the grass, then you are in luck there as well. There are over 240 miles of sandy beaches on the coastline of Oregon, just an hour and a half away from Portland. If you prefer rocky beaches, there are multiple beaches with rocky shores that are rarely filled with people, since many people prefer sandy beaches.
3. Plenty of Hiking Areas
There is an abundant number of absolutely beautiful hiking trails in Portland, Oregon. Some of the most popular hiking trails are near waterfalls and have areas where you can almost touch the water. However, those areas tend to be slightly difficult to get to and are aimed towards experienced hikers rather than inexperienced hikers, so make sure that you accurately judge your hiking abilities. There are very easy trails to walk that are near lakes and rivers if you want to hike on an easier trail. Many of the easier trails have picnic tables so you can have a mid-hike snack if you want to.
If you want to go hiking on a forest trail, many trails go through the verdant forests of Oregon.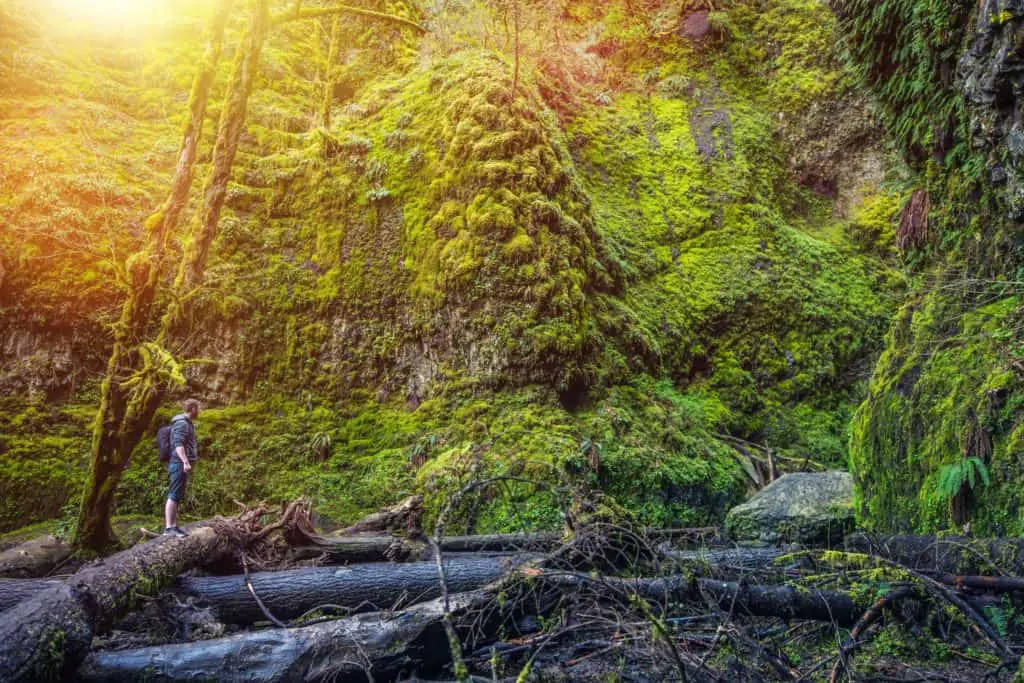 4. Low Taxes
One upside to living in Portland, Oregon is that there is no sales tax, unlike nearby Washington. However, there is an income tax. Luckily for those who are choosing to retire in Oregon, the state does not tax Social Security benefits, although it does tax other retirement income such as withdrawals from retirement accounts. Additionally, public and private pension income is partially taxed. However, the tax rates are relatively low for the area. Tax rates range from 4.75% to 9.9%.
5. Moderate Climate
Portland has a relatively mild climate. While it rains for nine months out of the year, and there is almost always some sort of flooding on the roads, the summers are beautiful and warm. The climate is ideal for growing plants and vegetables, which is helpful if you are planning on growing a garden. While the rain is cold, it drizzles most of the time, and rarely are there massive storms that knock down trees.
During the winter, it rarely snows. When it does snow, it only stays for a few days, and many things are canceled or closed when there is snow on the roads. The residents of Portland, Oregon are used to driving in the rain, not the snow. However, when the snow does stay for more than a day, road conditions get very icy since the city does not have many resources to deal with snowy conditions.
During the summer, it almost never gets above 100 degrees Fahrenheit, and when it does it tends to be a dry heat rather than a humid one, so it is very easy to find ways to keep cool. While most homes do not have air conditioners installed, because they are not necessary for most of the year, it is very easy to find and install one, as long as you do not wait for the summertime to do so.
6. Plenty of Restaurants
If you love going out at night and eating at restaurants, bars, or diners, then Portland, Oregon is the place for you. There is a massive amount of restaurants to enjoy. And since there are many people who have immigrated from other countries to Oregon, there is a massive variety of foods to enjoy if you want to branch out and try the unfamiliar.
If beer, wine, or coffee are important to you, Portland's got you covered. Independently owned cafes are at every corner. If you are inclined to Starbucks or another large coffee franchise, there are plenty of those too. Specialty craft beers are on tap at almost every bar in town, and there are 725 wineries scattered around Oregon that are available for you to visit.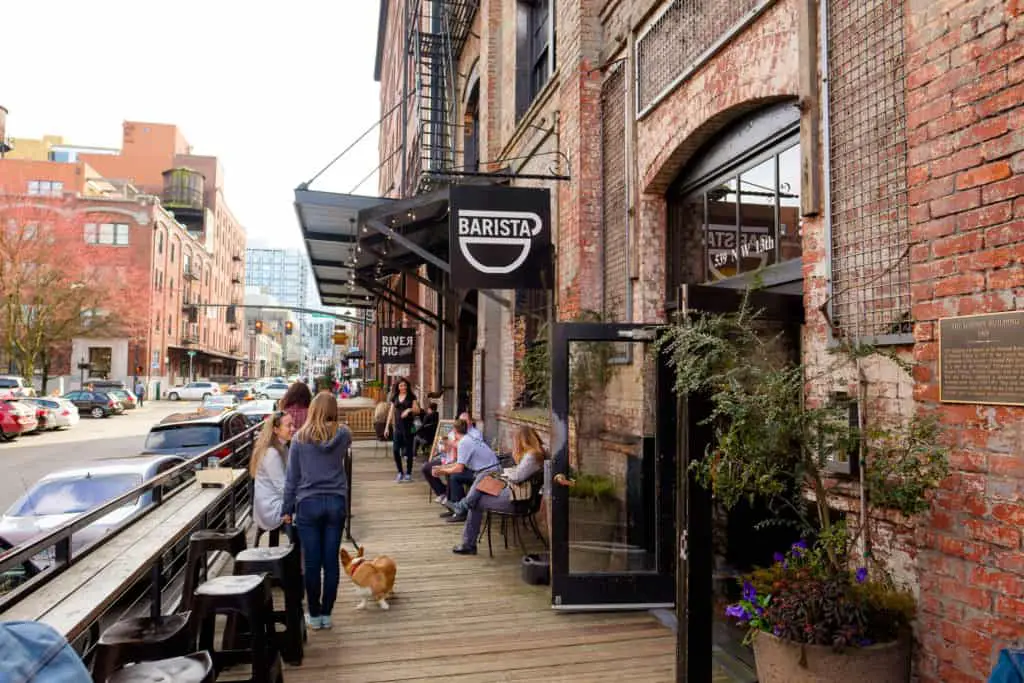 Cons
7. High Housing Cost
If you are choosing to move to Portland, Oregon when you retire, I recommend moving there and purchasing a home a few years before retirement. Housing costs and property tax are very high, and so is the cost of living. The median cost of a home is $419,600, and residents spend an average of $200 a month on various living costs, such as gas and groceries. There is very little public transport, so people have to rely on cars to travel within the city.
8. Lots of Homelessness
There is a massive homelessness problem in Portland, Oregon, especially in downtown Portland. There are over 3500 homeless people, and they can be seen almost everywhere. The high cost of housing does not help the situation, and homeless shelters are almost always full. Although many people try to help them in any way that they can, there are just too many homeless people to make much of a difference.
9. High Crime Rate
The crime rate in Portland, Oregon is very high. The crime rate in Portland, Oregon in 2018 was 5.2 per 1,000 residents, a 0.84% increase from 2017 (Source

). Most of the reported crime involves property crimes and shoplifting incidents. Luckily, people are rarely killed in Portland. However, the crime rate in Portland is much lower than nearby Vancouver, Washington, which has a crime rate of 37 per 1,000 residents and has one of the highest crime rates in the United States for the size of the city (Source

).
10. Average Age of Residents
Most of the residents of Portland, Oregon are young because of the many different job opportunities that the area offers. The average age of the residents in Portland is 37 years old. However, many people are choosing to retire in Portland, and that age is increasing steadily. The young age of many of Portland's residents may not be comforting for those who wish to retire there, but many neighborhoods are very quiet, especially because the residents tend to keep to themselves.
11. Rainy Climate
It is almost always raining in Portland, Oregon. The climate is very similar to Washington's, and I frequently joke that Washington is called that because it is trying to wash all of the people out of the area. Luckily, it doesn't often rain during the summer months, but there are August storms that pass relatively quickly. If you do not like being in the rain and have not lived in a rainy area before, then I do not recommend moving to or retiring in Portland.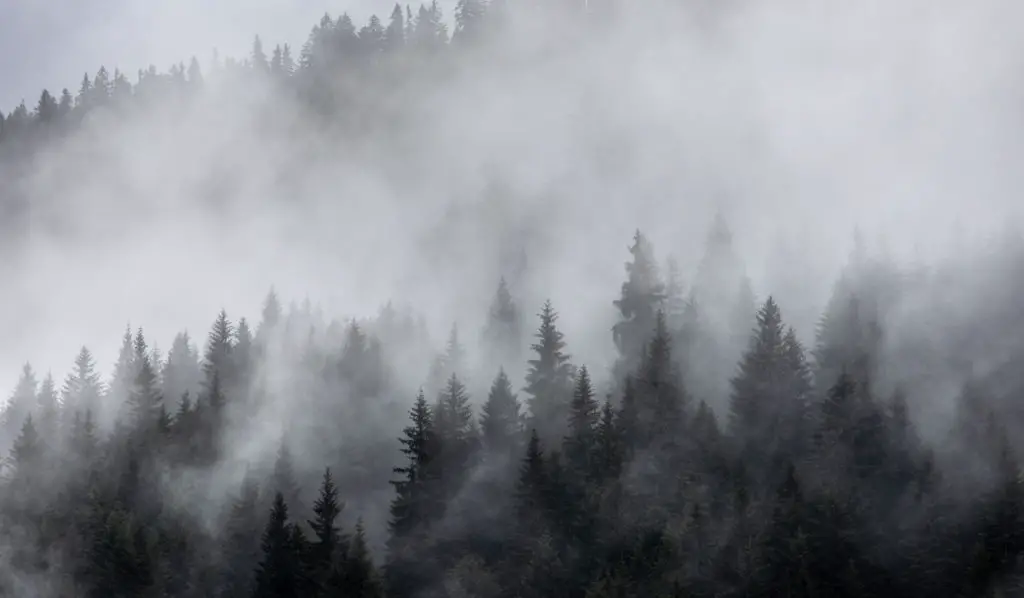 If you enjoy warm beaches, then Portland is not for you. The rainy climate leads to extremely cold and windy beaches. While the beaches just an hour and a half away from Portland are beautiful, the wind that blows on the sea towards the sand makes the beaches very cold, and it is rare to see someone walking on the beach without a sweatshirt or large coat, and almost no one swims in the sea. However, the beaches do become slightly warmer during the summer months. Although, on the rare warm and sunny days the beaches are almost always crowded, so there is almost no day that is perfect to go to the beach.
Related Topics:
If you like the article above, here are some other similar articles you should check out!
9 Famous Celebrities Who Live in Portland, Oregon

17 Reasons Not to Move to Portland, Oregon (Voted by the Locals)

9 Famous Celebrities Who Live in Seattle, Washington